Selfie Expert OPPO collaborates with Fashion Expert Masaba for OPPO F3 Rose Gold Edition
2017-09-05
OPPO Mobiles, the Camera Phone brand, recently collaborated with Fashion Expert, Masaba Gupta, to create stylish and playful phone covers with a gift box for the new OPPO F3 Rose Gold Edition. Masaba Gupta, the popular fashion designer known for her flamboyant styles and ideas, took the OPPO F3 Rose Gold variant to new heights making it more "youthful and chic".
Masaba designed a stunning gift box and three phone cover designs. The black color box has roses blossoming into bigger ones giving it a very inimitable and premium feel.
The top of the box shows roses blossoming into larger ones which shows growth and is foiled with Rose Gold color which matches the brand's vision. Inside the box is designed by Masaba which gives you her signature black and white style and avoids it from being dull. The Gift box has space for the beautiful Rose Gold device, Deepika Padukone' photo frame and an attractive cover designed by Masaba.
Masaba on the Mumbai roads taking group selfie with the
OPPO F3 Rose Gold
Mr. Will Wang, Brand Director of OPPO Mobiles India said, "The launch of the OPPO F3 Rose Gold variant marks our entry into the fashion and lifestyle segment, and we are excited that our association with Masaba will take the fashion quotient a notch above. We believe that with her designs we will be able to offer our young consumers a new way to create a style statement."
On her association with OPPO, Masaba Gupta said, "I think my association with OPPO has been the most fun and has allowed me to tap into the various aspects that the youth connects with. I feel the brand is very youthful and stylish and I was very excited to create something that is in line with the brand and their new Rose Gold color."
The 3 patterns designed for the phone cover are exceptional. One cover talks about the roses blossoming into bigger ones which inspires to grow in life and have a beautiful journey. The second cover takes encouragement from the gift box which is black and Rose Gold color which shows the entire Rose blossomed and gives a flawless picture of it. The third and the last cover shows the camera with dual lenses which highlights our product for dual lens selfie cameras. The cover is perfect for any selfie lover who just cannot think beyond clicking perfect selfies.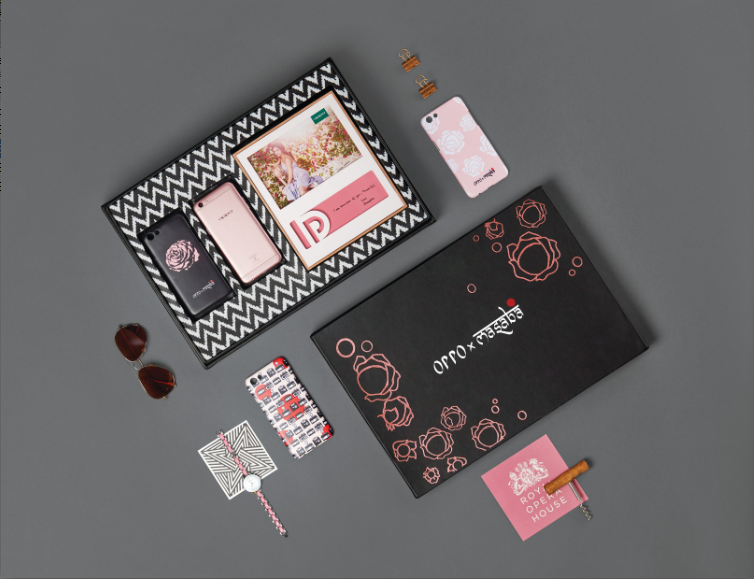 The gift box and 3 phone covers designed by Masaba
With dual selfie camera – one 16MP camera for selfie and one wide angle Group Selfie Camera OPPO F3 is not only the Selfie Expert but also a fashion accessory that the younger generation is looking for. Very few products are the combination of premium design and innovative technology, OPPO F3 is one of them. The Rose Gold color has taken the world by storm and we expect to come with new Fashion colors to satiate the fashion lovers with the best fashion accessory of all time.