The Road to Developing 65W SuperVOOC 2.0 Flash Charging Technology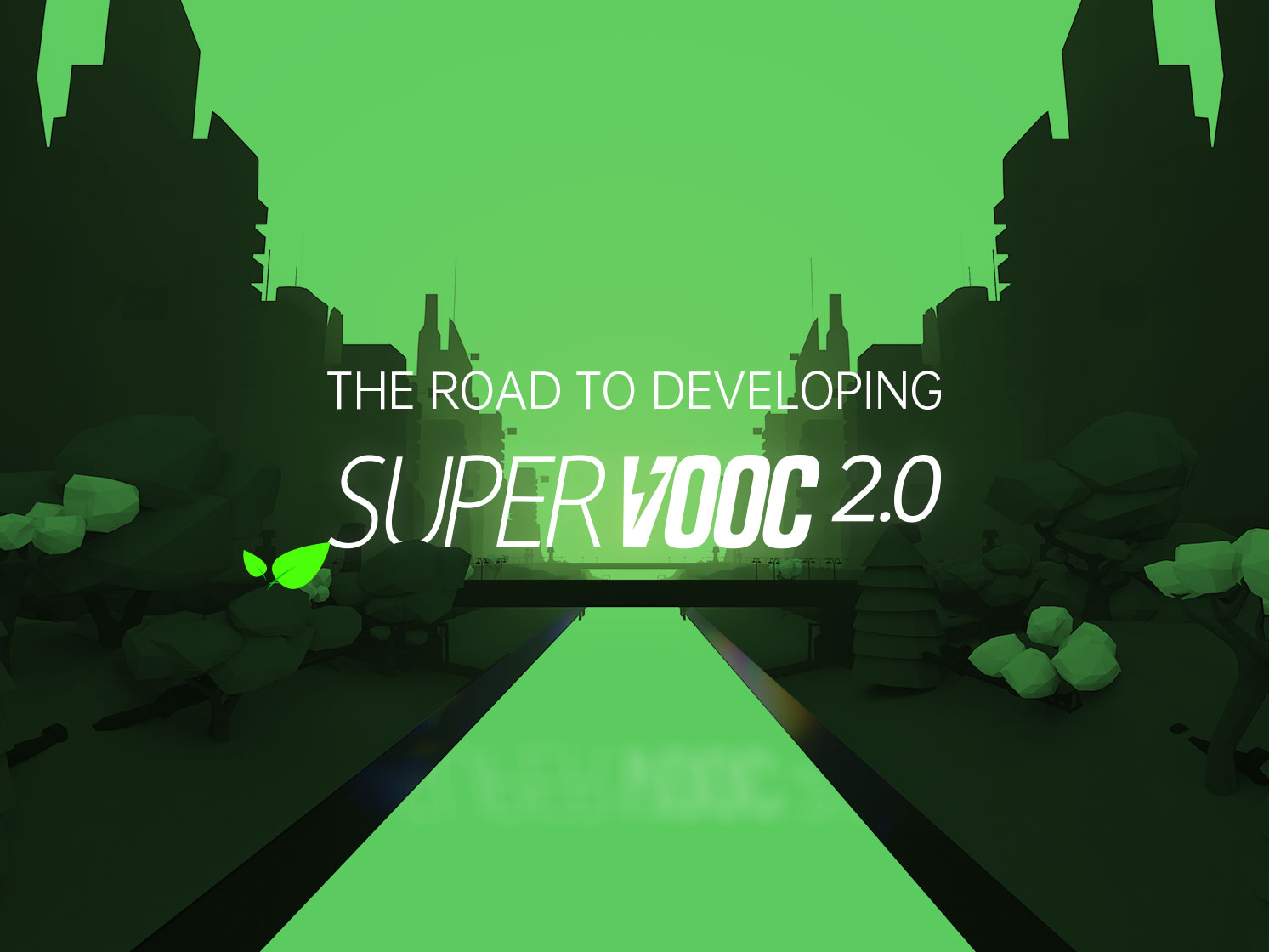 VOOC flash charging has freed us from worrying about charging in the 4G era. However, as we enter the 5G era, such concerns have re-emerged. In the 5G era, due to high battery consumption and richer application scenarios, battery life and charging speed have become more important than ever. Since it is almost impossible to make a major breakthrough in battery energy density in the short term, and the internal space of mobile phones is limited, flash charging has become the most effective way to guarantee a long battery life.
The concept "charge for 5 minutes, call for 2 hours" changed our charging habits in the 4G era. As we enter the 5G era, the concept "charge for 5 minutes, play games for 2 hours" has again changed our habits. Users can charge their mobile phone in small bursts –Find X2 for example fully charges in 38 minutes. This is also the original intention of OPPO flash charging: users no longer have to wait for charging, and they are free from worrying about battery life so they can focus on what matters to them.
VOOC Flash Charging Leaves the Laboratory and Changes the Mobile Phone Industry
Since 2012, large-screen mobile phones have become the industry trend. At that time, 3G was being replaced by 4G, and larger screens and new communication technologies made mobile phones' power consumption soar. The industry focused on expanding battery capacity to help solve this issue, but this brought another issue; excessively long charging times. Then, a mobile phone that had a high battery capacity would take over 3 hours to get fully charged. If it was a tablet with a battery capacity of 8,000 mAh and its charging rate is 5V and 1.2A, the charging rate would be less than the power consumption rate. Resolving this problem was one of our motivations for researching flash charging.
In the end, Zhang Jialiang, who was responsible for hardware research and development, started his own research project in his spare time, and this research took him around two years. At that time, the mainstream solution within the industry was Qualcomm's high-voltage and low-current solution. However, Zhang's team put forward an innovative low-voltage and high-current solution and invented VOOC flash charging.
In 2014, VOOC flash charging was first implemented in the Find 7. VOOC flash charging adopts an innovative low-voltage and high-current charging solution: it moves the step-down transformer, which was generally integrated on the mobile phone, to the adapter so as to reduce the heat generation. Furthermore, it replaces traditional 5-pin components with 7-pin ones and therefore greatly reduces the charging time.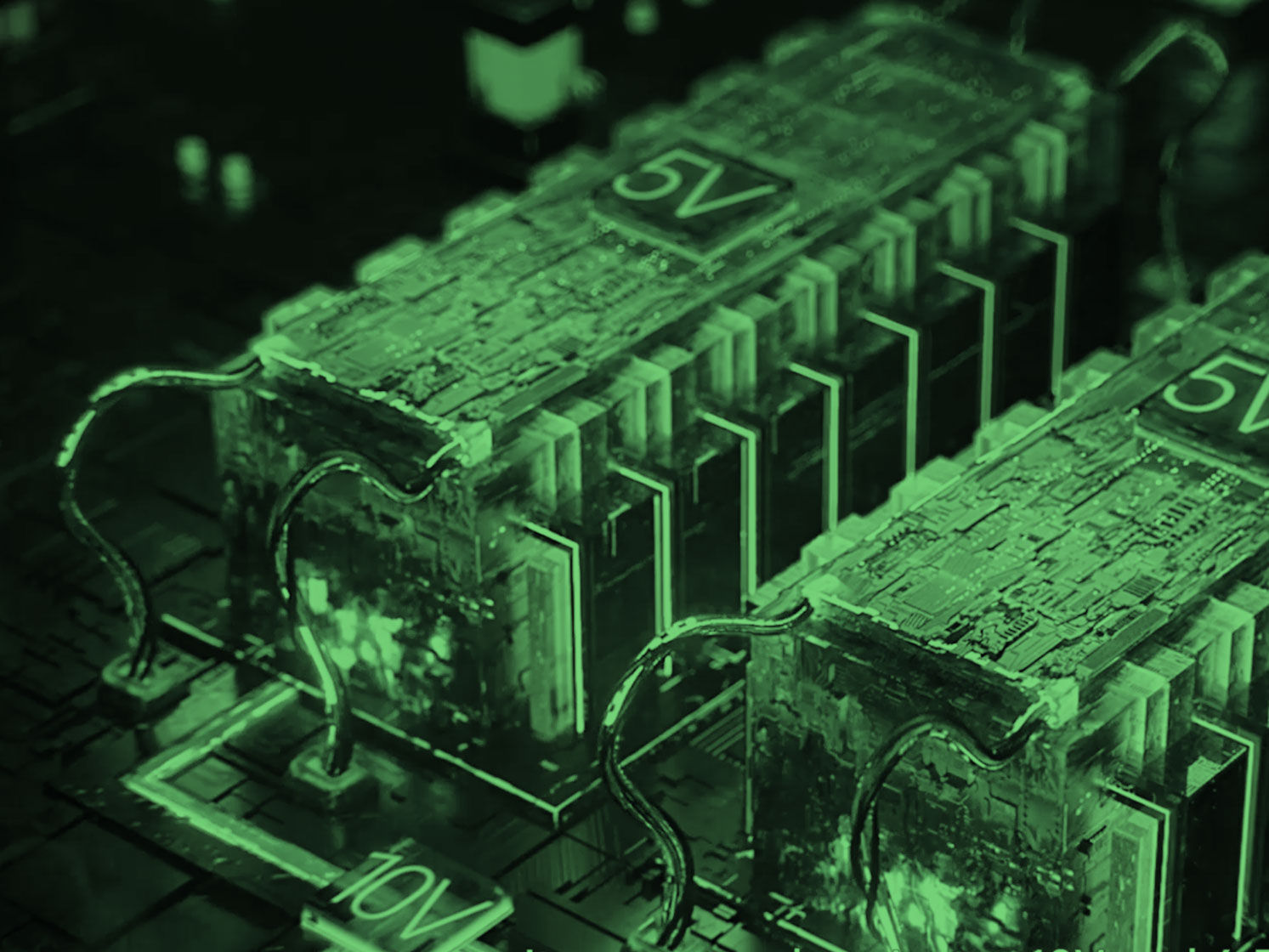 After the release of R7, its concept "charge for 5 minutes and call for 2 hours" made flash charging a household name. This technology improves users' charging experience and accelerates the development and promotion of flash charging technology in the industry.
Today, all OPPO mobile phones are equipped with flash charging technology. As of October 2019, the number of global VOOC flash charging users has exceeded 145 million and OPPO has applied for more than 1,700 patents worldwide regarding this self-developed flash charging technology. Due to the increasing value of VOOC patents, OPPO has issued licenses concerning flash-charge patents to more than 20 companies. As a result, a flash-charging patent ecosystem that includes barrier patents, industry standards, and technology certifications is coming into existence.
Meanwhile, VOOC flash charging technology has passed the five-star certification of CTTL under the MIIT, and has become the first five-star certified flash recharging technology certified by CTTL.
Both Safety and Efficiency Matter
OPPO VOOC flash charging has always adhered to the philosophy:
▪ Both efficiency and safety matter for OPPO flash recharging. Efficiency is our goal, while safety is a necessity. If we were to choose between safety and efficiency, we would always put safety first.
▪ OPPO has always adhered to the concept of direct charging. We regard the "charging receiving end, transmitting end, charging end, and battery end" as one, and have formed a closed loop of the VOOC charging protocols through customized hardware and algorithms.
The VOOC flash charging technology platform has three complete business lines: VOOC flash charging, SuperVOOC flash charging, and wireless VOOC flash charging:
▪ VOOC flash charging has been ceaselessly evolving:
1. In 2014, OPPO launched its self-developed VOOC flash charging technology that provided an innovative low-voltage and high-current solution, the technology was first implemented in the Find 7.
2. In the same year, VOOC Mini reduced the size of the adapter and separated it from the wires in the N3 and R5.
3. In 2019, the OPPO Reno series adopted the new VOOC 3.0 flash charging technology as well as new VFC algorithms. As a result, the trickle charging speed was increased by 200%, and the charging time for the last 10% of battery was greatly shortened.
▪ SuperVOOC is an overall upgrade of the VOOC platform:
1. In 2016, OPPO first proposed the concept of SuperVOOC flash charging. Its innovative dual-cell fast charging solution provided excellent charging efficiency, and when discharging, it used a charge pump to halve the voltage of the dual cells. It was compatible with the mobile phone chip sets at that time.
2. In 2018, SuperVOOC technology was first implemented on OPPO Find X Automobili Lamborghini Edition. This technology provides a charging power of nearly 50 W and can fully charge a mobile phone with a battery capacity of 3,400 mAh in 35 minutes. OPPO R17 Pro, launched in the same year, is also equipped with this technology.
▪ Wireless VOOC flash charging technology completes the flash charging experience for various scenarios:
1. In October 2019, OPPO officially released its 30W wireless VOOC flash charging technology. This indicates that VOOC flash charging has entered a new "wireless" era. Wireless VOOC flash charging is compatible with the QI standards.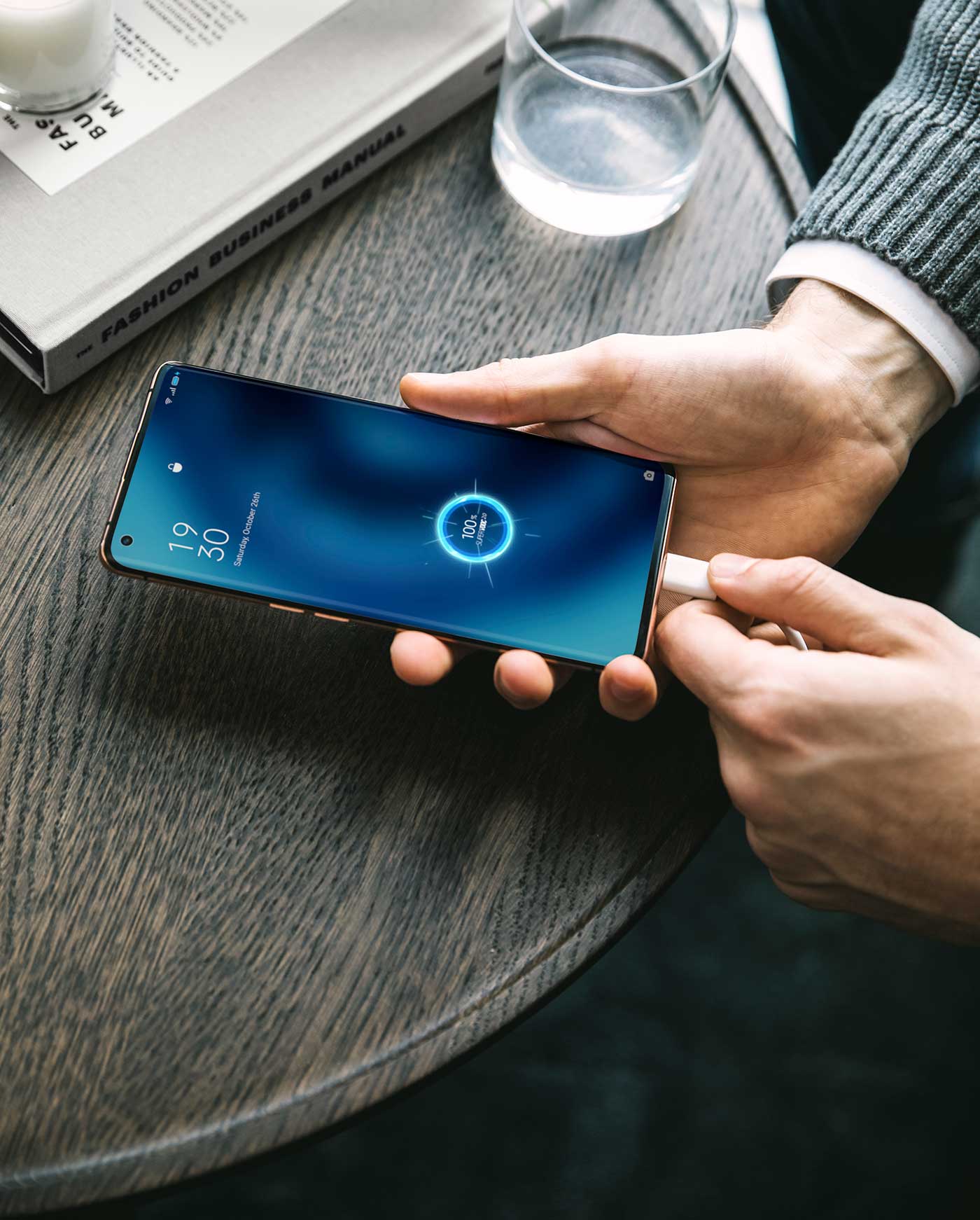 Find X2 Series, Another Leap in SuperVOOC Charging Speed
Currently, the SuperVOOC 2.0 on Find X2 series is the fastest commercialized charging technology:
1. High charging efficiency: the principle of voltage division in series circuits allows high-current direct charging.
2. High discharge efficiency: the SuperVOOC system judges the various voltage levels required by different internal components and allocates voltage accordingly through its back-end charge pump.
Find X2's battery inherits the tandem dual 3C cells used in the previous 50W SuperVOOC products. As the most essential hardware in the entire system, the cell directly determines the charging performance. When we talk about 1C, 1.5C or 3C cells, the "C" refers to the charge and discharge ratio of the cell, that is, when the cell capacity remains the same, the higher the charge and discharge ratio, the more current the cell can carry. Compared with traditional 1.5C cells, 3C cells have their current carrying capacity increased by 100%, and their quality is better as well. 3C cells are the hardware foundation for SuperVOOC 2.0 high-current charging. This is why the SuperVOOC 2.0 has been upgraded to 65 W (10V and 6.5 A), and why its cell can carry input current up to 6.5 A.
In addition to the advantages brought by high-current direct charging, OPPO also takes a leading position in charging algorithms. OPPO's VCVT intelligent tuning algorithm can accurately adjust the voltage and current. The mainstream algorithms can be accurate to 100mAh, whereas OPPO's SuperVOOC intelligent tuning algorithm can be accurate to 50mAh, guaranteeing charging performance and reduced losses. OPPO's VFC trickle charging algorithm effectively improves the charging efficiency of the last 10% battery (from 90% to 100%), and the trickle charging speed is increased by 200%.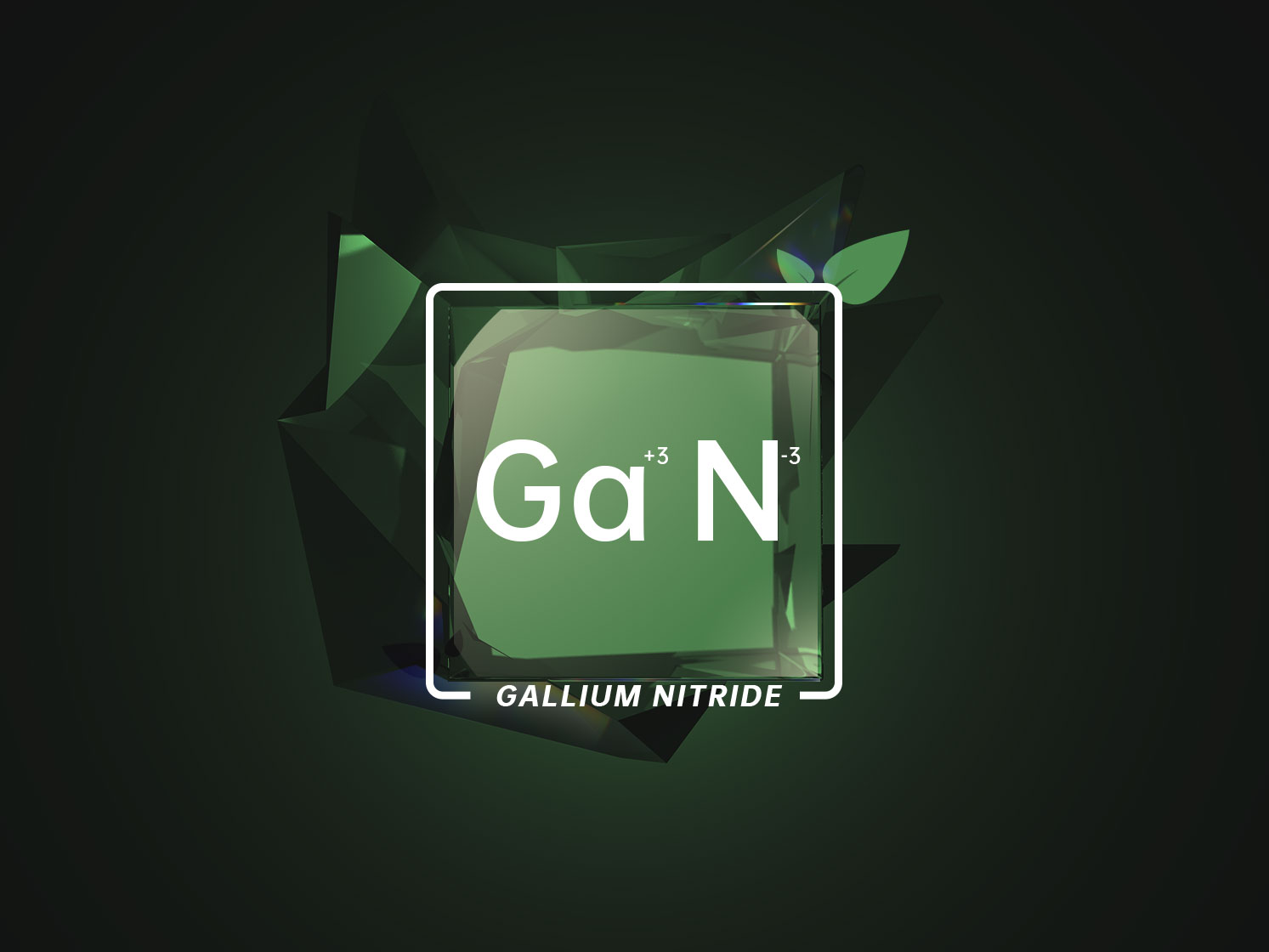 Gallium nitride (GaN), referred to as the third-generation semiconductor material within the industry, has high reliability, performance, and speed. To apply this new material to mobile phones as soon as possible and to improve the adapter's output efficiency without increasing its volume, OPPO started related research in 2015, and successfully applied GaN to its SuperVOOC 2.0 adapter in 2019. In the end, OPPO has upgraded its 50 W adapter of the previous generation to 65 W without increasing its volume much and has become one of the first mobile phone manufacturers to use GaN.
In terms of security, SuperVOOC 2.0 inherits OPPO's comprehensive technology, offering five-fold protection from the adapter to the interface, and then to the inside of the mobile phone. The mobile phone has customized a specific SoC that provides closed and independent charging protocols and charging process management. At first, the software team didn't quite understand the importance of an independent platform. They thought they could integrate it on the mobile platform and it would be an easy task. However, during the evaluation conducted by OPPO's flash charging team, they realized that the mobile phone platform is an open system, and when the phone gets stuck or crashes, there will be a high risk that the fast charging cannot be controlled. OPPO's flash charging platform runs independent and closed management for the fast charging process without the interruptions from other signals, and therefore ensures its reliability.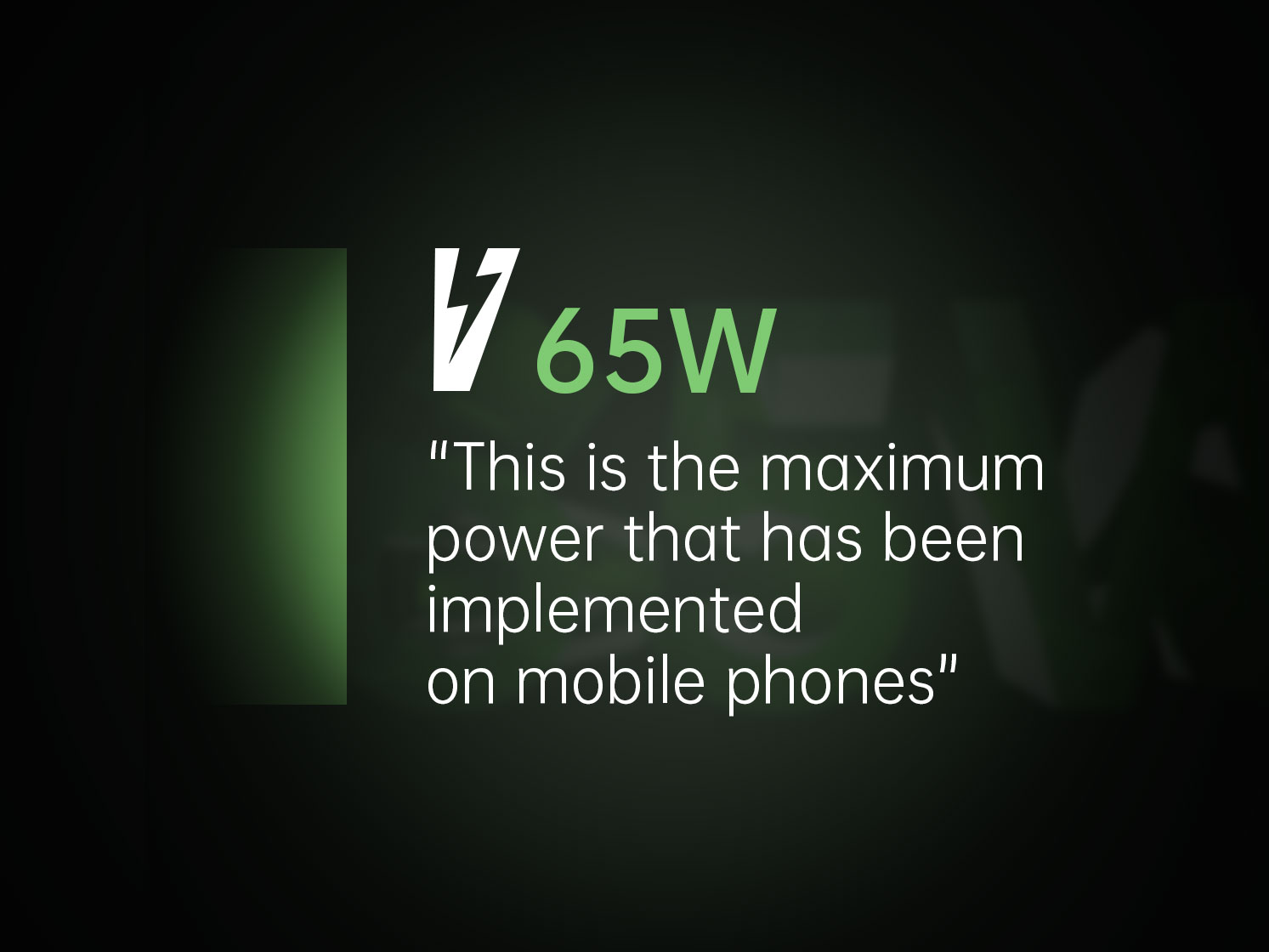 SuperVOOC 2.0 is a technology based on the SuperVOOC platform. The last generation of SuperVOOC (50 W) uses this platform as well. At present, the power of the Super VOOC 2.0 adapter has reached 65W (10V and 6.5 A). This is the maximum power that has been implemented on mobile phones. Of course, there are devices featuring even more advanced charging technology in OPPO's laboratory, and OPPO has never stopped its exploration for more efficient power charging technologies.