OPPO Reno4 Series presents appealing offering, with a unique ultra-light and slim design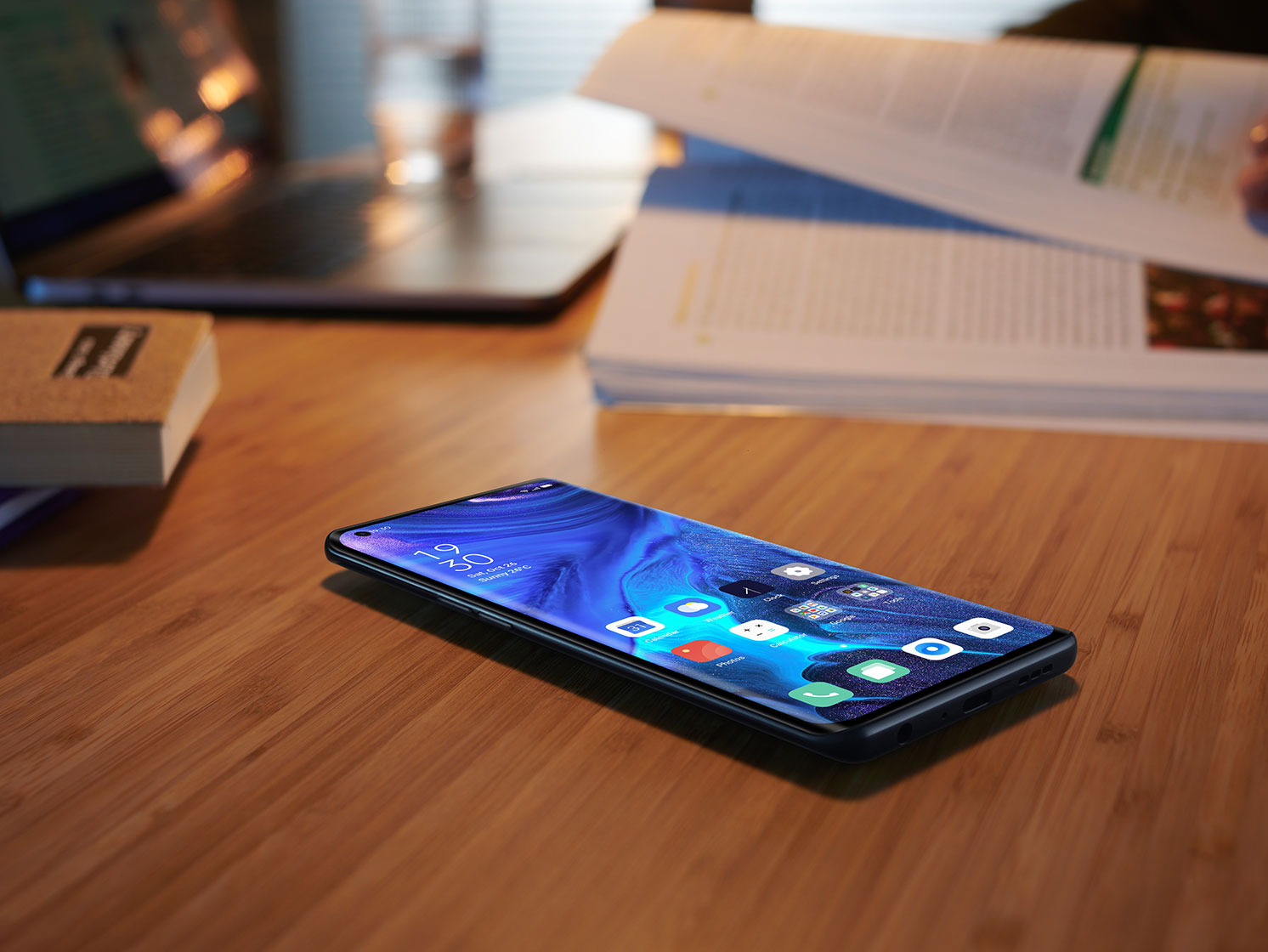 Through Reno Series, OPPO has been striving to achieve a well-balanced combination of technology and fashion. In the first generation of the line-up, OPPO introduced the Shark Fin design with a swivel pop up camera. As a result, it offered the largest screen-to-body ratio in its time. Reno3 Pro continued the innovation journey with the world's first 44MP+2MP Dual Punch-hole Super AMOLED display to create a new standard in front camera photography on a smartphone.
The latest addition to the Reno series - the Reno4 Series - takes OPPO's design philosophy further with sophisticated technology innovation. Reno4 Series effectively combines a slim body design with trendy colors to deliver an ultra-smooth user experience.
Prioritizing user preference to create trendy design
OPPO's innovation and design philosophy is centered around the user at all times. This belief extends to style, color and trendy design along with superior performance that our users love.
Reno's aesthetic identity is smooth, light and slim design. Besides this, it offers a comfortable grip and appealing industrial design with several technology innovations.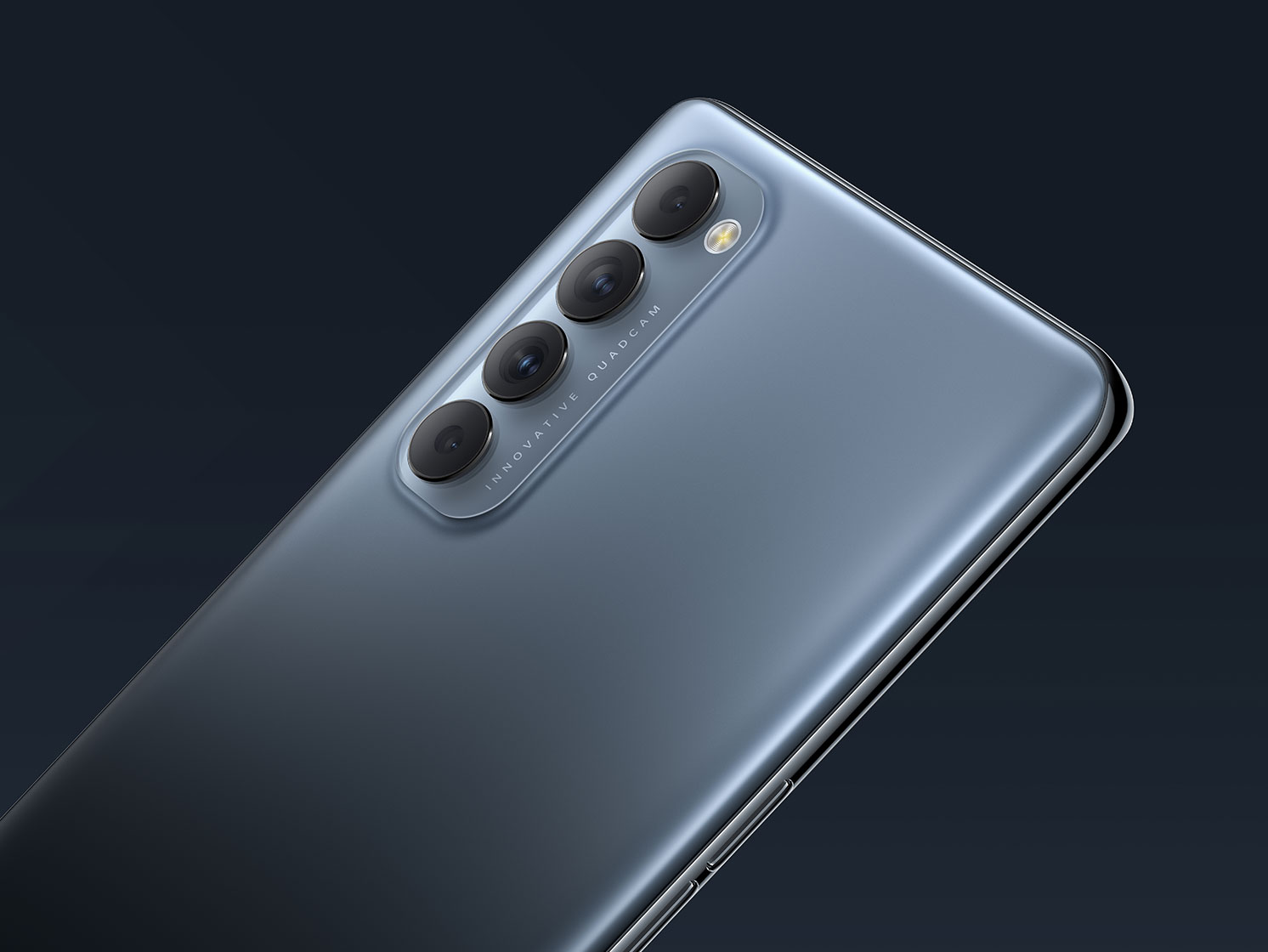 An ultra-slim body that creates new boundaries
Among the biggest design challenges faced by smartphone makers is to find the perfect balance between squeezing new features into a device, while retaining a slim form factor.
Reno4 Series builds on OPPO's R&D strength, with several optimizations to overcome this challenge. Taking powerful performance as the core, we have optimized the product design to minimize its dimension and weight. Rather than taking on a herd approach and just focus on a slim device, OPPO revisited the drawing board for Reno4 Series to optimize every millimeter and reduce every gram possible. Each curve incorporated into the design was influenced by user preference. With Reno4 Pro of 161g and 7.7mm and Reno4 of 165g, 7.7mm, this new series brings an excellent smooth handgrip with great ergonomics all around:
• Display: OPPO has always pushed boundaries to offer its users phones with bigger and better screens and are great to hold. Reno4 Pro is the first smartphone in its price range in India that offers a 6.55"90Hz bezel-less display with a smooth viewing experience during prolonged screen time.
The 3D Curved Screen with the industry's best COP (Chip on Plastic) packaging technology makes it a light device. Compared to prevalent industry standards, the COP packaging is advanced but costs more. However, it fully utilizes the strength of high flexibility in a curved screen and reduces the space taken by the display.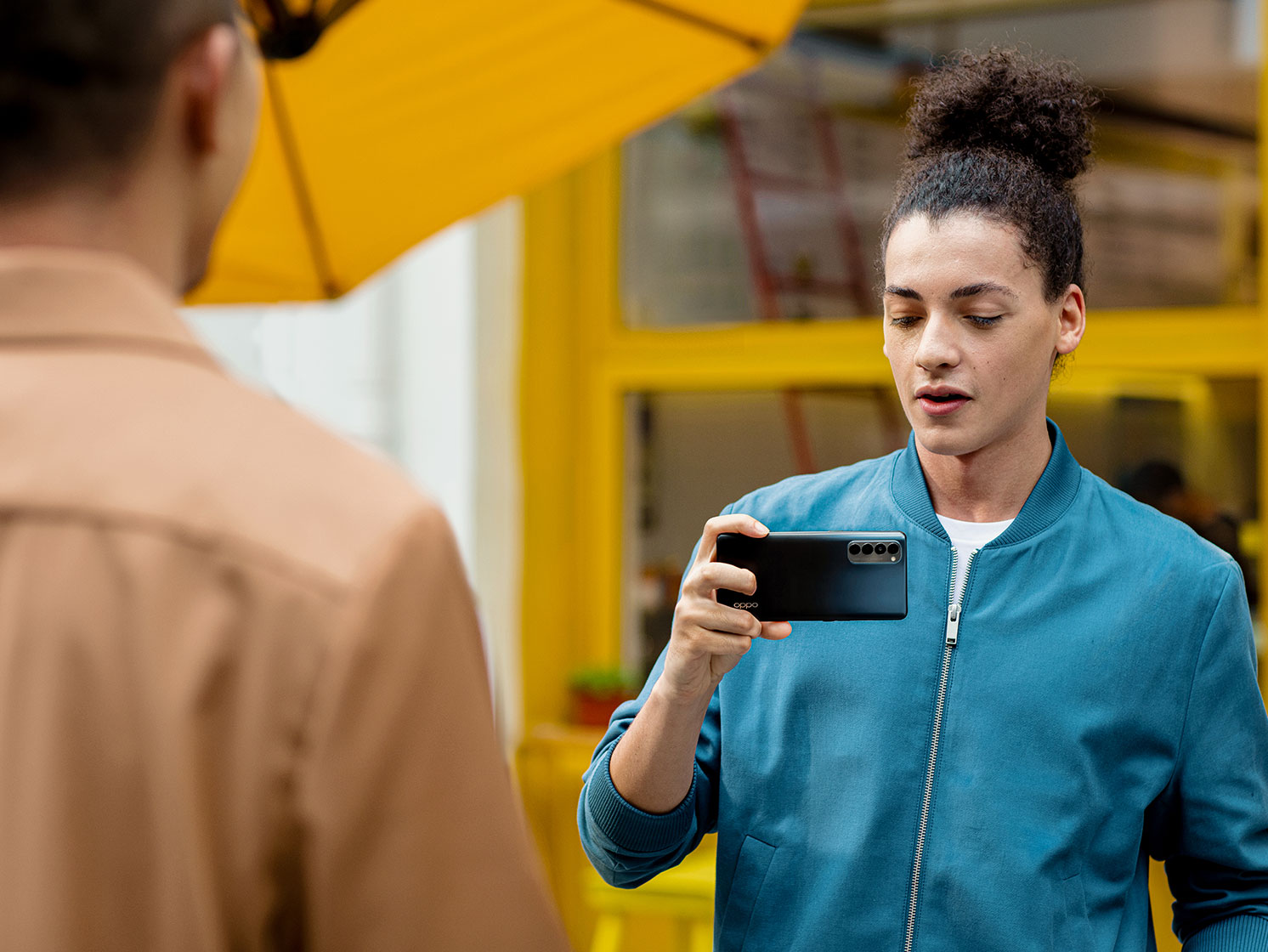 • Cameras: The Dual Punch-hole design on the front of Reno4 includes a 32MP selfie camera, and an AI-enhanced Smart Sensor that protects user privacy when more than just the owner is watching the screen. This innovation also allows users to navigate pages in social apps through air gestures. Despite multiple product innovations, on the front, multiple design compensations have ensured a slim body. A flat front camera module on the front of Reno4 saves 0.2mm in thickness.
• Battery: When you consider the versatility of a smartphone, the overall battery life is a significant influencer in user buying decisions. This becomes a major concern especially when the smartphone is slim due to smaller battery capacity. OPPO factored in these while designing Reno4 Series with battery space, charging speed and power saving solutions. The battery in Reno4 is fitted into a flat shape for reduced thickness.
Although with 65W SuperVOOC 2.0 that enables Reno4 Pro to be fully charged just in 36 minutes, which means higher requirements to the battery, Reno4 Pro's battery (4000mAh, 87.5 * 62.8 * 4.75mm) is 0.1mm slimmer when compared to the previous generation. Similarly, Reno4's battery (4015mAh, 86.5 * 62.5 * 4.44mm) is thinner by 0.34mm still when equipped with 30W VOOC Flash Charge 4.0 that delivers a full charge in 55 minutes.
• Cooling: To ensure superior consistent performance levels, Reno4 series improved the complex cooling mechanism. For the first time, OPPO has applied Multi-cooling System on Reno4 Pro, a combination of graphite tubes, graphite sheets and copper foil for three-dimensional cooling. An added benefit is saving 1g in weight when compared to a copper tube cooling mechanism. With the Multi-cooling System, users can enjoy advanced cooling performance even in a very light handset.
• High-strength body: It is common for smartphone manufacturers to make design compromises in order to create slim and light handsets This includes flimsy materials that get damaged over time. The body of Reno4 Pro is built with a high-strength aluminum muntin making the whole device strong enough to maintain its shape and function over time.
• Integrated design optimization: Inside the back cover, Reno4 Series applies Fireproof Ink to replace the traditional flame-retardant steel sheet, making the body 0.15mm thinner. Additionally, Reno4 Pro has miniaturized certain components on the mainboard to further reduce overall thickness by 0.3mm. Reno4 Pro also applies Hidden Fingerprint Unlock 4.0 with the 6th generation of fingerprint sensor, which is only 0.27mm thin, compared to 2.8mm with the previous generation, but even a bit faster.
A well-rounded device in Style
Beyond the Ultra Slim Body, the new Reno4 Series builds on past Reno design, to blend smooth smartphone experience and trendy style that resonates with young users. The smartphones are embedded with innovations to express Reno's unique design language in every aspect.
• Stunning back cover design for a premium user experience
A transparent platform for the quad-cam setup on Reno4 Series enhances its visual appeal by reducing the camera bump. On the back cover, Reno4 Series fuses two different textures. On the upper left portion of the back cover, a glossy rectangle window accommodates the cameras. The transparent platform naturally fuses with the back color and makes the phone look thinner. Although the two textures blend seamlessly on the back cover, each never appears isolated even at the first look. The quad-cam layout not only appears very smart and futuristic, but also makes the whole body look simple, and clear.
Moreover, we believe that a curved design on the screen enhances the overall texture and handgrip experience of the device. The premium design of Reno4 Pro with 3D Curved Display enhances the appeal of the handset.
• Unique Color Choices for Trendsetters
Reno4 Pro comes with a refined matte anti-glare finish. In addition, the surface is optimized to minimize smudging. Following a CMF (Color, Materials, Finish) coloring craftsmanship, the incredibly natural integration of matte and glossy texture accentuates the design. Starry Night portrays a misty night sky lightened by scattered stars. The silver and black subtly fuse from top to the bottom. This glare-free gradient brings layers of tranquility. Silky White displays different degrees of white that gently change as the light changes, which looks like a delicate piece of silk under the sun and brings out a refreshing youthful charm. The two simple and clean colors display a perfect blend of attitude and artistry.
Reno4 is comparatively vibrant in color options. The vast interstellar space stimulates the original Space Black, with a mysterious dark space with light spots. Although the back cover has a dark color, it looks translucent with a lively and shiny lighting effect. At different angles, light bounces off the glossy cover to reveal shiny stripes. The lower back of it highlights the OPPO logo monogram, adding a hint of mystery without losing the fashionable style.
Galactic Blue is a unique color on both Reno4 and Reno4 Pro with "Reno Glow" technique. Compared with the full classy matte finish of Starry Night and Silky White of Reno4 Pro, "Reno Glow" introduced with Reno4 Series provides a matte finish with subtle glittering detail for a more vibrant and premium feel. Multiple layers of blue blend naturally on the back cover. The deep blue radiates from the middle towards the top and meets the silver with a natural transition. Galactic Blue presents a premium texture with a unique mix of matte and gloss combined with a dazzling effect.