At the Forefront of 5G: OPPO's Multiple Industry Firsts in 5G Development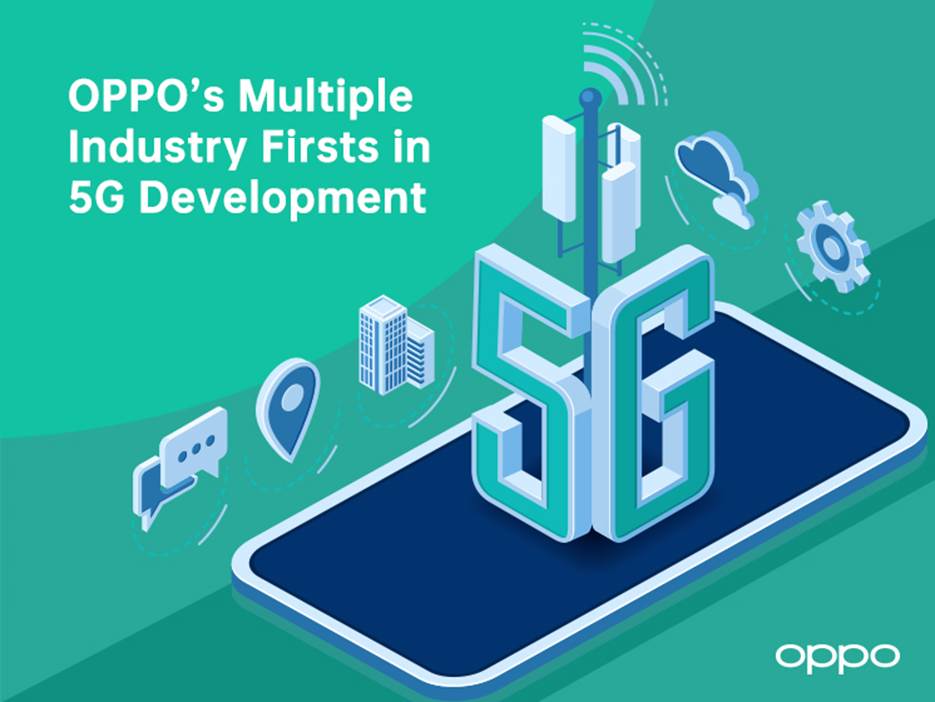 Over the years, OPPO has built a reputation as being an innovative company through the unveiling of several world firsts. From releasing the world's first 10x hybrid zoom technology to the first microscopic camera lens, OPPO has been dedicated to improving the lives of people around the world. OPPO continues this same innovative spirit in the field of 5G and marked multiple industry-first achievements.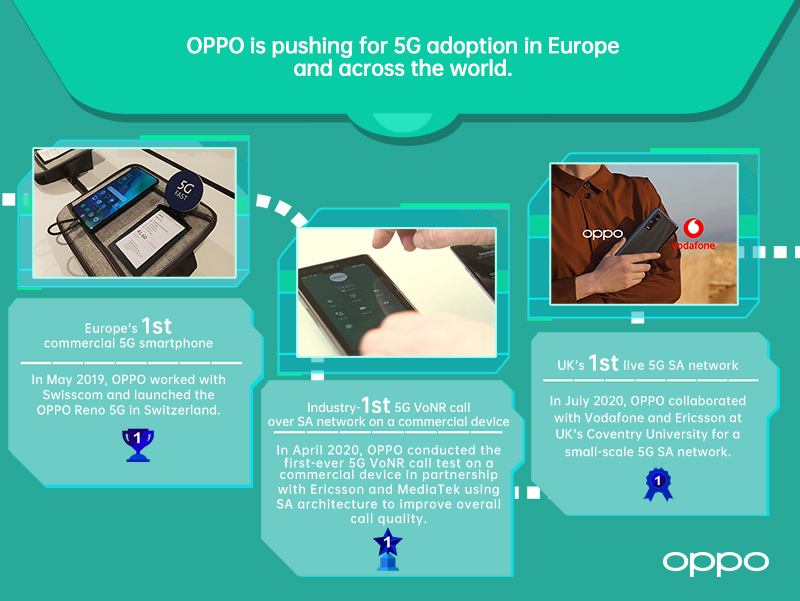 First Commercial 5G Smartphone in Europe: OPPO Reno 5G
OPPO is at the forefront of global 5G commercial use for both NSA and SA networks. Working with its partner Swisscom, OPPO launched the Reno 5G in Switzerland in May 2019, making it the first commercially available 5G mobile phone in Europe.
Industry-first 5G VoNR Over SA on a commercial device: Improving Call Quality
Early 5G phones still use LTE for voice calls. Now, utilizing the new 5G voice service technology VoNR based on the SA network, call quality is going to be radically improved. Users will enjoy an instant connection to clearer sound from callers with almost no background noise.
In April 2020, OPPO conducted the first-ever 5G VoNR call test on a commercial device in partnership with Ericsson and MediaTek. After dialing, the two phones connected almost instantly and seamlessly switched to a high-definition video call. As the first smartphone brand to support VoNR using SA architecture, OPPO will ensure that even the first 5G users will experience the full 5G call experience.
UK's First Live 5G SA Network: Driving the Transition from NSA to SA:
Standalone networks use 5G base stations and 5G core networks independent of 4G infrastructure; in the future, this will be the default 5G network architecture. With latency theoretically as low as 1 ms, 5G SA offers a tremendous improvement from the current 5G NSA which offers around 20 ms latency. This is why global operators, with active involvement from OPPO, are working hard to deploy 5G SA infrastructure.
In July 2020, OPPO collaborated with Vodafone and Ericsson at Coventry University in the UK to build a small-scale 5G SA network—the UK's first—using OPPO's Find X2 Pro and Reno3 mobile phones.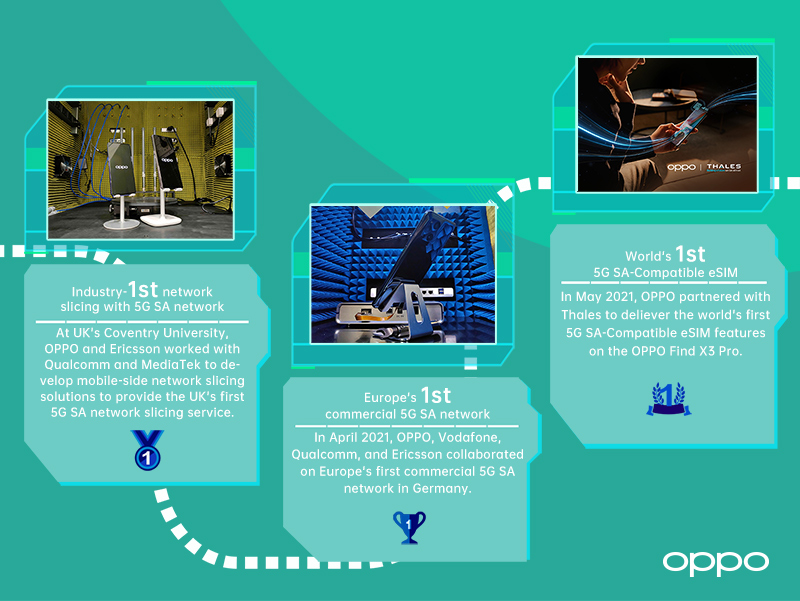 Network Slicing with 5G SA: Adaptable Solutions for Any Situation
5G SA also allows for network slicing, where the physical network is divided into multiple virtual end-to-end networks – much like car lanes - each of which utilizes independent network resources without affecting the others. This enables a more efficient and flexible allocation of 5G network resources to meet different daily needs.
At Coventry University, OPPO and Ericsson worked with Qualcomm and MediaTek to develop mobile-side network slicing solutions based on the OPPO Find X2 Pro and Reno3 to create the UK's first 5G SA network slicing service.
Industry-first 5G Carrier Aggregation Over SA: Extended Range and Capacity
Let's liken it to filling a bathtub. If the bathtub faucet has a wide opening, more water can flow at a faster rate than if the pipe is narrow. Think of the water as the large volume of data transmitted in the 5G era while low-band FDD spectrum and high-capacity mid-band TDD spectrum are the pipes. By using 5G carrier aggregation over SA, these two pipes can be combined to further expand the network coverage, and there more water can flow through, which means more data transmitted.
OPPO has always been committed to providing users with an excellent and seamless 5G experience. Through joint testing with partners, in 2021, OPPO, Swisscom, and Ericsson jointly implemented 5G carrier aggregation across FDD and TDD bands for both NSA and SA, as well as VoNR voice calling in Bern—a significant development in the deployment of 5G SA.
European-first Commercial 5G SA Network: Making the Future Tangible
In April this year, OPPO teamed up with Vodafone, Qualcomm, and Ericsson to build a commercial 5G SA network based on the OPPO Find X3 series of smartphones. The first of its kind in Europe, Dusseldorf, Münster, and Leipzig will soon enjoy 5G SA coverage. OPPO will use software updates to provide 5G SA support for the Find X3 series of smartphones, allowing users to enjoy the high-quality communications experience of 5G.
World's First 5G SA-Compatible eSIM: Seamless 5G Experiences
Have you ever felt complicated to install or remove your SIM card? While, eSIM, or embedded SIM, is directly built into the device to make this process a whole lot easier. With eSIM technology, users can enjoy a trusted and smooth digital experience when selecting connectivity plans from their preferred mobile operators.
In May 2021, OPPO and Thales collaborated to release the world's first 5G SA compatible eSIM feature on the OPPO Find X3 Pro.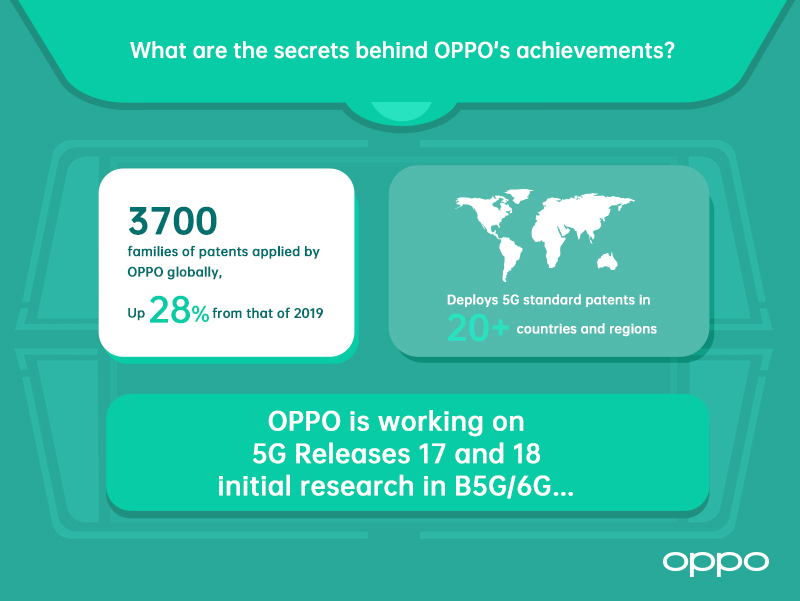 OPPO has been able to achieve these great heights thanks to a lot of hard work in commercializing 5G over the past few years. As of March 2021, OPPO's collection of 5G communication standards-related patents covers more than 20 countries and regions worldwide. In 3GPP, OPPO participated in standard-setting for all 5G NR key areas in Releases 15 and 16, producing over 3700 specification documents. OPPO is now working hard on conducting in-depth research for standards in Releases 17 and 18. As one of the first companies to launch research initiatives into B5G/6G, OPPO's standards team launched the first 5G+AI study in 3GPP's SA1 project, exploring how 5G can be enhanced by AI.
With a solid technological foundation, OPPO is also working to popularize 5G devices by offering a diverse range of products for customers worldwide. In 2020, OPPO has entered new markets thanks to the strategic partnerships with global operators including Deutsche Telekom, Vodafone, América Móvil, KDDI, and Softbank. Global 5G smartphone shipments grew by 458% year-over-year in Q1 2021, and OPPO has become the second-biggest 5G smartphone brand with a 16% market share according to Strategy Analytics.
A long road lies ahead for global deployment of 5G SA but with the mission of "Technology for Mankind, Kindness for the World," OPPO will continue to actively make contribution to 5G standardization while continuing to  collaborate with global partners to further improve on its technological solutions. OPPO looks forward to bringing better 5G experience to as many customers as soon as possible, allowing everyone around the world to enjoy the convenience of 5G.