OPPO CybeReal: Simply Use a Smartphone to Create an Incredible Virtual World
In 2021, augmented reality – or AR as it's known to most– is hardly a new concept. Despite the widespread use of animal-eared Snapchat filters, Instagram stickers and popularity of the game like Pokémon GO, many view AR as failing to live up to its potential. What was once promised as a defining technology of the decade is, in the eyes of many, one of technology's most overhyped features.
Why AR is not "there" yet
What's holding AR back? The other reason is that in order to provide a realistic, immersive AR experience, the program or application has to track, measure, and assess the surroundings in real time. This not only requires sophisticated, powerful hardware and software, as well as strong computational power, it requires democratizing access to AR if the technology is to appeal to a mass audience.
A whole lot easier way to create AR environment
As we can see, AI plays an important role in building and experiencing the digital world. With the help of AI, we can rely almost entirely on mobile devices to create our digital twin world, meaning a future where everyone can create and play in their own digital twin world is not far off!
OPPO sees the combination of AI and AR as the most viable route to the mass adoption of AR. Thus, we have the upgraded CybeReal AR application, which is powered by real-time, spatial computing technology that takes realistic AR from the realms of science fiction into an intangible aspect of our day-to-day experiences. Let's take a look at the first two pieces of AI powering CybeReal:
● More Efficient and User-Friendly Information Acquisition: OPPO staffs without any formal training are able to match key features through mobile devices and quickly obtain a digital reconstruction of the environment. Powered by OPPO's ever-evolving AI Engine, CybeReal can process 12,000 scanned images per hour - four times faster than the previous generation – allowing the large interiors of the Flagship Stores to be processed into 3D representations within just a few hours.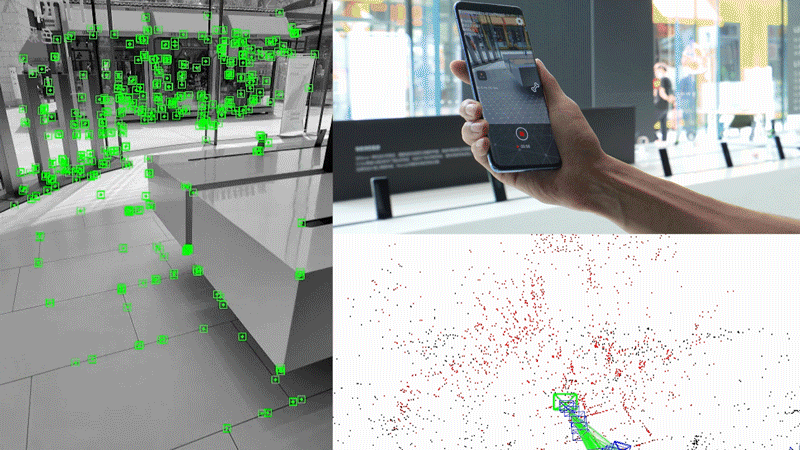 OPPO staffs simply use a smartphone to scan environment and collect data
● Faster Real-Time 3D Reconstruction:On the basis of the underlying AI platform, the application conducts precise and real-time 3D reconstruction in a short time frame. OPPO has also developed its own AR editing tool, through which OPPO staff can anchor and edit vivid AR objects.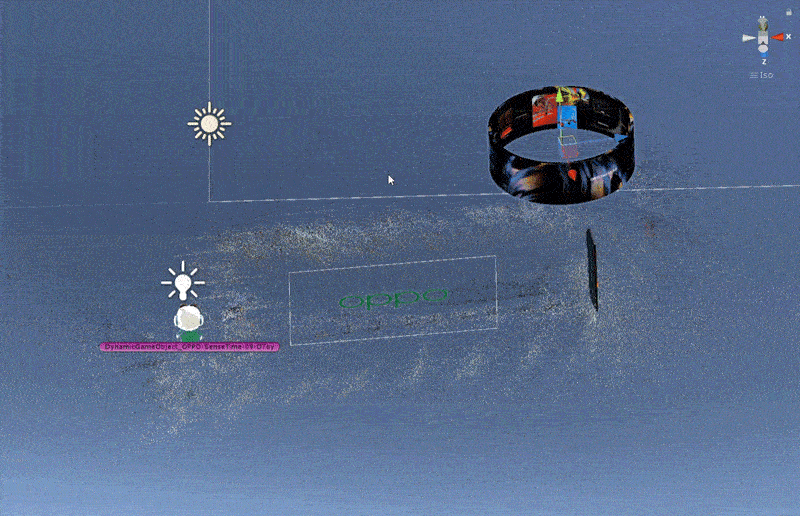 faster real-time 3D reconstruction
OPPO's evolved CybeReal technology puts greater realism at the heart of the AR experience
Using the new CybeReal as a tool, additionally, OPPO is taking the AR experience one step further to bring greater realism.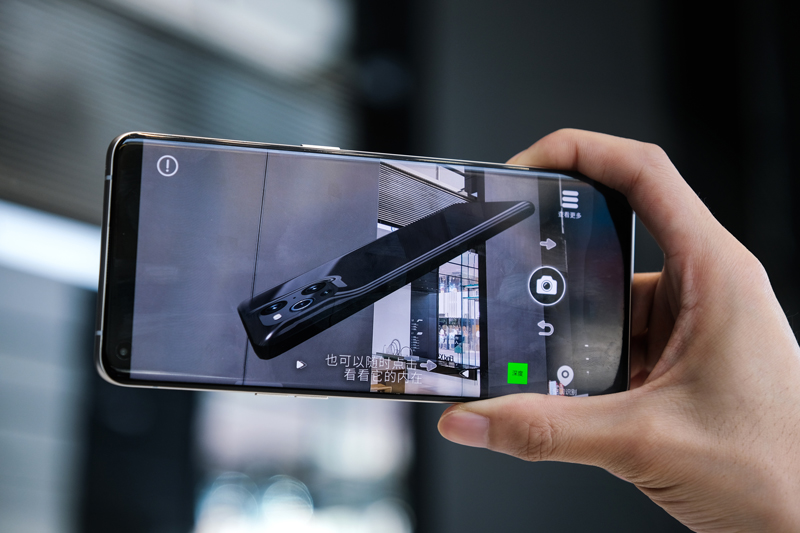 A 4-meter-tall Find X3 Pro descends from the sky
Now, this captivating AR experience has come to OPPO intelligent Flagship Stores. In April, at OPPO's Beijing Wukesong and Guangzhou Zhengjia Plaza Flagship Stores, visitors can use CybeReal to interact with a 4-meter-tall Find X3 Pro that descends from the sky into their hand, causing a picture wall of vibrant photos to slowly unfold like a scroll in front of them as the music "Colorful Future", composed for the Find X3 series by Hans Zimmer, plays in the background. This digital-twin world that visitors will see unveiled before their eyes is made possible thanks to OPPO's in-house AI Engine.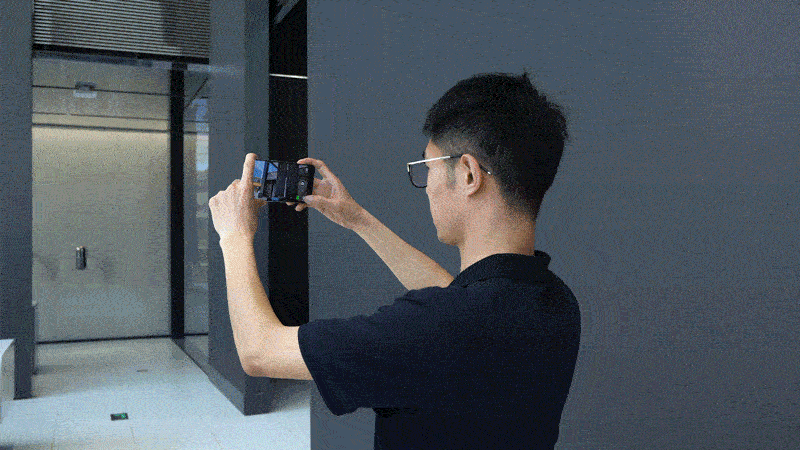 Take a peek into the amazing digital world with OPPO Find X3 Pro
So what's going on behind the scenes to let you have this vivid AR experience?
● More Accurate Spatial Positioning: OPPO's propriety hardware and strong computing power work together to achieve even more accurate spatial localization. To improve the accuracy of indoor positioning, OPPO incorporates multiple sensing technologies in CybeReal including UWB, Wi-Fi, Bluetooth, and IMU (magnetometer, accelerometer, and gyroscope) to deliver hyper-accurate user positioning. Further to this, OPPO's propriety RLOCS (Retrieval and Localization with Observation Constraints) visual positioning algorithm improves indoor positioning accuracy down to centimeter-level precision. So that, the vivid AR content will come to you in the right place.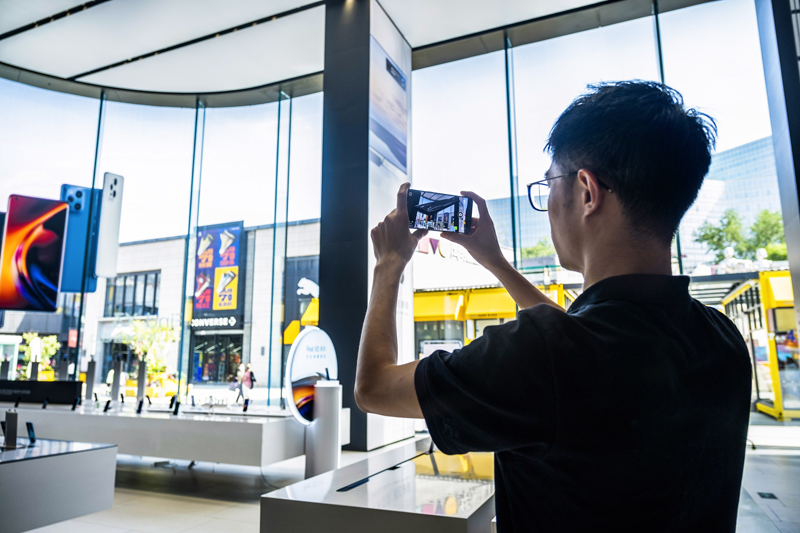 The vivid AR experience come to you in the right place
● More Immersive AR Experience: OPPO Cloud shifts the processing burden from the device to the cloud, helping to improve the AR performance while maintaining reasonable power consumption on the mobile device side. By combining AI with cloud computing, OPPO also makes use of 6DoF pose estimation to allows users to view the AR visuals from any position and angle, or even walk 360 degrees around the target object. All in all, the upgraded CybeReal creates a sharper, more vivid AR experience than ever before.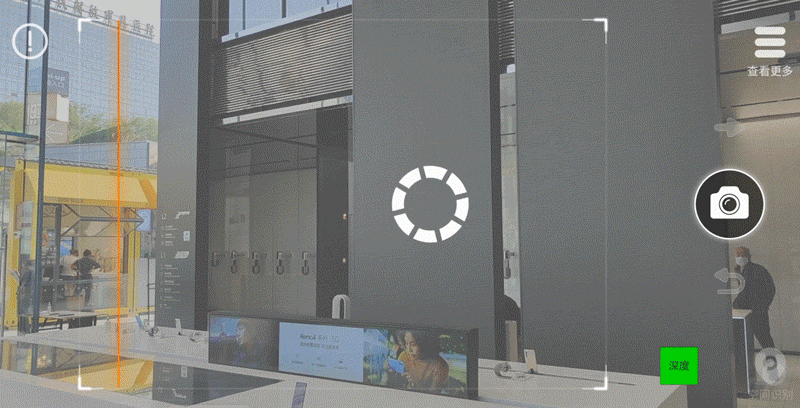 The upgraded CybeReal creates a sharper AR experience in the OPPO intelligent Flagship Store
In February, OPPO's facial detection and tracking system was integrated into the OPPO AI Engine, making it more accessible to developers through the OPPO Quick App 4.0 platform and OPPO open platform. With convenient access to the AI Engine, developers can easily utilize OPPO's AI model to support diverse AR experiences such as emoji mini games, making them more interactive and immersive. In the future, the system will also be adopted on OPPO products.
In March, OPPO Australia partnered with The Reef Restoration Foundation to develop an AR application which brings the majesty of the Great Barrier Reef into the home. Through the app, users can view a 3D digital rendering of the coral networks that make up the reef. By pressing the screen, the color of the coral will fade as the pressure increases, acting as a poignant reminder of the dangers that these large ecosystems currently face.
Following the introduction of two pairs of its AR Glass devices during the past two OPPO INNO DAY events, OPPO is continuing its work in creating an intelligent, fashionable, lightweight pair of smart glasses.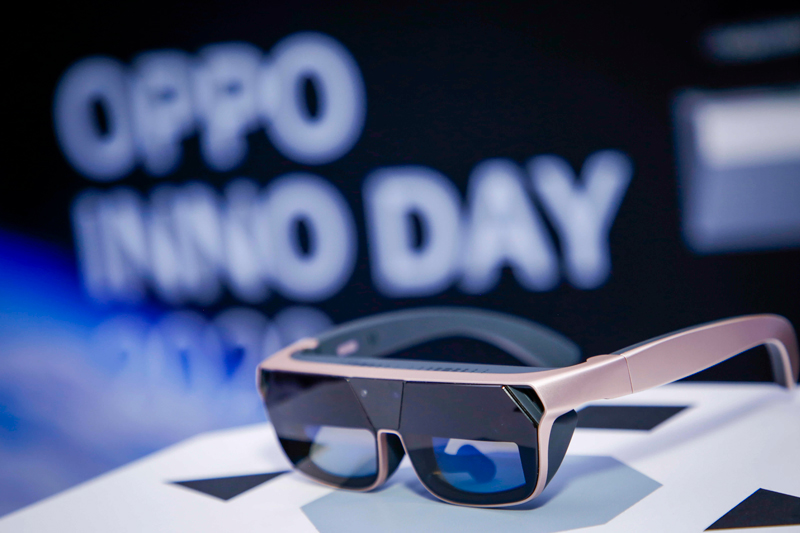 OPPO Glass 2021
Technology for Mankind, Kindness for the World: words we live by
Thanks to the technologies that we have developed to date, OPPO is now in a position to fully embrace the future of AR. We strongly believe that AR is about to power the next generation of health, entertainment, education, and beyond – serving as the key to unlocking a better future.
We have seen the bigger picture – one in which the widespread deployment of AR leads to remote learning students engaged in their lessons through immersive teaching; or the lives of emergency patients saved with the help of remote medical services powered by AR.
"Technology for Mankind, Kindness for the World" is always the North Star for OPPO during its journey of innovation. For OPPO, the ultimate goal of technological development is to benefit each individual and help everyone achieve the most out of their life, as we strive to realize our bigger vision for a kinder world. This is the role we see AR playing in the not-so-distant future, and one which we strive every day to make a reality.
Notes:
OPPO CybeReal was developed by the tech team from the Department of Intelligent Perception and Interaction, which is affiliated to the OPPO Research Institute. With its propriety RLOCS (Retrieval and Localization with Observation Constraints) visual localization algorithm, the team won second-place awards in the Long-term Localization category at the 2020 European Conference on Computer Vision (ECCV 2020) and Computer Vision and the 2020 Pattern Recognition Conference (CVPR). The RLOCS algorithm has also been submitted to the IEEE's flagship 2021 International Conference on Robotics and Automation (ICRA2021) and has been well-received by the reviewers. This June, the team will present the research to academia and the public. Further to this, OPPO's updated spatial computing technology will join the competition at the International Conference on Computer Vision (ICCV) this October.