OPPO and Zhejiang University establish Colour Research Lab to further explore innovation in colour and imaging technology
● The new lab will assist OPPO in developing human-centric technologies and products featuring high-quality colour reproduction capabilities
January 25, 2021, OPPO today announced the formal establishment of the Colour Research Lab at the OPPO-Zhejiang University Joint Innovation Center. The lab's role will be to further explore scientific research and technological innovation, establish industry-leading technical standards and support talent development in the area of colour science. Zhejiang University is one of the world's top universities when it comes to technological innovation and currently ranks 53rd in the 2020 QS World University Rankings.
Under the joint research projects, OPPO and Zhejiang University will conduct research projects exploring the subject areas of basic colour science, colour technology, technical standards, and talent development. The lab will also continue its research into fundamental colour science, establish a comprehensive colour vision database and develop visual functions and colour models for practical applications. Another of the lab's goals will be to establish an exclusive colour technology platform to assist with the design of industry-leading products with high-quality colour management capabilities, as well as helping to solve practical problems in colour engineering.
OPPO has also outlined detailed plans for the lab to play a role in the development of scientific talent and skills. Through relevant training programs, a number of outstanding colour engineers will be offered priority admission to the OPPO R&D team where they will apply the theoretical concepts into practice.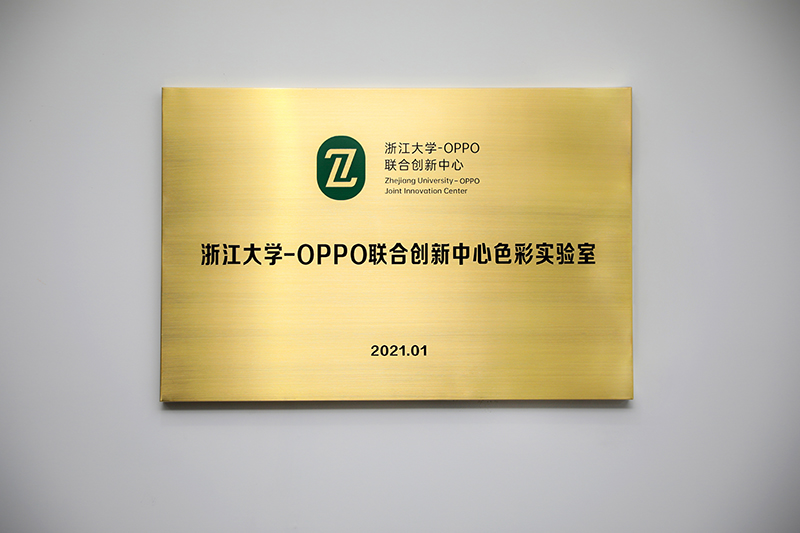 OPPO and Zhejiang University establish Colour Research Lab at the OPPO-Zhejiang University Joint Innovation Center
"Thanks to our years of innovation, OPPO has substantial expertise and rich consumer insights in smartphone display and colour management technology, such as the Full-path Colour Management System" said Eagle Zhuo, Director of Photography at OPPO. "We look forward to working with Dr. Ming Ronnier Luo and his team to introduce more advanced technical solutions into our offerings, with the ultimate goal of providing users with more opportunities to capture life at its most colourful."
"I am confident that the Colour Research Lab will make huge breakthroughs in the field of colour and imaging research, and deliver human-centric products and technology with advanced colour quality," said Dr. Ming Ronnier Luo, Professor of Colour and Imaging Science at Zhejiang University.
OPPO's exploration of colour and imaging technology has a long and rich history. The company recently unveiled the OPPO Full-path Colour Management System at OPPO INNO DAY 2020. An end-to-end solution supporting 100% DCI-P3 wide gamut and 10-bit colour depth, the OPPO Full-path Colour Management System will make its first commercial appearance on OPPO's 2021 flagship Find X3 smartphone in Q1 this year. The new Colour Research Lab will further build upon OPPO's strong credentials in this area to deliver more colour and imaging innovation.
OPPO believes that technological development should benefit each individual. The company will continue to work closely with academic partners to push the limits of colour and imaging technology.
About OPPO
OPPO is a leading global smart device brand. Since the launch of its first mobile phone - "Smiley Face" - in 2008, OPPO has been in relentless pursuit of the perfect synergy of aesthetic satisfaction and innovative technology. Today, OPPO provides a wide range of smart devices spearheaded by the Find and Reno series. Beyond devices, OPPO provides its users with the ColorOS operating system and internet services like OPPO Cloud and OPPO+. OPPO operates in more than 40 countries and regions, with 6 Research Institutes and 4 R&D Centers worldwide, as well as an International Design Center in London. More than 40,000 of OPPO's employees are dedicated to creating a better life for customers around the world.