The Ultimate Guide to ColorOS Image Processing Algorithm
2019-06-06
From OPPO N1 Rotatable Camera to OPPO Reno 10x Zoom, OPPO has been dedicated to developing ColorOS system that guarantees users a brilliant shooting experience.
We have welcomed a post-smartphone era in which has turned into a battlefield of Artificial Intelligence (AI), while mobile photography has also entered an entirely new field - 'Computational Photography.'
HDR for Preserving Details
The latest generation of HDR technology optimizes exposure latitude that fixes errors in exposure and retains photo quality catering to the scenario, along with AI image processing that recognizes and restores hair, dress and face details, intelligently enhancing the finished image.
Low Light HDR
Low Light HDR Mode activates when there is insufficient light. Pressing the shutter camera will first process 4 to 6 pre-shoots at EV 0, then shots several merge underexposure frames. Retaining both brightness and sufficient details of the picture.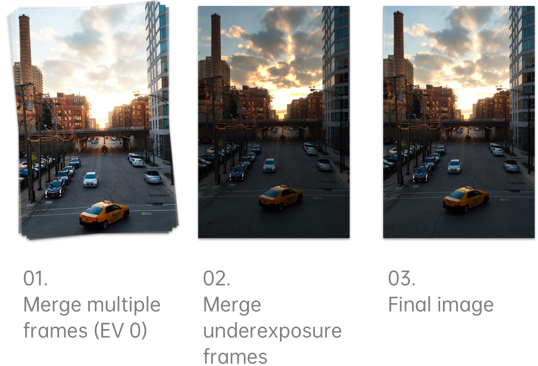 Ultra Night Mode
Ultra Night Mode infuses technology such as HDR for Preserving Details, AI mode, Time-Space Domain Multiple Noise Reduction, Anti-shaking, and Color Protection. Optimizes the brightness, sharpness, and color enhancement of night mode.
Alignment Algorithm
To reach the goal of creating brighter and clearer images, we have developed the Alignment Algorithm to ensure image clarity. Alignment Algorithm guarantees to optimize accuracy for multi-frame synthesis even the device is slightly shaken.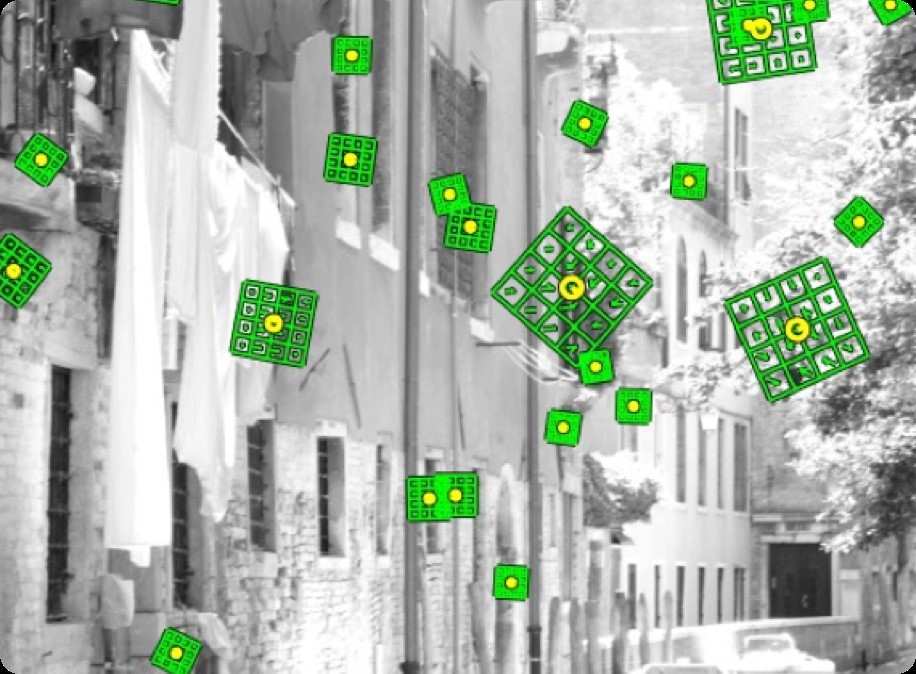 Auto Frame Capturing
Ultra Night Mode recognizes different scenes in accordance with AI mode and adjusts the number of frames to be taken from motion. We lower the number of frames by 40% so the imaging speed can be controlled within 2.5 seconds after optimization.
AI Noise Reduction
Through the process machine learning from more than 10,000 materials and alignment with the different noise level in accordance with different ISO. The high and low-frequency in the AI noise reduction model were built to make the noise reduction tremendously more precise.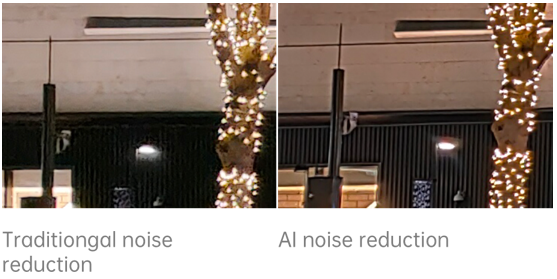 Super Zoom Super-Resolution Algorithm
At the moment when you click the shutter, Super Zoom Super-Resolution Algorithm generates a sequence of continuous high-speed images and automatically selects the image with the highest stability and clarity as to the base frame. Based on the base frame, the system then merges the 8-10 high-speed images and derives a super zoom super-resolution final image.
Merging before Cropping for Better Effect
Unlike other traditional methods that sacrifice image resolution with cropping before merging an image, in the process of Super Zoom Super-Resolution Algorithm, we carry out photo merging, followed by zooming and cropping, as to create a high-resolution final image.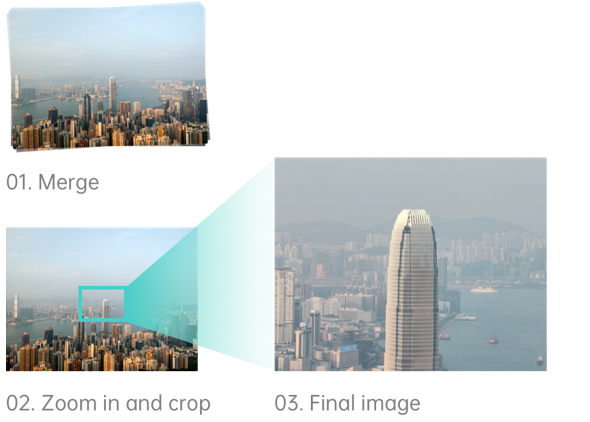 Super Zoom Text Optimization
By introducing text optimization algorithm to the system, Super Zoom Text Optimization ensures text clarity even when fully zoomed on hand-held operation with 60x Digital Zoom mode.
White Balance for Multiple Focal Lengths
Optimize white balance performance stability on setting switches between 0.6X Ultra-Wide-Angle to 60x Digital Zoom. Devices like OPPO Reno 10x Zoom have been equipped with 11 different white balance set values that infinitely stabilizes the white balance discrepancy under CMOS setting.
Super Zoom Anti-Shake Algorithm
Apart from hardware Optical Image Stabilization (OIS), OPPO Reno 10x Zoom is equipped with advanced image stabilization algorithm for high magnification. Minimizing pixel standard deviation from industry standard 20 pixels to an astounding 10 pixels.

HIS Anti-Shake Technology
Future OTA will offer the upgrade of High Image Stabilization (HIS) performance, reconfiguring the balance between Optical Image Stabilization (OIS) and Electronic Image Stabilization (EIS) system coordination, accelerating gyro bandwidth from the industry standard of 400Hz to 1000Hz.
ZSL Frame Capturing from Front Camera
In the future, we will introduce ZSL Frame Capturing from Front Camera, such that the camera will automatically capture multiple frames before the users press the shutter, for better efficiency and a smoother photo merging process.