Capture and create your billion colour stories with Find X3 Pro
Colour provides the building blocks for some of our earliest memories. As children, we are taught to recognise the things around us by the colours we see. They become some of the first words we learn and the way we identify with the different aspects in our daily lives. Colour is an integral part of our relationship with the world.
As we grow, colour only continues to impact and enrich our experiences, which is why at OPPO, we're on a mission to honour that important bond. We want to ensure that you can capture and relive those memories with the same vibrancy and realism as you first experience them, and we want you to be able to do it all from the smartphone in your pocket.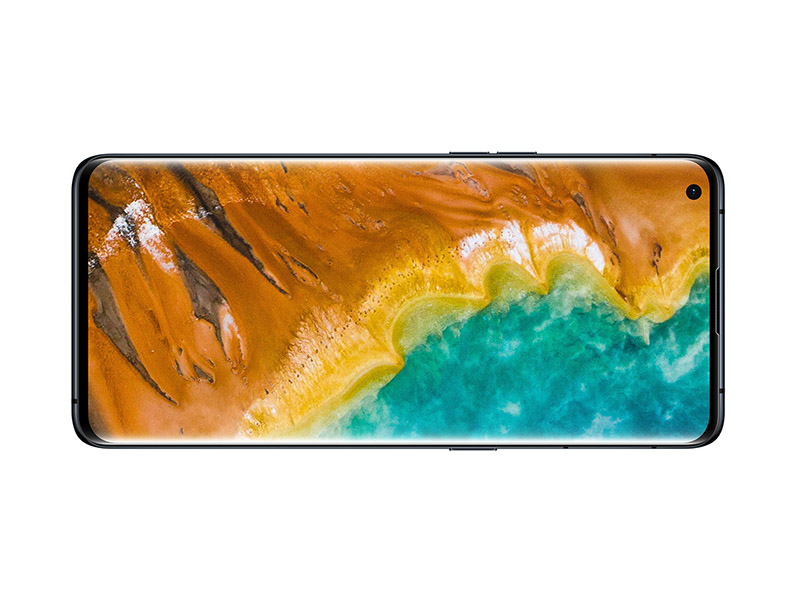 Thankfully OPPO has a long-standing legacy in class-leading displays and cameras. Find X2 Pro was a pioneer in its field, delivering a critically acclaimed display and a powerful Ultra Vision camera system capable of capturing rich HDR video. It brought visuals to life with pro-level accuracy and created the foundation for what was to come next.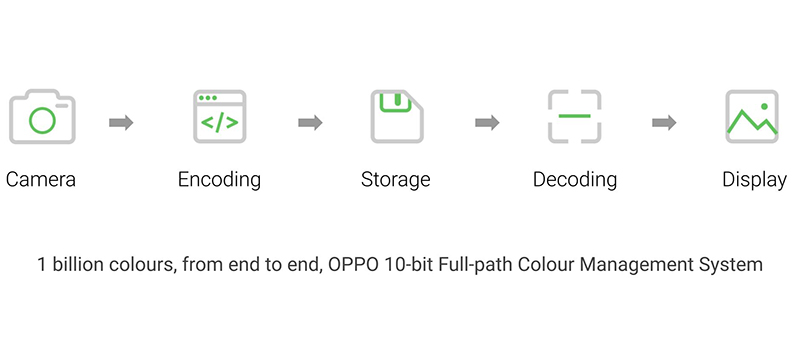 Introducing the billion colour experience
OPPO's Full-path Colour Management System was announced at INNO day 2020, and was the next step in combining a true billion colour display experience with true imaging excellence.
Now offering 10-bit colour from capture to storage to display, Full-path ensures you enjoy an end-to-end billion colour experience, made possible by innovations across both hardware and imaging algorithms. These advancements sit alongside 100 per cent compatibility with the DCI-P3 wide colour gamut, a professionally colour calibrated display and HEIF support, for storing high-quality image files at 50 per cent of the size of a JPEG.
The result is an ecosystem committed to vivid colour perfection at every turn.
Next-generation true billion colour display
This next generation Colour System is brought to life for the first time in Find X3 Pro. With a 6.7-inch QHD+ (3216x1440) 525ppi AMOLED screen, delivering a 5,000,000:1 contrast ratio, Find X3 Pro sets a new benchmark in rich colour, inky blacks and true-to-life detail, all with striking 1300-nit brightness.
To ensure that each screen can represent the colors objectively, screen calibration must be done on the production line. We capture raw data from the screen with optical instruments, and generate a high-precision 3D-Lut file. It will fine tune indicators including Gamma value, range of color, non-linear attributes, color crosstalk, hue, saturation, and so on.
Ultimately, the average color accuracy of Find X3 Pro is 0.4 JNCD. This is a top-level standard in the industry, achieving true accuracy at all times, without exception.
Its 10-bit billion colour display delivers 64 times more colours than a traditional 8-bit display is capable of, and ensures Find X3 Pro is one of the most evocative, immersive mobile screens you can buy.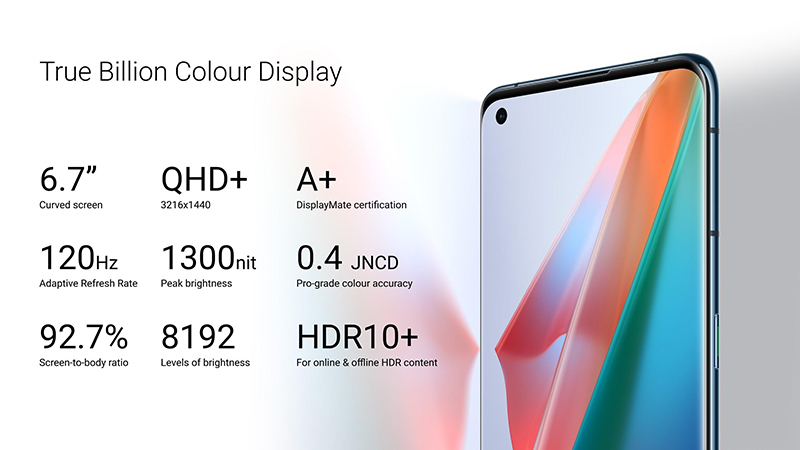 This is bolstered by a super smooth 120Hz Adaptive Refresh Rate, which can intelligently adapt Find X3 Pro from 5-120Hz based on what's displayed on-screen. This is made possible with Find X3 Pro's power-efficient LTPO panel, improving on Find X2's ground-breaking display by offering an even higher screen refresh range of.
The result is a faster, smoother viewing experience, whether you're enjoying the latest mobile game or scrolling your fast-moving social newsfeed.
And that's not the only aspect of the screen you can leave in Find X3 Pro's capable hands - the Natural Tone Display ensures a comfortable visual experience whenever you're using it. Promising automatic 8192-level brightness and temperature adjustment, Find X3 Pro smoothly and steadily selects the screen colour and brightness level to suit the ambient light of a user's surroundings.
You can even leave Find X3 Pro to make the most of whatever you're watching. With OPPO's O1 Ultra Vision engine in the driving seat, Find X3's Super Resolution feature upscales poor quality video (480p or below) to 960p, with HDR Video Enhancement recreating the effect of rich HDR content with SDR footage.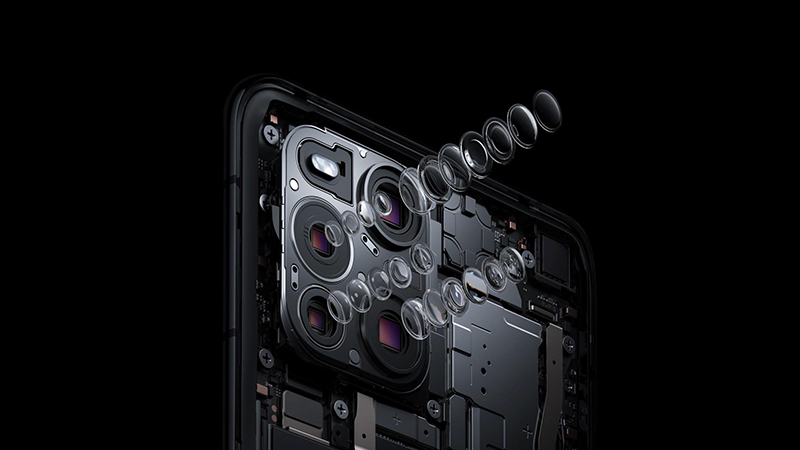 Inspired by colour
A class-leading screen is an integral part of a smartphone, but it's Find X3 Pro's dual primary cameras that truly bring OPPO's Full-path Colour Management System to life, empowering creators to capture more of what counts with billion colour photos; perfectly processed to be enjoyed on Find X3 Pro's ground-breaking billion colour display.
But it takes a lot of effort to be the first one in the industry to capture 1 billion colour.
The thing is, Android only supports the decoding of 8-bit images. This breakdown shows the image processing from decoding to rendering. When going through the steps highlighted in green, the 10-bit image data will be cut down to 8-bit. So from the beginning of decoding, 10-bit data cannot be processed correctly.
So we came up with an idea: is it possible to develop a path that will process 10-bit image data?
To be honest, we didn't have much confidence at the beginning. Rewriting the underlying system poses a great challenge. The native image decoder cannot process 10-bit image information. So we have restructured the decoding framework, and modified the native decoder to develop a new decoding solution.
That's just the first step. After decoding is done, we need to modify the storage data to come up with a new storage structure.
Eventually, adaptation is done at the rendering layer. It is with all these breakthroughs step by step that we enable a full-path processing of 10-bit image. Up until now, OPPO is the only smartphone brand that achieves a full-path 10-bit image capture, and brings end-to-end support for 10-bit.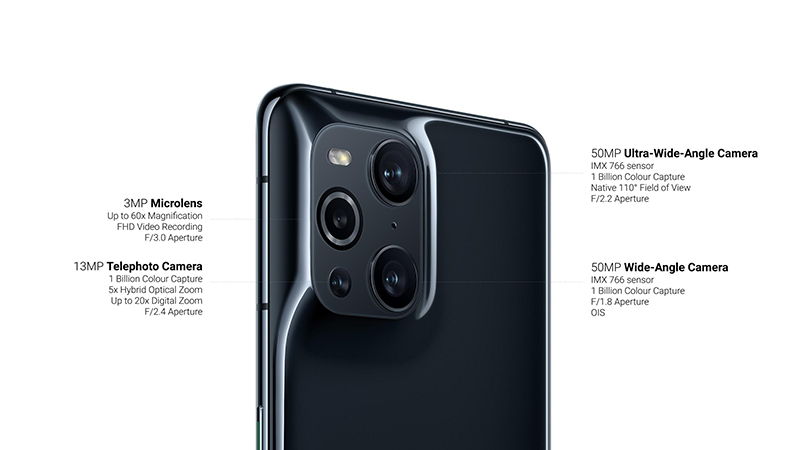 Both the wide angle and super-wide angle cameras on Find X3 feature a Sony IMX766 50MP sensor for rich, billion colour 10-bit capture, while its 4K BT.2020 colour gamut support and in-depth manual controls help promote Find X3 from smartphone to a videographer's best friend.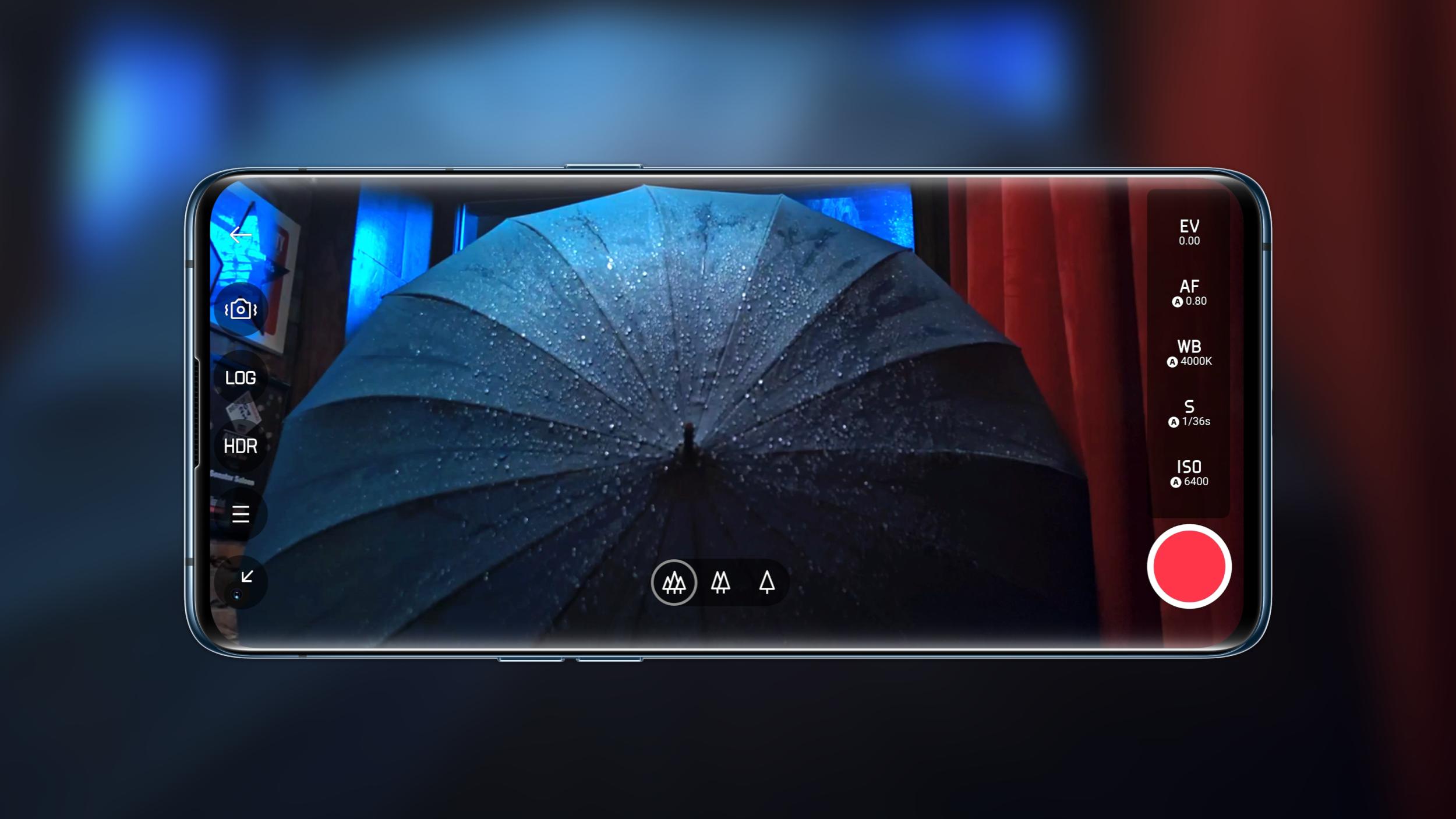 An expert combination of OIS and EIS ensures your video content is always Ultra Steady too, plus with an adjustable frame rate of up to 60fps, your video footage will always be smooth - even when filming in 4K.
While Find X3 Pro's extensive manual controls are great for professional grade tweaking, the AI automatic video enhancements ensure you can get a rich, pro-grade result with minimal effort. Just point and shoot at whatever you want to capture, and Find X3 Pro will make expert decisions on its settings based on your subject and surroundings.
As you'd expect, attention to detail is critical when it comes to photography. With the most advanced mobile focus technology on the market, Find X3 ensures you enjoy 360 degree, 100 per cent focus pixel coverage for super sharp imagery every time.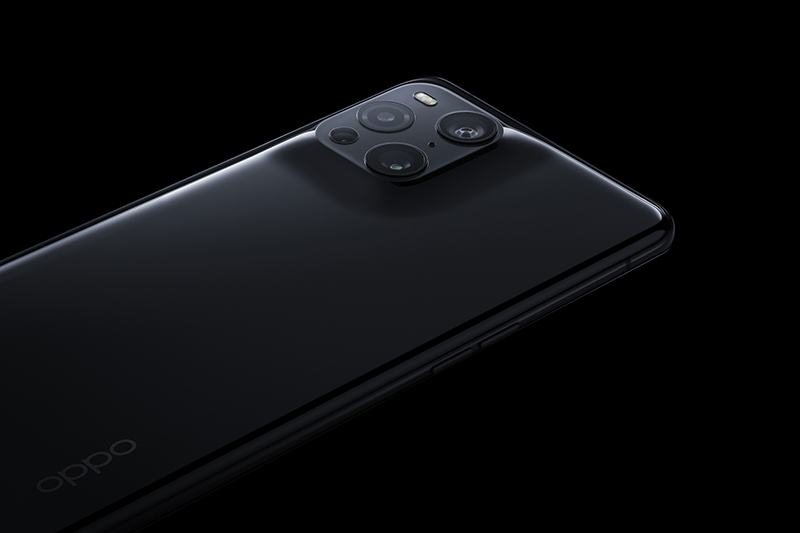 The 60x magnification microlens uncovers the beauty hiding at miniature level, while Find X3 Pro's RAW+ support is the first of its kind on an Android smartphone. With HDR RAW file capturing, it allows more room for post-processing and reproduction than regular RAW files. The format also works with the colour temperature sensor to ensure supreme colour accuracy with every shot.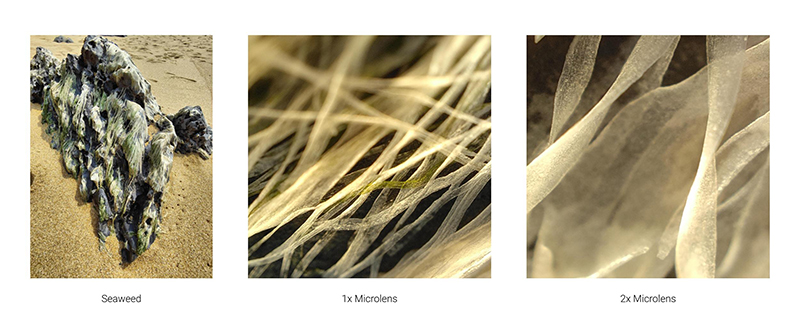 Such an incredible camera comes together with Find X3 Pro's next-generation display to produce a phone that puts vibrant colour, outstanding detail and rich human experience at the forefront. By understanding and respecting the importance that colour plays in our lives, Find X3 makes billion colour stories a reality, from creation, to encoding, storage, decoding and display, all in one superb device.