OPPO Reno3 Series Officially Launched A New Era Unfolding for 5G Video Smartphones
Hangzhou, China, December 26, 2019- Today in Hangzhou, OPPO officially launched Reno3 and Reno3 Pro, the first dual-mode 5G smartphone series. As the 3rd generation product of the Reno Series, OPPO Reno3 Series aim to bring an improvement of 5G user experience. Powered with the dual-mode 5G platform, Reno3 Series optimize features like signal, battery life, and heat dissipation to create a new 5G smartphone experience. OPPO Reno3 Series introduce Ultra Steady 2.0, helping users to capture perfect steady videos both indoors and out of doors.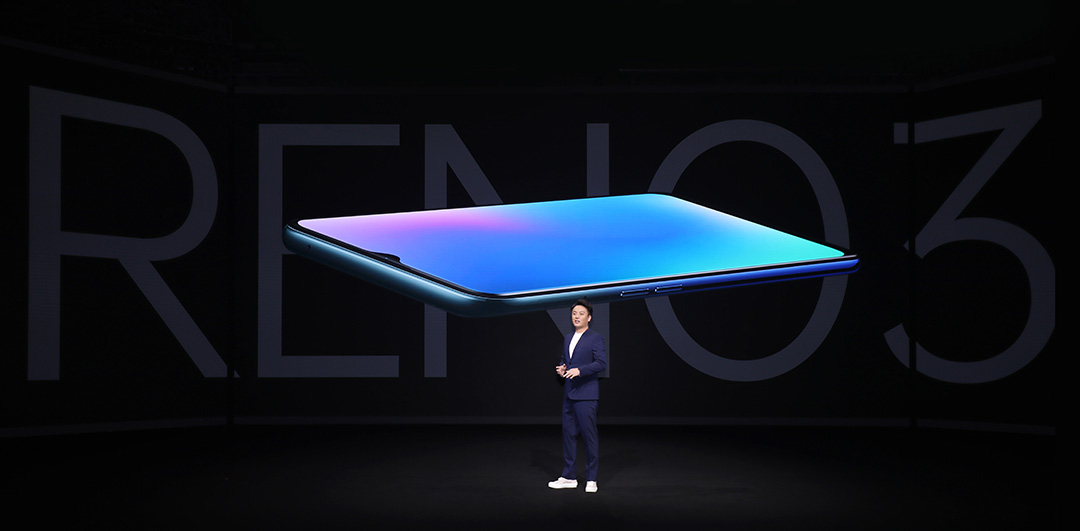 Lightweight 5G: speed of 5G, battery life of 4G, Overall Cooling
Reno3 Series is equipped with standard dual-mode 5G and supports SA / NSA dual networking. Reno3 Pro is powered by Qualcomm's next-generation Snapdragon 765G platform enabling multi-gigabit speeds and Mulit-gigabit download speeds up to 3.7 Gbps.
OPPO Reno3 Pro with Qualcomm 765G
OPPO Reno3 Pro uses a 360-degree surrounded antenna design. More than ten antennas are arranged along the outer frame. The system will automatically call the unobstructed antenna group according to the holding posture to ensure signal strength.
Also, Reno3 Pro applies smart antenna cutting technology, and evaluates signals through 4 antennas to find the optimal channel with faster network speed, which can increase the network speed by up to 30%. No matter it is a horizontal grip when playing a game or a vertical grip when using wechat or any messaging app, a stable network is guaranteed for any holding position. In addition, Reno3 Pro supports 5G + WiFi dual channels, allowing 5G mobile network and 5G WiFi to work online at the same time, achieving network speed superposition. The dual-channel OPPO application store has a maximum download speed of 160M / S, allowing users to enjoy faster network speeds than 5G.
OPPO Reno3 Pro 360-degree surrounded antenna design
In order to enable users to experience the speed of 5G with the battery life of 4G, OPPO Reno3 Pro adopts a tailor-made 5G intelligent dispatch system (Smart 5G). Smart 5G uses algorithms to control power consumption of different applications. According to a user's actual scenario, the network strategy is adjusted without affecting the user's perceived network speed. Bandwidth and power are more intelligently allocated to improve the battery life.  Meanwhile, Reno3 Pro is equipped with a 4025mAh large-capacity battery, supporting VOOC flash charge 4.0, and achieves continuous high-current safe charging. It can be charged to 50% in 20 minutes (from 3%), providing users with a better 5G battery life experience.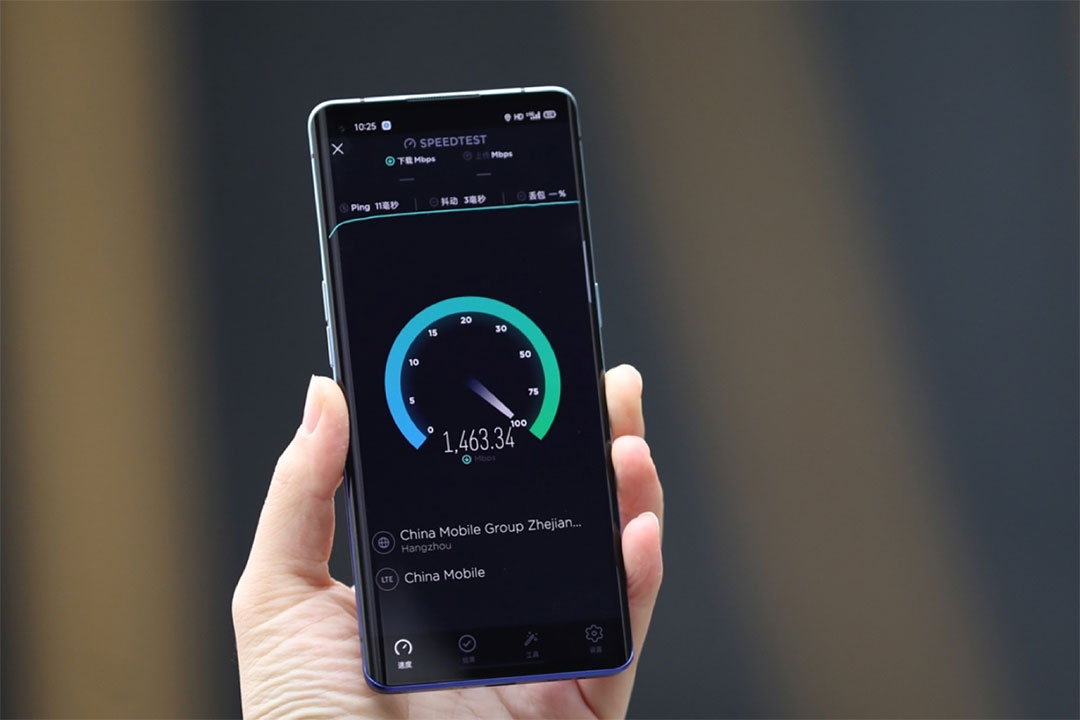 OPPO Reno3 Pro Smart 5G intelligent dispatch
5G smartphones generally face cooling problems. To support high-power network and hardware operations, Reno3 Pro uses a multi-layer 3D liquid-cooled heat dissipation system. The screen is covered with a layer of copper foil and two layers of graphite sheets which concurrently dissipates heat from the screen and motherboard. The body is equipped with a VC(Vapor Chamber), which conducts the heat generated by the processor to the VC for rapid cooling through a heat-conducting gel. The middle of the body is also covered with multi-layer graphite sheets, which are suitable for different heat sources for cooling. The 3D liquid-cooling heat dissipation system controls the temperature of smartphone, so it will not be hot to hold.
Pleasant video: Easy shooting, fast sharing
Photography is a key focus and strength of OPPO technology. From "camera phone" to "5G video phone", Reno3 Series inherits Reno2's exploration and development on video phones, launching brand-new Ultra Steady 2.0 video mode that combines OIS(Optical Image stablization) and EIS(Electrical Image Stablization). A stable video shooting effect is achieved through multi-source sensor information fusion and the intelligent scenario analysis. At the same time, Reno3 Pro has added Wide-angle Stablization Mode to capture wider angle of view——87% more than the normal mode . Reno3 Pro presents stable and clear pictures no matter you are indoors or out of doors.
In addition to, OPPO Reno3 Pro also excels with video portrait bokeh effect, video zoom, video smart editing, etc.  SoLoop, the smart video editing software of Reno3 Pro with filters, music, rhythm, and transitions synthesize video clips into the customized templates. Together with 90Hz screen and 5G sharing speed, users would enjoy the fun of video shooting.
OPPO Reno3 Pro ships four back camera–––48 million main camera,13 million telephoto lens,8 million ultra-wide angle camera and 2 million black-and-white style camera . The main camera adopts Sony IMX586 sensor with OIS, and its imaging effect is improved thanks to a new ISP image algorithm.The 13 million telephoto lens achieves 5 times hybrid optical zoom by switching with the main camera and wide-angle lens zoom.Plus, Reno3 Pro supports AI ultra-clear night scene mode, making night scene shooting easier than ever before.
Reno3 Pro camera module
In terms of front cameras, OPPO Reno3 Pro takes the industry's highest pixel front camera module, a 32 million ultra-clear camera. Besides, by recognizing the skin color and the light condition when taking a selfie, the Portrait Beautify 2.0  is customized to make selfies clear and beautiful.
For better browsing the photos and videos, Reno3 Pro's 90Hz screen brightness increases to 800nit by 14% and maximum brightness up to 1100nit. It is easy to see the screen in all light conditions like in the sunlight.  The maximum touch sampling rate of 180Hz allows users to play games without smears with a smooth touch, meeting the demands in application scenarios such as games and videos.More than that, Reno3 Pro screen passed the TUV Rheinland global eye protection certification and HDR10+ certification.
Except for the screen, Reno3 Pro's dual speakers with the largest sound chamber to date brings better volume or stereo effect. At the same time, the legendary sound experience of Dolby Atmos brings users an immersive listening experience.
Pleasant hand feel: lightweight body, smooth performance
Thinness is the core idea of Reno's new-era design. OPPO has made a upgrade on the camera, screen and fingerprint module for this purpose. The screen ratio of Reno3 Pro is 92.1% by using a 6.5-inch OLED flexible screen. This screen is 0.3mm thinner and 10g lighter than the previous OLED hard screen. In addition, Reno3 Pro uses a new ultra-thin light-sensitive screen fingerprint module, reducing the thickness of the fingerprint module from 2.95mm to 0.266mm. Finally, OPPO Reno3 Pro has a body thickness of just 7.7mm and a body weight of 171g, thus creating the world's thinnest 5G smartphone.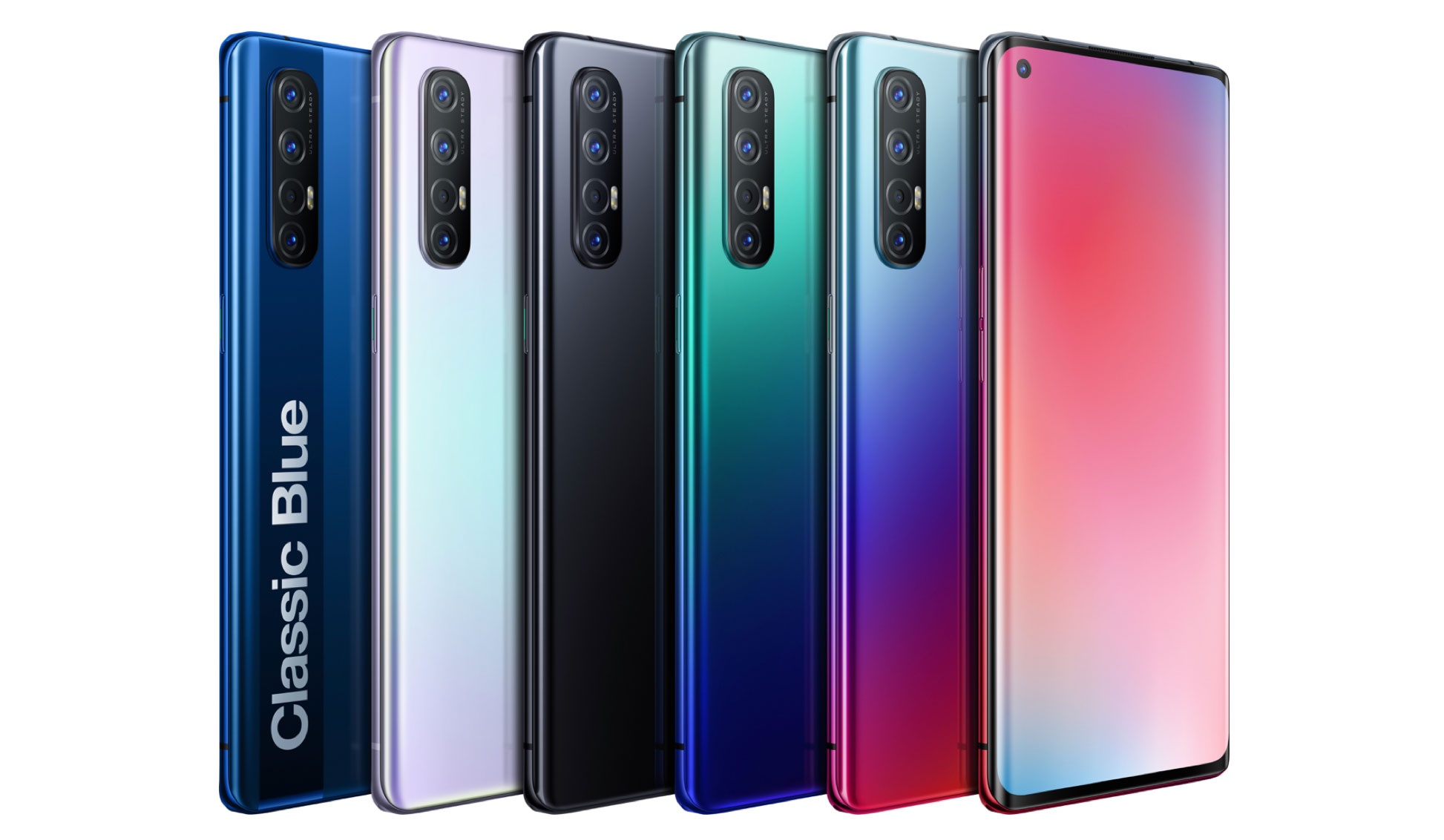 In terms of color, the new OPPO Reno3 Pro shows off the company's new thinking on color science, which has evolved from the popular color gradients to today's texture gradient. Reno3 Pro has four colors— Sunrise Impression, Starry Blue, Moonlight Black, and Misty White. Through gradient coloring, Reno3 Pro brings a unique new visual experience.
Also announced today, OPPO has partnered with world renowned color authority Pantone to launch Reno3 Pro 5G - Pantone® Color of the Year 2020 Classic Blue Edition. The high-precision color reproduction and craftsmanship, plus gloss of the glass body and the rich frosted effect, making Reno3 Pro 5G-Classic Blue Edition the symbol of fashion and trend in 2020.
Reno3 Pro 5G-Classic Blue Edition
The performance of Reno3 Pro has also been improved. Reno3 Pro adopts 12GB RAM and up to 256GB ROM. In terms of software, Reno3 Pro ships the new system ColorOS 7. The ColorOS 7 design adopts a borderless aesthetic–––the new icon system reduces color saturation. The overall visual effect looks comfortable. The all day long dark mode together with the intelligent backlight mechanism, Reno3 Pro can adapt to various usage scenarios to protect your eyes. Other functions like flashback button, intelligent image selection, weather alarm, 90Hz interactive live wallpapers provide a more convenient experience.
At the Hangzhou launch conference, OPPO Vice President and Global Marketing President Brian Shen restated Reno Series concept, "The Reno3 Series' aims to create a tool to help young people to make and record happiness in life. Being young means being and free. Happiness means enjoying every moment in your life and seizing it at once. The Reno Series represent brand upgrade of OPPO, also shows OPPO's creativity by providing everyone with `` light and fast '' smart products. "
Moreover, OPPO also released another 5G product Reno3. Reno3 has four colors— Sunrise Impression, Starry Blue, Moonlight Black, and Misty White. Reno3 adopts dual-mode 5G chip MTK Teana 1000L, supporting SA / NSA dual-mode 5G function. Reno3 also adopts a 4025mAh large battery supports VOOC 4.0 fast charging. For images, OPPO Reno3 also applies Ultra Steady 2.0. It has a 64-megapixel main camera. The Ultra Steady 2.0 mode can stablize pictures captured by wide-angle cameras.
Reno3 has a IMX686 sensor to capture more details. As for the front camera, the 32MP front camera captures excellent selfies even in the dark.
What's more, the OPPO Enco Free headphones with industry-leading bluetooth low-latency dual-pass technology is as fast and stable as wired. It also adopts ultra-dynamic speakers to give users enjoyable sound quality and AI call noise reduction to make communication as clear as close to your ears.
The OPPO Reno3 Pro 8GB+128GB edition is priced at RMB3999(about USD572 ). The OPPO Reno3 8GB + 128GB edition is priced at RMB3399(about USD485). These two new devices will be launched online and offline on December 31st(GMT+8)first in China online and offline. The Reno3 Series would also hit the other market around the world, please stay tuned.