Everything you need to know about SuperVOOC
2018-12-04
Fast Charging in 35 Minutes – OPPO SuperVOOC Flash Charge
Fast charging is now highly in demand from smartphone buyers who want a device that can fully charge in minutes, not hours. OPPO is a pioneer in fast charging technology, and its new SuperVOOC Flash Charge can go from 1% to 100% in just 35 minutes.
SuperVOOC is one of many exciting new technologies to debut with the new OPPO R17 Pro and Find X smartphones in 2018. It sets the new benchmark for fast charging technology that keeps up with the rapid pace of modern life.
What is VOOC?
VOOC (Voltage Open Loop Multi-step Constant-Current Charging) is a fast charging technology developed by OPPO Electronics, first introduced in 2014. VOOC Flash Charge uses a special adapter and cables to charge devices safely at 25W without overheating. It was succeeded by SuperVOOC in 2018.
What is Super VOOC?
SuperVOOC is the evolution of OPPO's VOOC Flash Charge technology. It uses an innovative bi-cell battery design to deliver maximum charging power close to 50W. SuperVOOC Flash Charge can fully charge a smartphone in only 35 minutes in controlled laboratory conditions – almost four times the standard charging speed.
How fast is fast charging?
Most high-end smartphones today take around 2 hours to fully charge. While many phones boast of fast charging up to 75%, it can take considerably longer to reach 100%. OPPO SuperVOOC charges to 100% in 35 minutes, faster than any other charging technology currently available.
Most smartphones charge more slowly when power-draining apps are in use. SuperVOOC will still charge rapidly even if you're watching videos or playing games at the same time.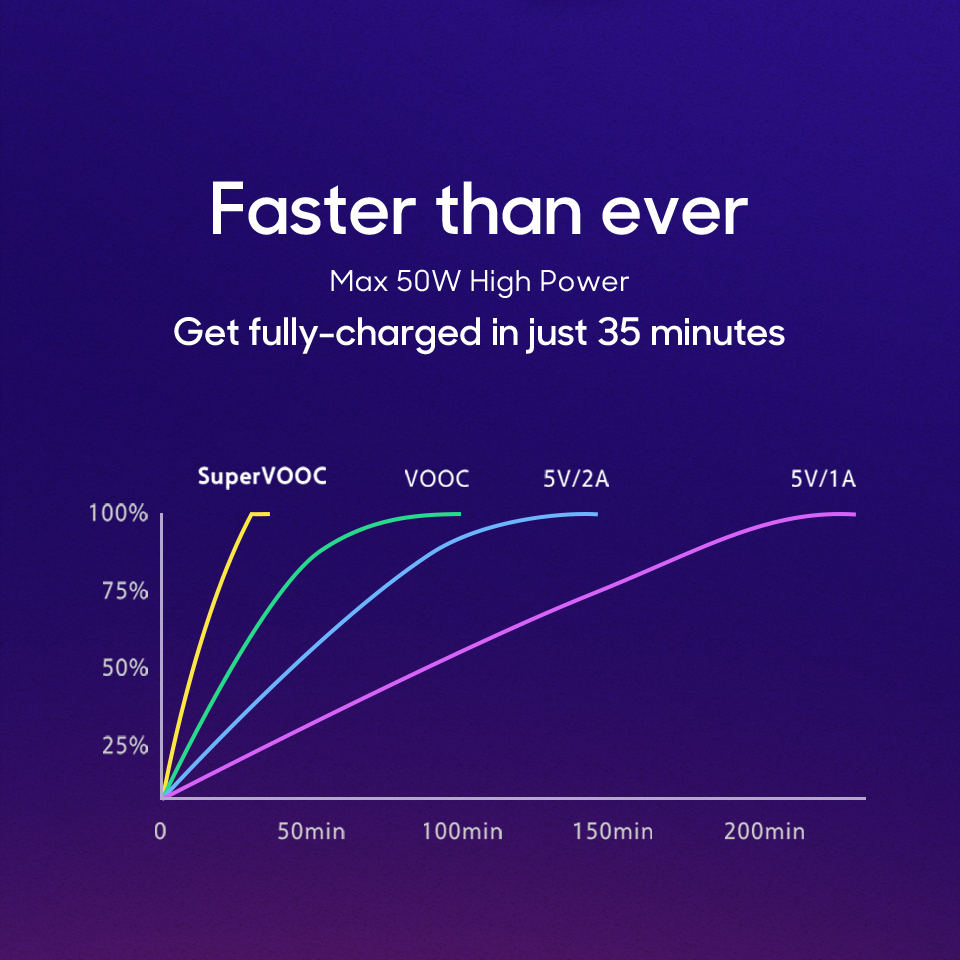 How long does it take to charge OPPO?
| | | |
| --- | --- | --- |
| Fast charging system | Power (W) | Time to full charge |
| VOOC Flash Charge | 25W | 1 hour, 9 minutes |
| SuperVOOC Flash Charge | 50W | 35 minutes |
OPPO's SuperVOOC Flash Charge is the fastest charging technology currently available for smartphones. It can reach 40% charge in 10 minutes and full charge in just 35 minutes.
OPPO's original VOOC Flash Charge is still very competitive too, charging from 0% to 75% in 35 minutes, 0% to 90% in 45 minutes and 0% to 100% in 1 hour and 9 minutes. Charging the phone for just 5 minutes is enough for 2 hours of talking time.
What phones have Super VOOC Flash Charge?
SuperVOOC is OPPO's new fast charging technology. Announced at the 2016 Mobile World Congress, it became available on a select range of OPPO smartphones beginning in late 2018. These are:
· OPPO R17 Pro
· OPPO Find X
· OPPO Find X Automobili Lamborghini Edition
More OPPO phones will benefit from SuperVOOC fast charging in the future.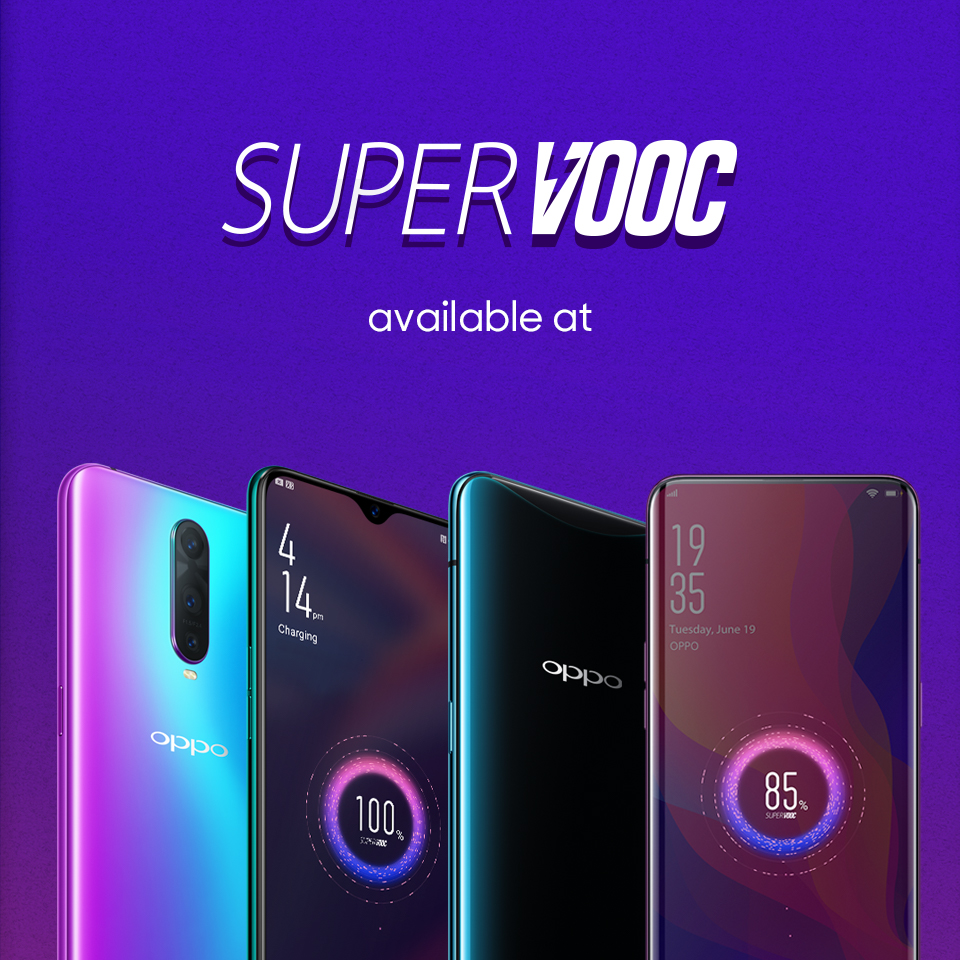 What phones use VOOC Flash Charge?
VOOC Flash Charge is a proprietary technology exclusive to OPPO smartphones. Smartphone models that currently use VOOC fast charging include:
· OPPO F1 Plus
· OPPO F3 Plus
· OPPO F9
· OPPO F9 Pro
· OPPO Find 7
· OPPO Find 7a
· OPPO N3
OPPO R5
· OPPO R7
· OPPO R7 Plus
· OPPO R7s
· OPPO R9
· OPPO R9 Plus
· OPPO R9s
· OPPO R9s Plus
· OPPO R11
· OPPO R11 Plus
· OPPO R11s
· OPPO R11s Plus
· OPPO R15
· OPPO R15 Pro
· OPPO R17
What is the fastest cell phone charger?
Fast charging technology uses specially designed chargers that have a higher power output than conventional chargers. In the case of OPPO's SuperVOOC Flash Charge, these can deliver up to 50W of power – compared to the maximum 10W output of a standard USB charger.
SuperVOOC fast charging uses 2 x 1700mAh batteries in a bi-cell design. This is equivalent to a single 3400mAh battery, but doubles the charging capacity for a significantly reduced charging time.
Is it bad to charge your phone with a different charger?
Most fast charging systems are designed for use only with specific types of batteries or certain models of phones, as there are limits to how much current and voltage a battery can take. Fast charging a battery beyond these limits can result in overheating or damage to the battery.
SuperVOOC is more accommodating than some other fast charging systems. While it can only be used with compatible OPPO smartphones that have a custom bi-cell battery, Micro USB and USB Type-C chargers can both be used.
Is fast charging safe?
VOOC and SuperVOOC fast charging have been designed with safety in mind. Five-core protection allows smartphones to be used safely while charging is in progress, and the low-voltage system will not cause the phone or charger to overheat. These fast charging systems do not negatively impact on battery life.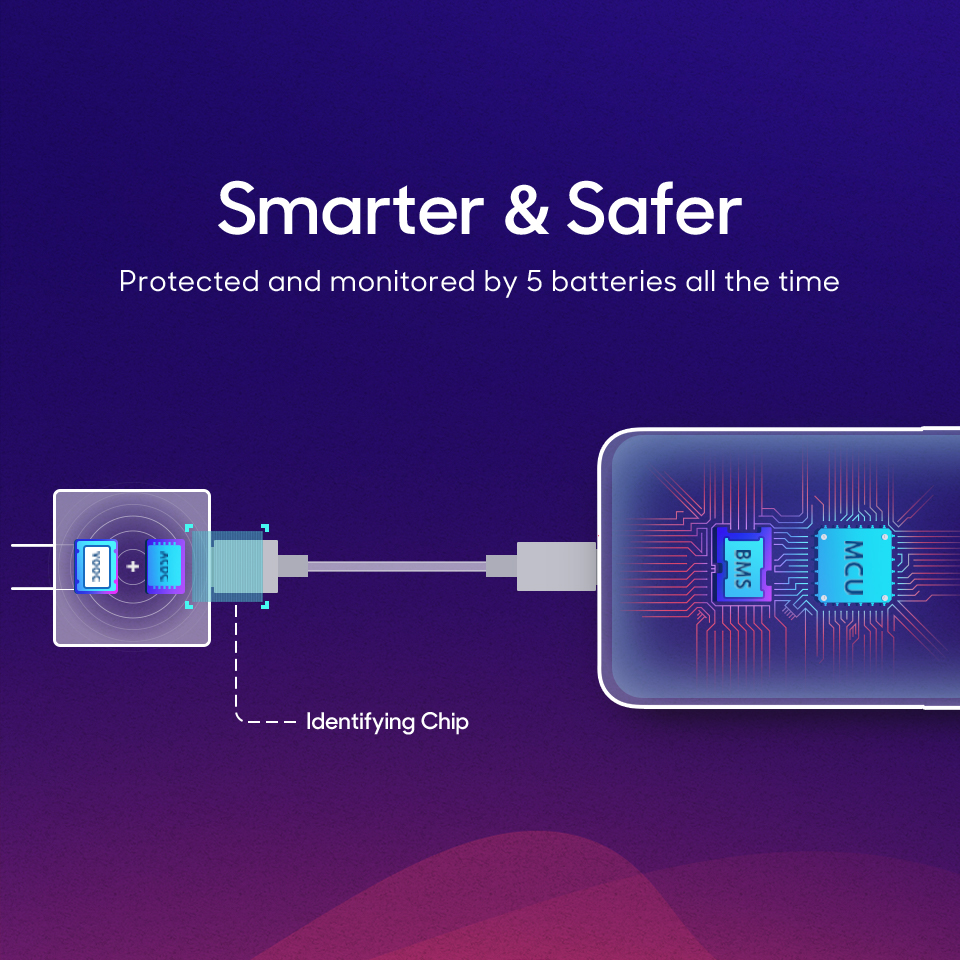 To experience SuperVOOC Flash Charge for yourself, try out the new OPPO R17 Pro and OPPO Find X, now available in Australia at your local OPPO store.