OPPO Named First Global Smartphone Partner of League of Legends Esports
Global Smartphone Brand Expands into Esports Leagues with Unprecedented Multi-Year Agreement with Riot Games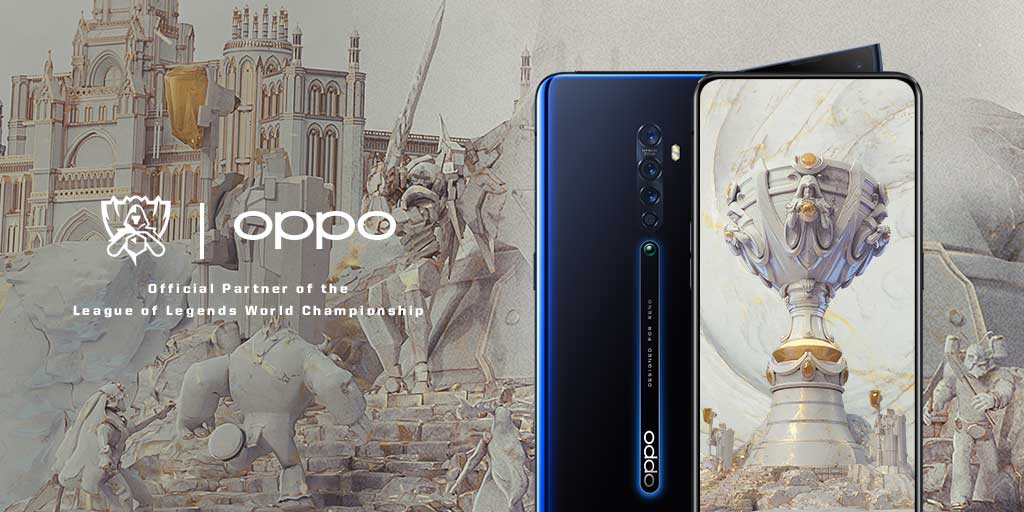 LONDON, UK – Oct. 01, 2019 – Riot Games, the publisher of the most-played PC game in the world, today announced a multi-year partnership with OPPO to be the exclusive official global smartphone partner for League of LegendsⓇ esports international events: The World Championship, Mid-Season Invitational, and All-Star Event. The multi-year partnership through 2024 will begin at 2019 Worlds scheduled to start 2nd Oct in Berlin and conclude on 10th Nov in Paris.
This ground-breaking partnership marks OPPO's first entry into esports, further diversifying the innovative tech giant's expanding sports and entertainment sponsorship portfolio.
"Esports is a fast-growing sport globally, and League of Legends has become a lifestyle of many young people in recent years," said Brian Shen, OPPO Vice President and President of Global Marketing. "As a consumer-centered brand, OPPO always seeks the right way to communicate with young people, our target audience. This is a great move for Riot and OPPO; the partnership will allow us to continue to strengthen our bond with the young as we join them in celebrating the victory of each game."
"OPPO's commitment to design and innovation are cornerstones in everything they do, and we are thrilled to have them bring their pioneering spirit to our global sport and fanbase," said Naz Aletaha, Head of Global Esports Business Development and Partnerships for Riot Games. "To be OPPO's first esports league partner is a powerful testament to the resonance of League of Legends esports, and we look forward to collaborating together to celebrate the sport, our fans, and the love of the game."
League of Legends joins OPPO's roster of premier sport partners which includes Wimbledon, FC Barcelona, and the International Cricket Council, among others. This partnership puts OPPO at the center of the burgeoning global esports market, as they join League of Legends Esports best-in-class partners like Mastercard, State Farm, Alienware, Secretlab, and Louis Vuitton.
Through this partnership, League of Legends will look to further enhance fans' live event and viewing experiences around its marquee global sporting events, while OPPO's long-term commitment to the industry allows them to engage with the growing passionate player base of the world's top esport.
As the exclusive global smartphone partner for League of Legends esports, OPPO will have year-round activations centered around the sport's three annual global tournaments: the Mid-Season Invitational, the All-Star Event, and the World Championship, which attracted 99.6 million unique viewers last season. Starting with the 2019 World Championship, OPPO will bring fans closer to the biggest esport events of the year through unique activations, including:
● MVP Presented by OPPO: As the first global presenting partner for the Most Valuable Player award at the World Championship and Mid-Season Invitational, OPPO will celebrate the most winning performance for the most critical matches of the season.
● OPPO Cam: During the broadcasts of the World Championship, the OPPO Cam will bring millions of fans tuning in closer to the biggest competition of the esports season. From cosplay to behind-the-scenes look-ins, the OPPO Cam will allow fans watching from around the world to look in on the live event experience by leveraging OPPO's unparalleled phone camera technology.
● Welcome to the Rift: OPPO will spotlight teams making their inaugural appearance at Worlds, allowing fans an inside look at the next League of Legend prodigies, the top underdog contenders, and the most dangerous dark horses.
OPPO also will activate a series of consumer promotions that give players a chance to win a trip with behind-the-scenes access to the World Championship, All-Star Event, or Mid-Season Invitational.
OPPO is dedicated to producing products infused with art and innovative technology. In less than a decade, the company has become one of the top four global smartphone brands and continues to lead the smartphone industry in 5G development. OPPO's Game Center operation is unmatched with over 130 million active monthly game users across nine thousand games operated on their devices.
---
About League of Legends Esports Leagues
League of Legends Esports is a premier global sport that attracts the attention of millions of fans around the world. There are currently over 800 professional players on more than 100 professional LoL Esports teams competing across 13 leagues globally. Each regional league is comprised of approximately 10 teams that compete against one another year-round over the course of two seasonal splits. Teams earn championship points in order to qualify for the two major international competitions: the Mid-Season Invitational and the World Championship.
For further information, visit: www.lolesports.com
About OPPO
OPPO is a leading global smart device brand. Since the launch of its first smartphone - "Smiley Face" - in 2008, OPPO has been in relentless pursuit of the perfect synergy of aesthetic satisfaction and innovative technology. Today, OPPO provides a wide range of smart devices spearheaded by the Find and Reno series. Beyond devices, OPPO provides its users with the ColorOS operating system and internet services like OPPO Cloud and OPPO+. OPPO operates in more than 40 countries and regions, with 6 Research Institutes and 4 R&D Centers worldwide, as well as an International Design Center in London. OPPO's more than 40,000 employees are dedicated to creating a better life for customers around the world.
Media Contacts
Helena Bartholomew
OPPO UK Press Office, Weber Shandwick
Email: HBartholomew@webershandwick.com
Email: OPPOUK@webershandwick.com
Tel: +44 207 067 0526