Win prizes worth up to RM 42,000 at OPPO Reno Festive Virtual Marathon 2020
KUALA LUMPUR, 13th November 2020 — Calling all running enthusiast: craving for a good challenge to run towards it? OPPO Malaysia will be hosting the upcoming OPPO Reno Festive Virtual Marathon from 13th December 2020 to 3rd January 2021. The marathon will feature many key highlight events, such as Runners Leaderboard in website, Snap&Win Contest, Users' Rebates and AR Medal. On top of that, runners will have a chance to win an OPPO Reno 4 Pro and many other prizes that are worth up to RM 42,000.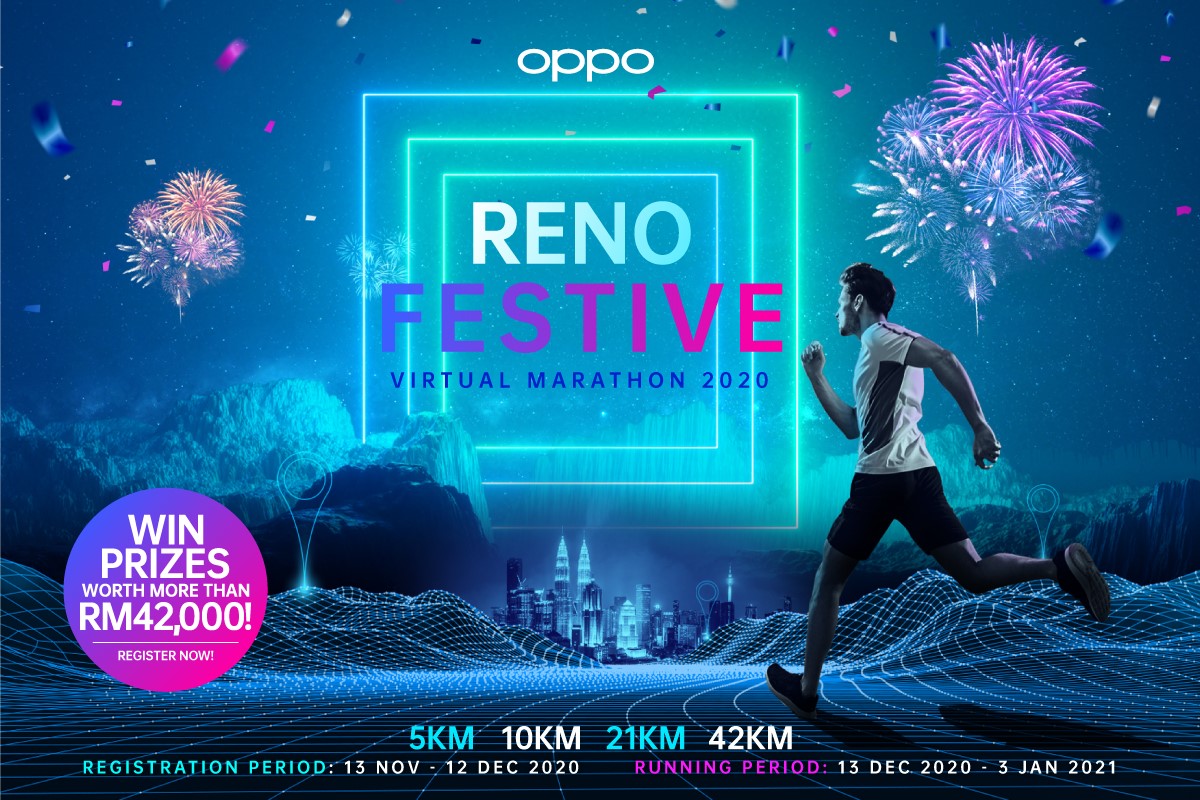 Runners can view more detail on https://oppomy.com/event/renofestivemarathon
2020 or start to register from 13th November 2020 on https://www.heyjom.com/events/details/oppo-reno-festive-virtual-marathon-2020 and choose a package that suits them the most. The event has 3 different packages: BASIC Package, EARLY BIRD Package and NORMAL Package. OPPO fans stand a chance to receive a discount code from MYOPPO APP for a flat fee limited to the first 300 registrations

Steps to join OPPO Reno Festive Virtual Marathon:
Step 1: Register @ HeyJom.com
Step 2: Get a confirmation slip and an e-bib via email.
Step 3: Starter kit will be sent through courier. (Depending on which package you registered)
Step 4: Install and use any 3rd party running tracker app base on your preference.
Step 5: Share your running progress with us by uploading to our website (Minimum of 5km submission required)
Step 6: Upon the event completion date, collect your finisher kit at selected OPPO Concept Store or receive via courier.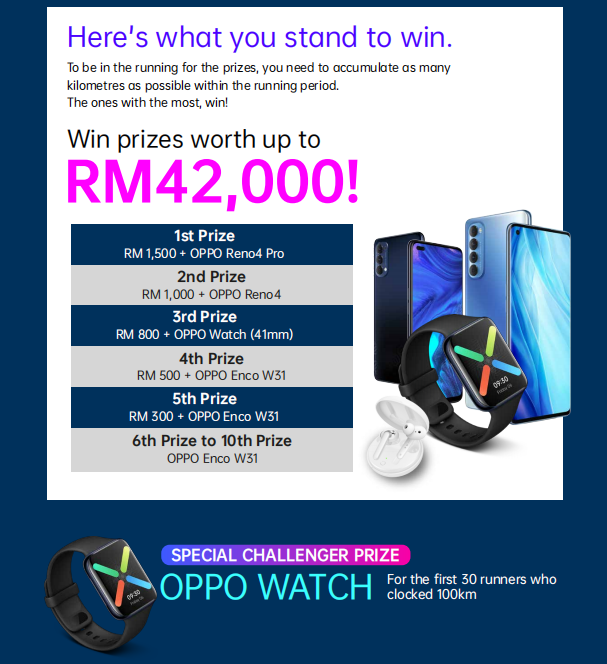 VIRTUAL MARATHON HIGHLIGHT EVENT
1. Runners Leaderboard
Upon sharing your running progress with us via our website all participants will be able to view "real-time update" leaderboard on the website! Runners can keep trying to hit the top of the DAILY leaderboard. Towards the end, runners who are at the top 10 of the leaderboard can win CASH prizes and OPPO Products!