LOOK WHO'S POPPED UP AGAIN
First it was a phone you could take anywhere.
Then you could load all your music onto it too.
In no time, the internet was built in as well.
In their ongoing quest to be everything to everyone, smartphones have been gobbling up one form of technology after another.
GPS? No problem.
Gaming? Easy.
Video? Have you seen these screens?
But one thing has never been perfect. although they've tried. Oh, how they've tried.
The camera.
Phone makers have included photo-taking-tech since before mobile phones were even smart, but let's be honest, they've always been a compromise.
Till now...
I've never owned a camera, let alone a phone camera with a 10x zoom, until this year - now two phones have stepped up to the plate and I'm sure there'll be more to come. The OPPO Reno 10x Zoom is the latest cab off the rank.
This is of course the phone most famous for its unique, pop-up, "shark fin" camera - but that's nothing to do with how zoomy it is. The periscope-based zoom functionality is part of the rear-facing tri-lens camera configuration; a 48MP + 8MP + 13MP setup that actually offers up to 60x digital zoom - the most powerful currently available. Of course, at that level of magnification, you'll definitely need a tripod (or at least something to rest the phone on) to keep the image still enough to shoot - and to be honest, because it's digital, you won't be reading the headlines on the newspaper your neighbour is holding in the building across the street.
The really useful stuff happens up to 10x zoom - hence the name of the device. Although not strictly optical at 10x (AI kicks in around 6x to help out) the images remain crisp and clear, meaning there's no longer any loss of quality when you take those all-important long shots at school assemblies, of kids in the surf while you're on the beach, or triumphant tries scored on the other side of the field. Historically, OPPO has been obsessed with camera innovation and the raw power of this new setup has to be seen to believed... so let's look at it...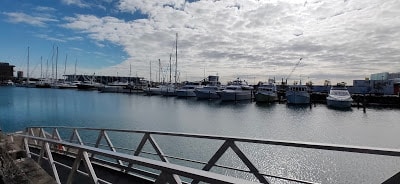 This is obviously an impressive, wide angle shot taken on an extremely bright, sunshiney day. Okay, sure there are some minor contrast issues with some of the dark areas, but when you've got midday sun reflecting off water, it's hard for any camera to compensate.
I'm really impressed by how true the colours turned out though and the clarity of foreground objects balanced against distant boats and even the clouds.
Now let's zoom in...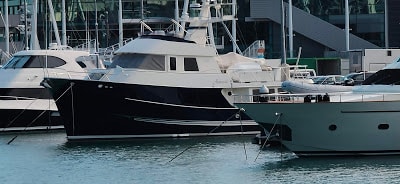 I mean, come on. This shot was taken from exactly the same spot. I challenge you to pick out that boat from the previous picture... pretty hard to spot right?
This is genuine telephotography. With a phone. What a golden age we're living in.
Not such a stellar performance once we head inside though. Generally I found low-light shooting to be good, but not perfect.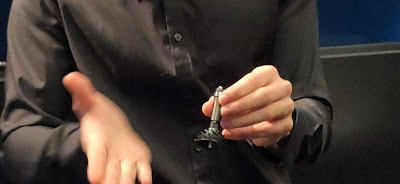 This shot is both impressive and disappointing - impressive because the hand I zoomed in on is actually pretty clear but disappointing because the other hand was moving a bit and that's why it's blurry.
There is an Ultra Night Mode, which produces good results in the dark - - but I'm not likely to select that option just because I'm inside.
I found indoor video to be a bit dim too, although I loved the fact you can shoot Super Slow-Mo for as long as you want - not just for a few seconds as is the case on other phones with this feature.
Now, about that fin.
Like last year's Find X, which was a fantastic phone by the way, OPPO have again thought outside the box to maximise the Reno's screen-to-body ratio. In fact, they've thought inside the box, with the selfie-cam popping out of the top edge of the phone when required. Unlike the Find X, the Reno's camera only swings up from the right-hand corner, creating the aforementioned, "shark fin" effect.
This isn't just a gimmick, it works brilliantly, most of the time popping up without you even noticing it. In fact, you can still use facial recognition to unlock the Reno, with the shark fin rising to the occasion every time. Although the OPPO team claims their engineers have spent a lot of time making the pop-up mechanism quieter than the one on the Find X, it's definitely still audible in a quiet room. On the bright side, it seems to attract a lot less dust than the much larger Find X version.
In terms of picture quality, OPPO's had some of the best selfie cameras on the market for years now, and this one's no exception.
But the Reno 10x Zoom offers even more than exceptional photography, this is a genuine flagship device, fully deserving comparison with the best from Samsung, Huawei and Apple.
Like last year's R17 Pro, there's also an in-screen fingerprint sensor but this one is way more reliable and much faster too.
It's not a small phone by any means, after all, this is a 6.6" display we're dealing with. It's actually pretty heavy and quite thick too. In spite of this, the Reno is still comfortable to hold, due to its rounded edges and elegantly curved back. Adding to this elegance is the fact the three lens rear-facing camera is completely flush with the body, very unusual as the cameras on most other phones stick out a mile, just asking to be scratched or bashed around.
Ingeniously, OPPO goes a step further to protect the lenses by positioning a little bump just below them, meaning the phone can never actually rest directly on the lenses themselves. Simple but brilliant. The bump sits at the top of a kind of contrasting racing stripe, featuring some OPPO branding which all looks very styley, in either Jet Black or Ocean Green.
What is less stylish is the case included in the box. It's the biggest, thickest, ugliest thing I've ever seen. Although have to admit, despite all that, it's very practical - providing the maximum amount of protection possible, especially around the corners. If you decide to use the case, it certainly gives good peace of mind given the top of the phone has to remain exposed for the camera to pop up. Good luck fitting it in your pocket though.
Battery life is fantastic, as is fast charging via the included VOOC 3.0 charger - but we've come to expect that from OPPO phones recently. What's more significant is the dramatic upgrade to the ColorOS user interface, based on Android 9.0. At long last there's the option for an app drawer so you're not stuck with home page after home page of apps you hardly ever use. There are several options for virtual buttons or gesture controls, whichever you prefer and there's also a quick access bar you can tailor to suit you needs for commonly used actions like Do-Not-Disturb or apps you need to get to in a hurry.
Yes, at last the OPPO software experience matches up to the Reno 10x Zoom's first-class hardware; 8GB of Ram, 256GB of storage, the very latest in cooling technology... a flagship that legitimately matches up with other frontline devices in almost every department - although no IP water-resistance rating and still no wireless charging option, which may have been a niche requirement a year or so ago, but now a lot more people expect their high-end devices to charge wirelessly.
And make no mistake, this is definitely a high-end device, despite the fact it's priced under $1300. The design, the power and of course, the outstanding photographic capabilities make the Reno 10x Zoom worth every penny.
Click here for more information on the OPPO Reno 10x Zoom.