OPPO Enco W11 True Wireless Headphones
Music Never Drops.
Binaural Simultaneous Bluetooth® Transmission | Enhanced Bass
20-Hour Battery Life | IP55 Dust and Water Resistance
Less Latency, More Stability.
Instead of receiving signals on one side and sending them to the other, the W11 headphones receive signals on both sides at the same time.
As a result, latency is lower and connection is more stable ¹.
Ordinary TWS headphones
Left-to-Right Relay
Bluetooth® Transmission
OPPO Enco W11 headphones
Left/Right simultaneous
Bluetooth® transmission
Bluetooth® 5.0
Audio that's with You All the Way.
To strengthen the effect, the built-in Bluetooth® 5.0 chip ² boosts resistance to signal interference, letting you enjoy uninterrupted audio.

Bluetooth® 5.0
Pairing that Always Remembers.
Once you've paired the W11 headphones with your device, they'll automatically resume connection whenever you use them within 10 meters of it. Whether your phone is in your pocket or across the room, your music is right with you.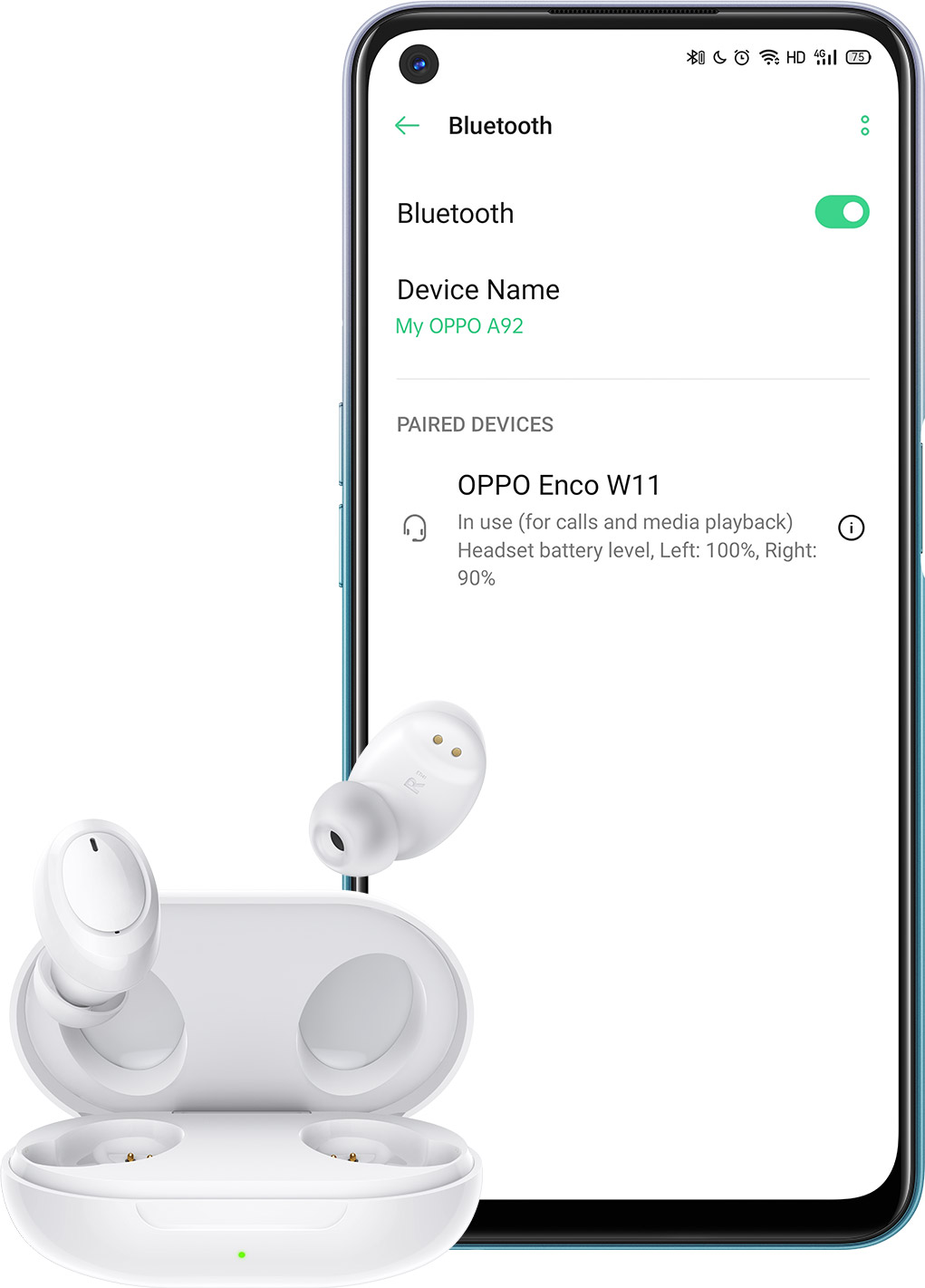 Listen On, and On, and On.
On a single charge, enjoy up to 5 hours of playback time without the charging case, or 20 hours with it. Just a 15 minutes charge can power 1 hour of playback time, so your music can accompany you even when time is too tight for a full charge ³ .
5 hr
of playback on a single charge
20 hr
of playback together with charging case
Find Bass and
Clarity in Your Audio.
The W11 headphones boast 8mm dynamic drivers with titanium-plated composite diaphragms, enhancing bass and extending the reach of high frequencies for ultra-clear audio. AAC audio format is also supported, for a higher audio coding rate that lets you enjoy every detail of your music.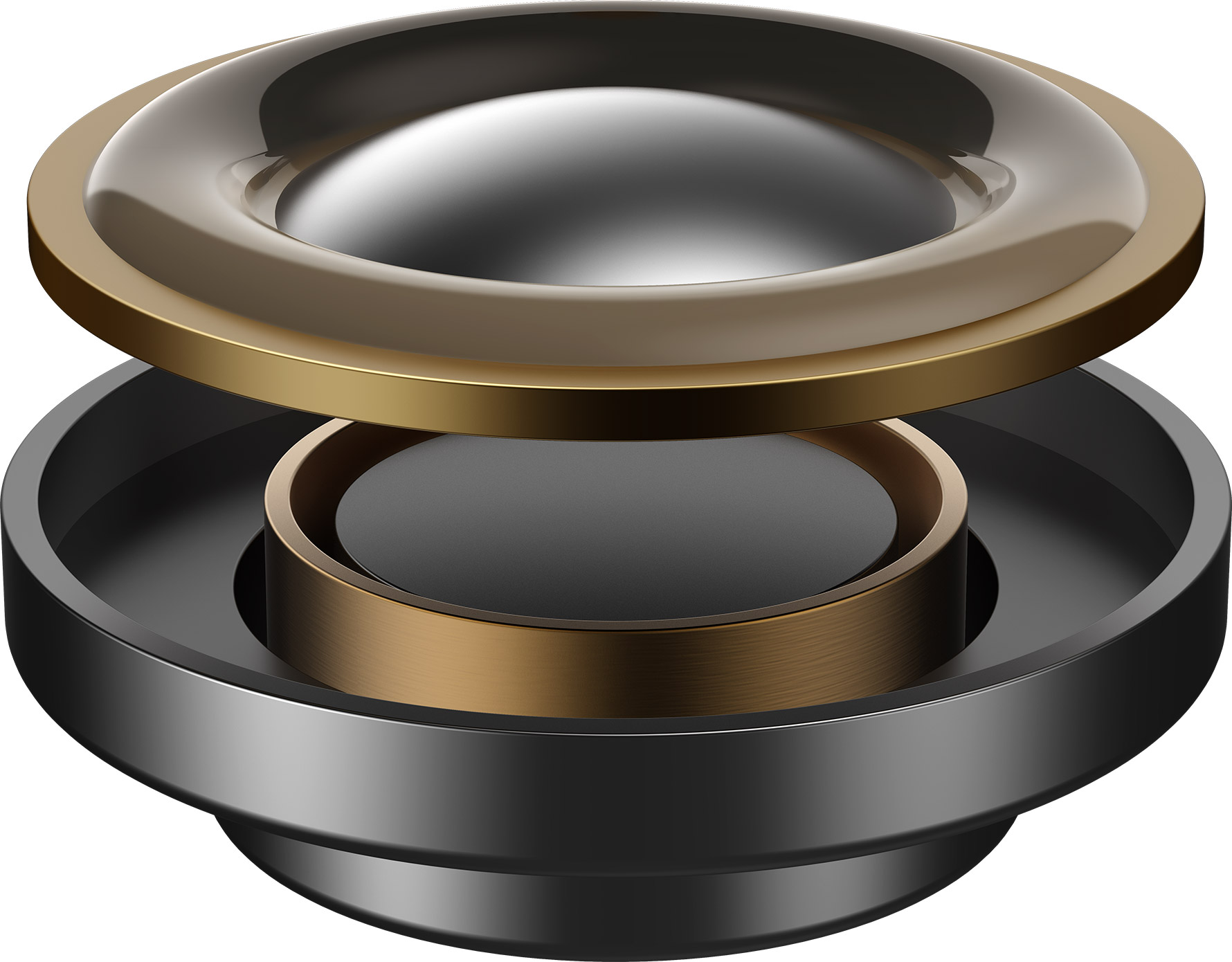 The Headphones You Can Rely On.
The W11 headphones are IP55 dust and water resistant ⁴ . Whether you're sweating it out or caught in the rain, your headphones will keep doing their job. You can take your music wherever you need it – heading to work, hitting the gym, or stepping out for some fresh air.
Shield Your Calls from Unwanted Noise.
Both sides of the W11 headphones feature noise cancellation during calls, reducing unwanted noise from your surroundings. Even in crowded places or near loud traffic, your calls will still go on.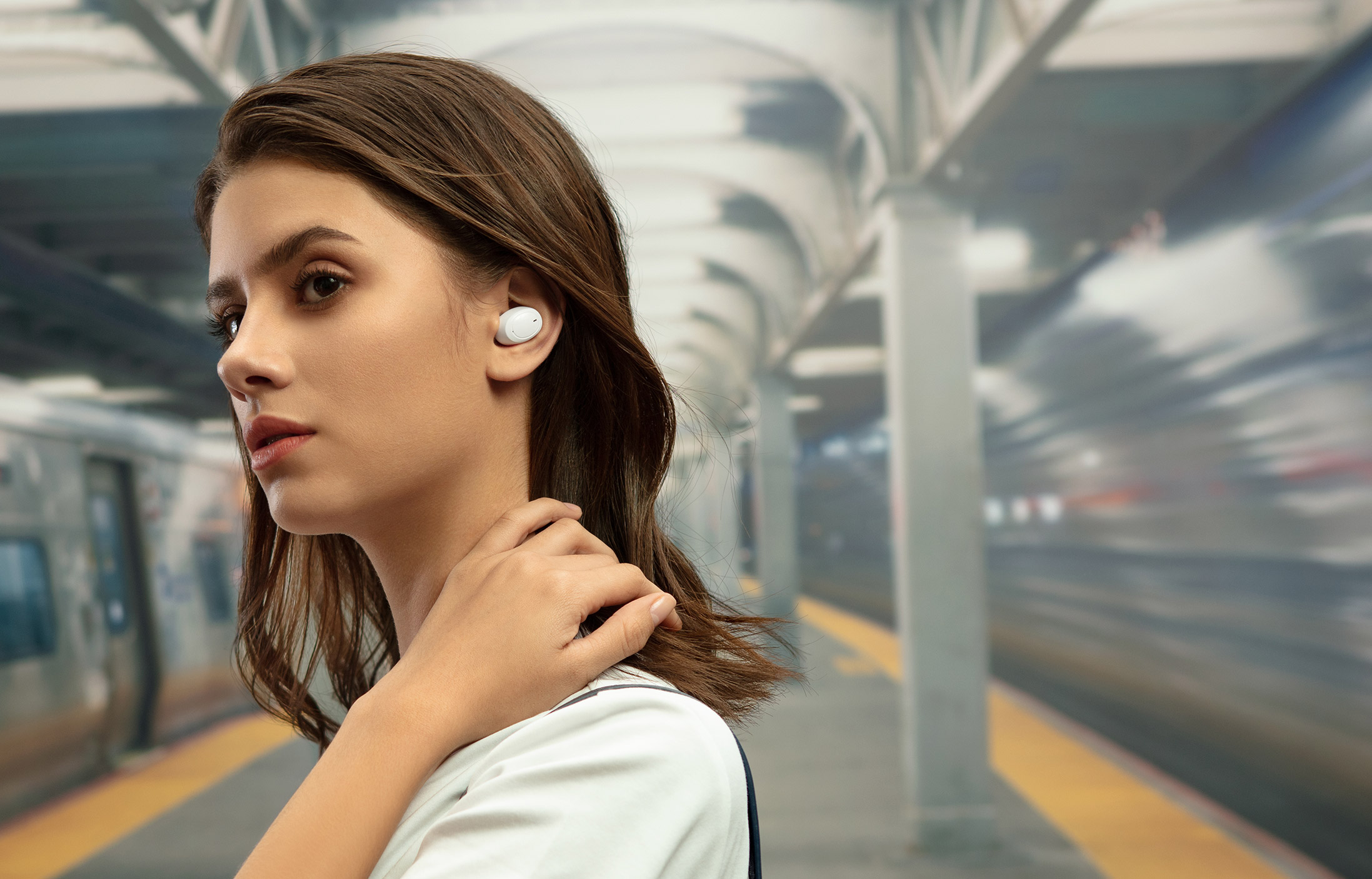 A Touch of Intelligence.
Intelligent touch controls make the W11 headphones a breeze to use. Play/pause your music with a single tap, and skip tracks with a double tap. You can also activate your voice assistant with touch controls ⁵ , bringing more convenience and intelligence to your experience.
Designed to Maximize the Audio Experience.
Our exquisite earbud design conforms perfectly to the shape of the ear. To find the most comfortable and secure fit, you can choose from three sizes of soft silicone ear tips.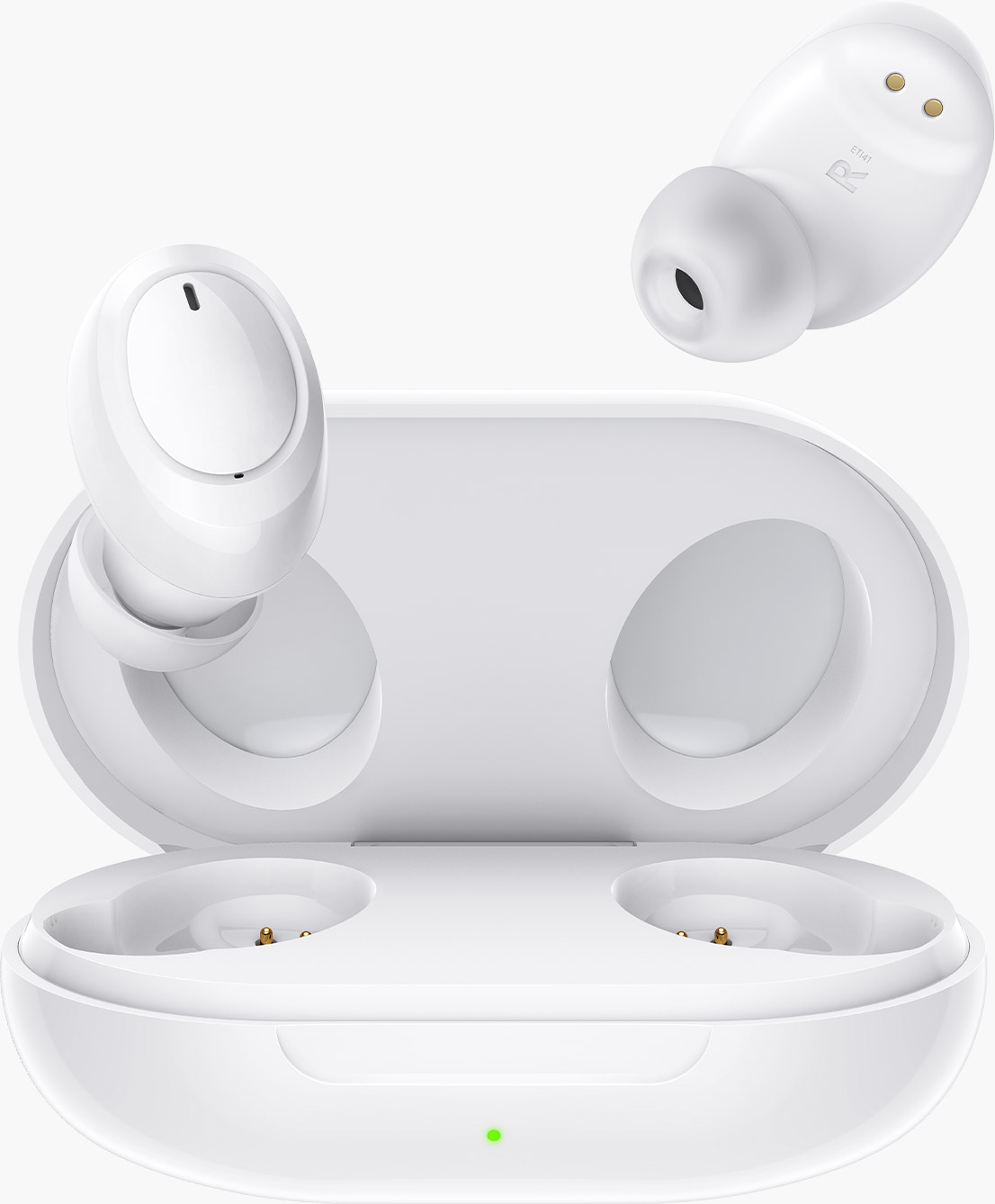 4.4g, Small and Ultralight Design.
The in-ear design helps seal out external noise, bringing you a more immersive experience. And with a weight of only 4.4g for one earbud, it feels like nothing's there.

Specs
Model
ETI41
Charging Case Model
ETI42
Driver
8 mm dynamic driver
Driver sensitivity
99 dB @ 1kHz
Frequency response range
20 Hz- 20 kHz
Microphone sensitivity
-38 dBV/Pa
Bluetooth® version
5.0
Bluetooth® range
10 m
Battery type
Rechargeable
Lithium-ion battery
Battery capacity
40 mAh (Earbuds)
400 mAh (Charging Case)
Music play time
(50% volume)
5 h (single charge)
20 h (with charging case)
Charging time*
120 min(Earbuds)
120 min (Earbuds +Charging Case)
Dust & Water Resistance
(Earbuds)
IP55
Weight (approx.)
4.4g/Earbud,35.5g/Charging
Case, 44.3g/Headphones
Charging Port
USB Type-C
Color
White
Notes
1.

Compared to headphones that use traditional signal-forwarding Bluetooth® technology, OPPO Enco W11 headphones provide lower latency.

2.

OPPO Enco W11 headphones are compatible with Bluetooth® 5.0 or lower; Android and iOS supported.

3.

Playback time data is based on OPPO laboratory tests conducted at 50% speaker volume. Charging time and play time data are based on OPPO laboratory tests with standard OPPO chargers conducted at a controlled temperature of 25°C. Specific times for charging and use will vary according to actual circumstances.

4.

IP55 is an international standard. According to IP5, complete dust resistance is not guaranteed, but a small amount of dust will not affect the headphones' ability to function properly. IPX5 indicates protection against low-pressure water jets from all directions. This rating applies only to the earbuds themselves.

5.

Triple tap will activate corresponding voice assistant on OPPO smartphones running ColorOS version 6.0 or higher. Whether voice assistant is supported depends on the brand and the model of the device. For details, please check with your smartphone's manufacturer or local distributor.

6.

IPX5 water resistance protects the earbuds against low-pressure water jets from all directions, but cannot guarantee protection under more extreme conditions. To prevent damage from sweat, please avoid wearing the head phones during intense physical activity.

7.

The above product details and product data are for reference only. Some product specifications and descriptions may change for reasons including but not limited to supplier replacement. Please refer to the actual product for all criteria.