How OPPO is Innovating in India
As you would expect for a place named Hitech City, the tech hub in the Indian city of Hyderabad is a center for technological innovation. But nowhere is this innovation more apparent, or more influential, than in the OPPO Hyderabad R&D center – OPPO's first and largest R&D center outside of China.
With its globally-driven mindset, OPPO understands that innovation must be sourced from around the world and made the decision to open international R&D centers outside of China in its early years. India is regarded as the fastest-growing innovation highland and prowess in top local specialists according to Tasleem Arif, who is now the Vice President and Head of R&D at OPPO India. Tasleem and his colleagues first came to Hitech City to meet with local researchers, with a view to creating an R&D center in India – after which the rest, as they say, is history. In 2018, the Hyderabad R&D center officially opened its doors and began its journey developing future-ready technologies not just for India, but the rest of the world.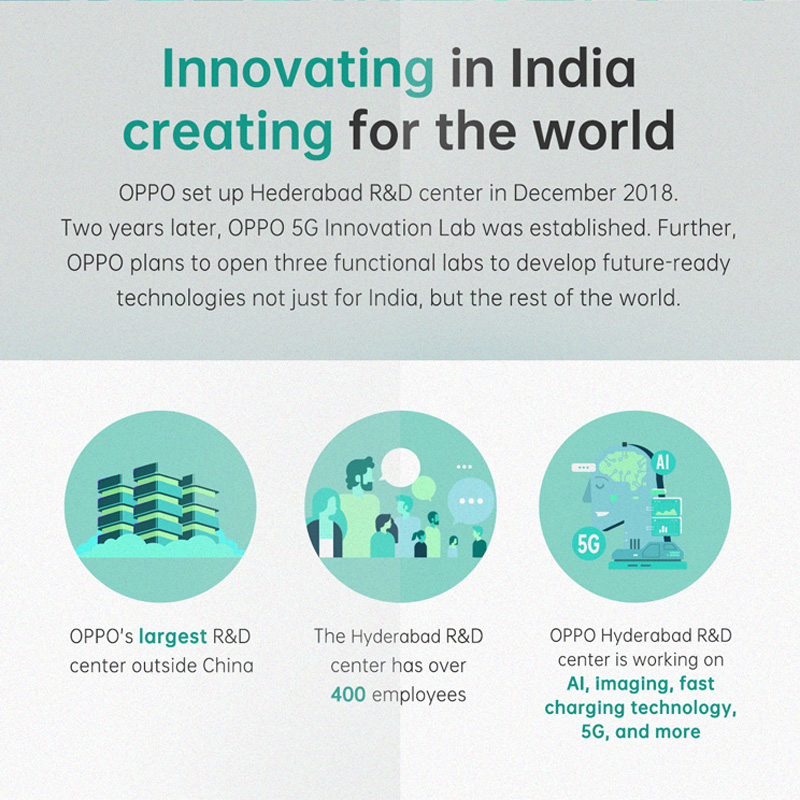 OPPO's R&D commitment - innovating in India, creating for the world
OPPO's R&D commitment - innovating in India, creating for the world
OPPO Hyderabad R&D center has been working on India-centric innovation
In the ensuing years, the team at the OPPO Hyderabad R&D Center has been working relentlessly in its mission to deliver innovation to India and the wider world. Its 400-strong team work in areas as diverse as in Artificial Intelligence (AI), imaging, fast charging technology, 5G, and more. One of the Center's core purposes is to deep dive into India-centric innovations by listening carefully to consumers. In 2019, the team played a key part in the localization of OPPO's proprietary operating system ColorOS 7, for example the integration of the DigiLocker service DocVault, which has been localized specifically for India to help promote paperless governance.
OPPO's commitment to Indian innovation extends far beyond its own walls, with the company having ambitions to become an incubator for the country's vibrant startup scene. To date, OPPO has already signed MoUs with the governments of Kerala (Kerala Start-up Mission (KSUM) and Telangana to help boost the start-ups. "Our ultimate goal is to enrich the Indian innovation ecosystem with our own resources and expertise. When we identify startups that are within one of our focal areas, such as camera technology and image processing, battery technology, networks (5G), and AI, we go through a stringent process to assess whether these startups could benefit from our support," Tasleem said.
Beyond providing funding and financial support, OPPO also hopes to create a sense of community, hosting events and programs for students, entrepreneurs, and startups. These often revolve around developing services and applications that have strong potential for application – for example, the features integrated into ColorOS 7 – helping the technology and its creators make their mark on a global stage.
Thanks in part to efforts such as these, OPPO enjoys a very strong reputation in India. OPPO was ranked as the most preferred 5G smartphone brand in India for 2020 by CMR, reflecting its strong endorsement from local users. OPPO was also recognized as one of the top 5 mobile brands in Forbes India's 'Most Respected Consumer Tech Brand 2019', with the study noting how OPPO had won the trust of its consumers and built up a loyal customer base. In the same year, OPPO was recognized for its commitment towards innovation with the 'Continuous Innovation in the Field of Smartphone Technology' award by Times Business Awards.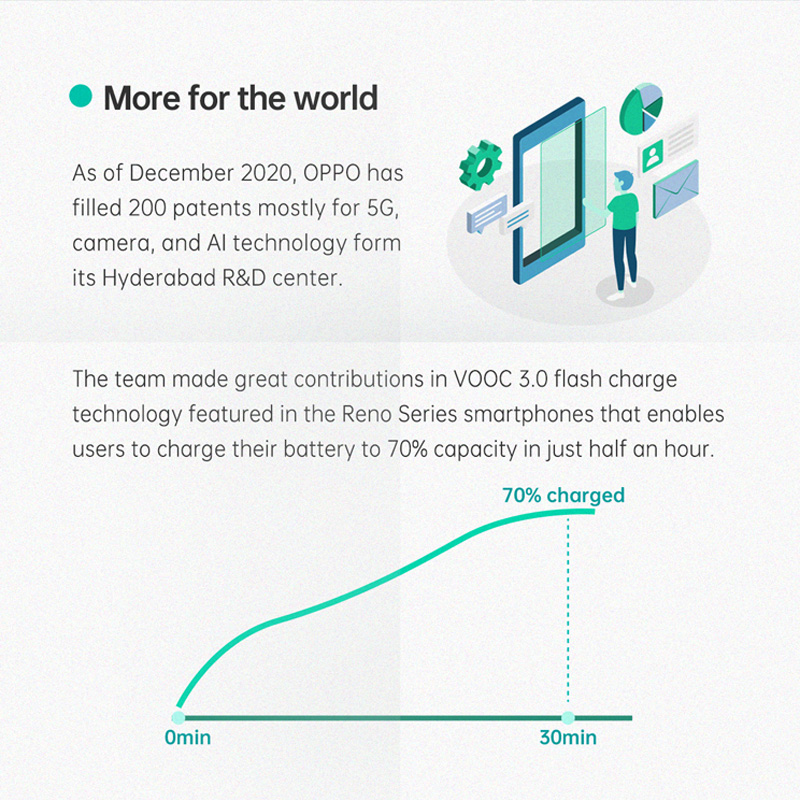 OPPO has brought India-centric innovations going on to have global influence
The growing output of innovation from OPPO India hasn't gone unnoticed, with many of the company's India-centric innovations going on to have global influence. Based on global consumer insights, the team was behind the VOOC 3.0 flash charge technology featured in the Reno Series smartphones that enables users to charge their battery to 70% capacity in just half an hour. As of December 2020, OPPO has filed 200 patents based on technology developed at the Hyderabad R&D center. Revolving mostly around 5G, camera, and AI technology, these innovations are paving the way for the future of the industry's leading technologies.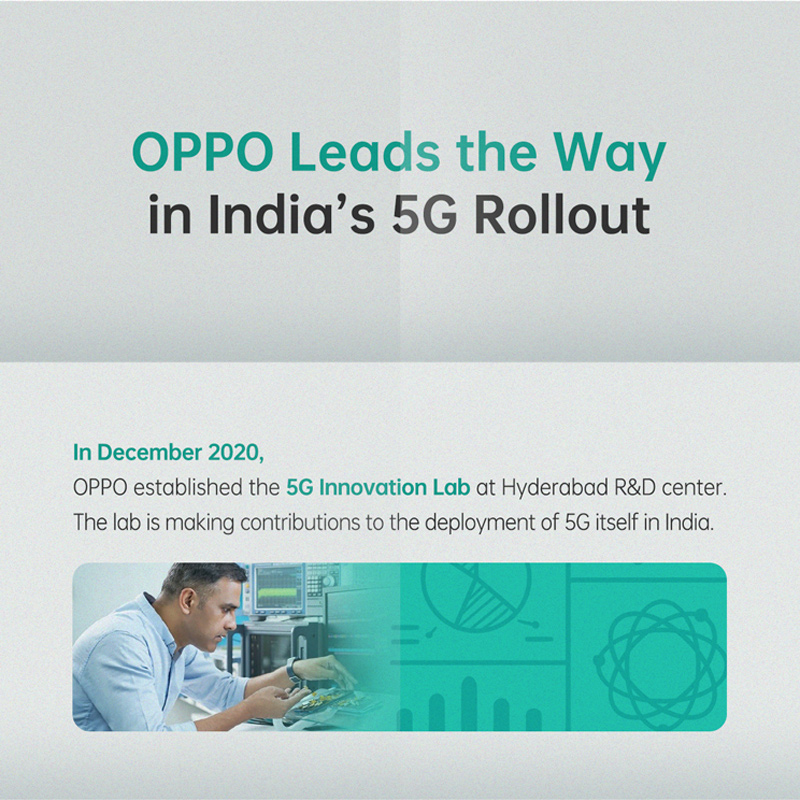 OPPO leads the way in India's 5G rollout
But the innovation doesn't stop there. The OPPO Hyderabad R&D center is currently expanding its size and scope to explore more ground-breaking technologies. In December 2020, OPPO established the 5G Innovation Lab – the first of its kind outside China – at the Hyderabad R&D center, where its role will be to deepen the development of core product technologies for OPPO's 5G ecosystem. In addition to this, a further three functional labs dedicated to camera technology, battery & power, and performance will be opened in the near future.
OPPO leads the way in India's 5G rollout
As 5G enjoys rapid expansion worldwide, India is also shifting gears in its effort to launch 5G services. A study by Ericson mobility reports that about 330 million people in India will have access to 5G by 2026. Upholding the brand mission of "Technology for Mankind, Kindness for the World", OPPO has always been striving to realize the dream of 5G in India and elsewhere around the world.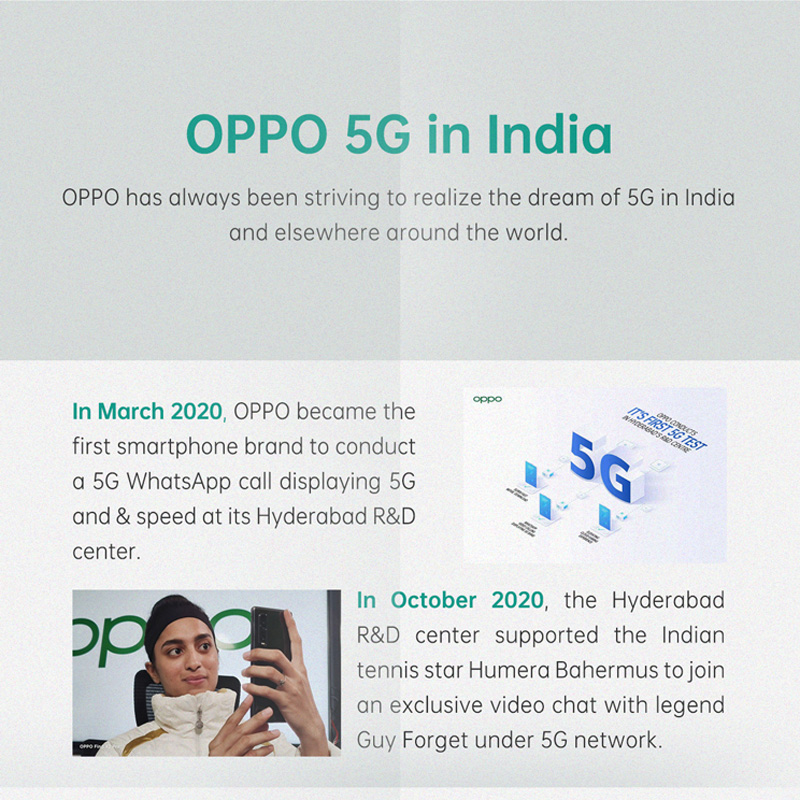 OPPO has always been striving to realize the dream of 5G in India and elsewhere
In March 2020, OPPO was the first smartphone brand to conduct a 5G WhatsApp video call in India, demonstrating fast movie downloads and Cloud gaming features. In October, the Hyderabad R&D center made it possible for the rising Indian tennis star Humera Bahermus to join an exclusive video chat with legendary former tennis player and current Roland-Garros director, Guy Forget, using the 5G network. So far this year, OPPO has also launched its Reno6 Series and other 5G smartphones catering to different price segments, helping to make 5G accessible for more users in the country.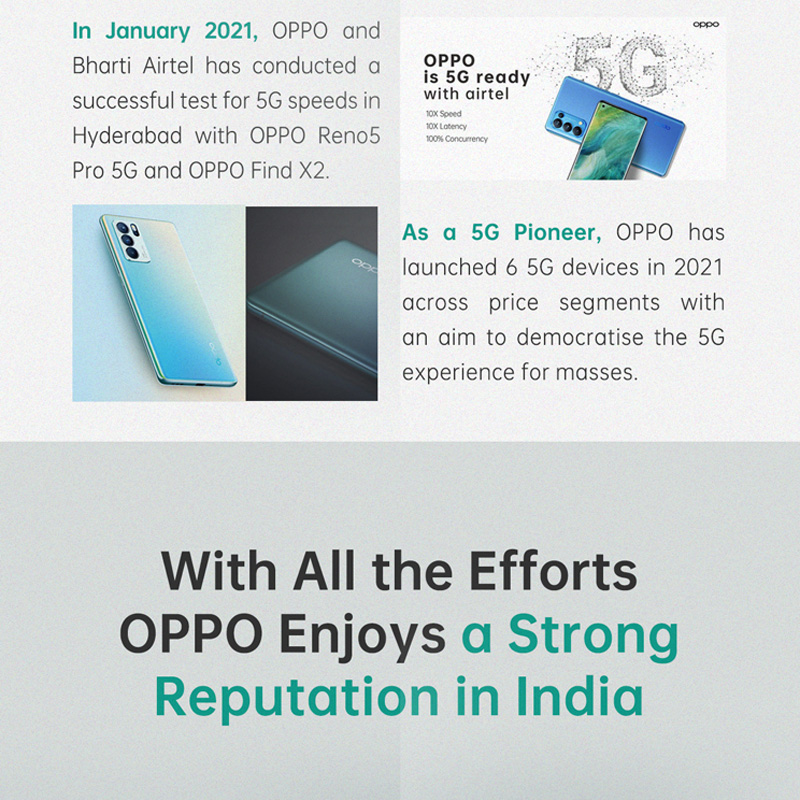 OPPO 5G in India
Now, the OPPO 5G Innovation Lab at Hyderabad R&D is making contributions to the deployment of 5G itself in India. The current Indian Network team at the Lab is made up of Modem, Radio Frequency/Baseband System teams, and IP-Based Multimedia Subsystem, and Telephony teams. By working with industry partners such as Jio, Airtel, Qualcomm, and MediaTek, the Lab conducts validation of all upcoming OPPO devices, including performing interoperability and compliance tests, as well as validating different 5G network features for end-to-end technical solutions.
In January this year, OPPO and Bharti Airtel successfully tested 5G speeds in Hyderabad using OPPO Reno5 Pro 5G and OPPO Find X2 handsets, validating the readiness for 5G services in India. OPPO also collaborated with Jio in July to conduct 5G SA network tests using its latest Reno6 Series 5G smartphones, ensuring the most comprehensive 5G experience for its users when the networks become commercially available.
"Within the space of just half a year, it is incredibly exciting to see the technologies developed at the lab being used to support India in its 5G journey," said Tasleem Arif. "We will continue working with industry partners and local talent to accelerate 5G rollout and adoption in India, while keeping our promise to drive the global commercialization of 5G."
Along with the Hyderabad R&D center in India, OPPO has a further six Research Institutes worldwide in Beijing, Shanghai, Shenzhen, Dongguan, Silicon Valley, and Yokohama, as well as four other R&D Centers in Chengdu, Shenzhen, Dongguan, and Chang'an. Together, these research bases form a robust R&D engine that powers OPPO's continued innovation in cutting-edge smart devices and services for the Internet of Experience.
Embodied by its "3+N+X" technology development strategy, OPPO will continue to increase R&D investment to develop core technologies such as 5G, AI, imaging, and cloud computing to offer more value and convergent experiences to users.