OPPO to usher in the festive season with an emotional film and a stylish new Diwali limited-edition F17 Pro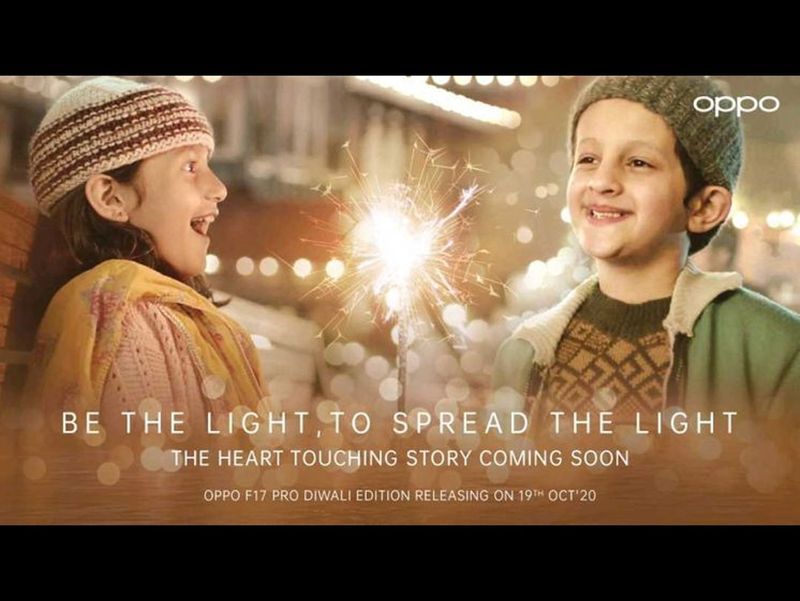 National,14th October 2020 – As the excitement brews for the upcoming Indian festivities, OPPO, a premium global smart device brand is all geared up to launch a Diwali campaign with an emotional film and a limited edition F17 Pro on 19th October exclusively for its Indian customers. Aimed to target the spirit of the festive season and re-enforcing its commitment for the Indian market, the device will offer a localized interface for the customers. Inspired by the festival of light, the limited-edition F17 Pro promises to bring people together and make the festival become more memorable.
Committed to meet the evolving demands of the Indian customers, OPPO has always focused on designing products with improved technologies and have further elevated the user experience with every new product. With a consistent focus on studying the ever-evolving demands of its customers, OPPO has laid huge emphasis on its research and development facility to innovate and fulfil its user demands. Building on its legacy as a global technology innovator, the brand has consistently pushed the envelope with localized offerings especially for its Indian customers. Delivering on this promise, OPPO recently launched the F17 Pro which has been highlight appreciated for its impressive sleek design and charging capabilities. Exemplifying the colors of festivals, the Diwali limited edition F17 Pro aims to be the perfect companion and a conversation starter for the Diwali party.  
OPPO has been playing an instrumental role in enabling customers to capture memories that last a lifetime with its stellar camera capabilities across smartphones. Adding more reasons for the customers to celebrate and rejoice, the all new limited-edition F17 Pro will not only make capturing memories an enjoyable affair but will also echo the spirit of Diwali with its design.
About OPPO
OPPO is a leading global smart device brand. Since the launch of its first smartphone - "Smiley Face" - in 2008, OPPO has been in relentless pursuit of the perfect synergy of aesthetic satisfaction and innovative technology. Today, OPPO provides a wide range of smart devices spearheaded by the Find and Reno series. Beyond devices, OPPO provides its users with ColorOS and internet services like OPPO Cloud and OPPO+. OPPO operates in more than 40 countries and regions, with 6 Research Institutes and 4 R&D Centers worldwide, as well as an International Design Center in London. The recently opened, first-ever R&D center outside of China, in Hyderabad, is playing a pivotal role in the development of 5G technologies. In line with OPPO's commitment to Make in India, the manufacturing at the Greater Noida plant has been increased to 50 million smartphones per year. According to IDC, OPPO has ranked 4th among the top 5 smartphone brands in India with an 88.4% year on year growth in Q4 2019.