OPPO all set to unveil OPPO Band Style: Activate Your Health
●     To offer continuous health protection through continuous SpO2 monitoring, breathing quality assessment during sleep and general fitness tracking
●     Fashionable fitness band with a 2.794 cm (1.1") full colour AMOLED screen that fits perfectly into your daily life as the ideal health and exercise companion
●     Launching 8th March, along with OPPO F19 Pro series
New Delhi, 3rd March, 2021: The COVID 19 pandemic has pushed health and fitness concerns to the forefront, like never before in the recent past. To cater to this very need, OPPO is all set to launch the OPPO Band Style, a premium product equipped with cutting-edge technology innovation. The fitness band offers and real-time heart rate and continuous SpO2 monitoring, breathing quality assessment even during sleep.
The all new Band Style offers 12 workout modes which works as an exercise log on your wrist and provide convenient functions, perfect for active, quick-paced lifestyles. An eclectic blend of fashion and technology innovation.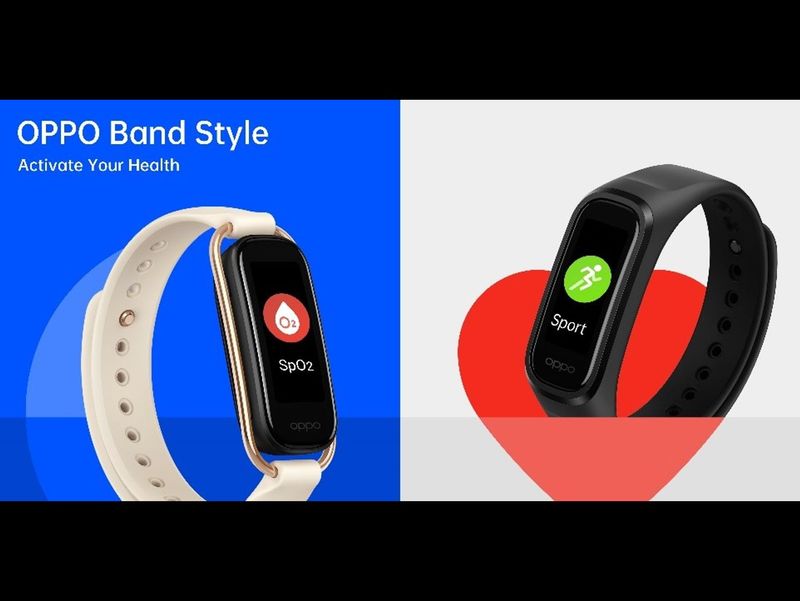 Continuous SpO2 Monitoring – Constant Sleep Guard
Sleep disorders are very common these days. Both the elderly and the young experience sleep disorders, owing to daily stress and hectic schedules. The OPPO Band Style's health monitoring function is specifically designed to detect sleep problems. It supports accurate sleep monitoring, heart rate monitoring, and continuous SpO2 monitoring—providing all-around records and analysis of its user's sleep health.
The continuous SpO2 monitoring is made possible via a built-in optical blood oxygen sensor. This component enables the OPPO Band Style to continuously monitor blood oxygen saturation per second when the user is asleep. During an eight-hour sleep cycle, it conducts non-stop SpO2 monitoring 28,800 times—fully measuring the user's body oxygen saturation. With its continuous SpO2 monitor and professional sleep monitor, the OPPO Band Style can help users develop healthier sleep habits, help monitor their heart health, respiratory health.
Active Life with 12 Workout Modes – An Exercise Log on Your Wrist
Besides sleep-related problems, another health issue that young adults are most concerned about is exercising, and the OPPO Band Style is here to make working out easier. It has 12 built-in workout modes, including running, walking, cycling, swimming, badminton, cricket, Yoga, etc., covering most of the sports that are popular among young people. With the OPPO Band Style recording the exercising data, users can check their progress in the HeyTap Health app, which is key to boosting motivation for an active life.
The wearable comes with a host of other boast-worthy features that OPPO plans to unveil at the grand launch on March 8, on the side-lines of the launch of the new OPPO F19 Pro series smartphones, the F19 Pro+ 5G and the F19 Pro. OPPO also announced its association with leading Bollywood youth icon Varun Dhawan as the OPPO F series product ambassador.
In line with the launch of the OPPO F17 series earlier, where artists such as Raftaar and Hardy Sandhu delivered fiery performances, OPPO is once again all set to replicate the reverberating  success of the grand launch by hosting a music event this time round with the POP & EDM sensation Nucleya – unveiling the F19 Pro+5G. The event will be live streamed across Facebook LIVE, Twitter, Instagram and YouTube, 7 PM onward. Get ready to witness Nucleya as it introduces you to the attitude of the night! The super energetic performance will set the stage for the OPPO F19 Pro+ 5G - Flaunt your Nights; oozing out an energetic vibe!
Pricing and complete specification of the OPPO Band Style will be revealed on March 8, 2020.
About OPPO
OPPO is a leading global smart device brand. Since the launch of its first smartphone - "Smiley Face" - in 2008, OPPO has been in relentless pursuit of the perfect synergy of aesthetic satisfaction and innovative technology. Today, OPPO provides a wide range of smart devices spearheaded by the Find and Reno series. Beyond devices, OPPO provides its users with ColorOS and internet services like OPPO Cloud and OPPO+. OPPO operates in more than 40 countries and regions, with 6 Research Institutes and 4 R&D Centers worldwide, as well as an International Design Center in London. The recently opened, first-ever R&D center outside of China, in Hyderabad, is playing a pivotal role in the development of 5G technologies. In line with OPPO's commitment to Make in India, the manufacturing at the Greater Noida plant has been increased to 50 million smartphones per year.