OPPO Enco Q1
Wireless Noise Cancelling Headphones
Tune Out Noise with Just a Tap
Tune Out Noise
with Just a Tap
Hybrid Active Noise Cancelling
3 Types of Immersive Audio Effects
15-Hour Play Time in Noise Cancelling Mode
Flexible Contoured Neckband
Hybrid Active Noise Cancelling
Enter a World of Quiet
Hybrid active noise cancelling combines both feed-forward and feedback microphones to maximize the range of frequencies that can be reduced and the extent of the noise reduction. When you're ready to block out the noise around you, just put on your headphones and escape into your own world with the press of a button.
Feed-forward microphone
Feedback microphone
Environmental noise
Inverse signal

Internal microphone for calls
All-new digital noise cancellation chip
All-New Digital Noise Cancellation
Protect Your Hearing in Real Time
An all-new digital noise cancellation chip accurately calculates and cancels out surrounding noise in real time, so you no longer have to turn up the volume to compete with loud environments. Audio sounds just as clear as in a quiet environment, safeguarding your hearing. And thanks to an additional environmental noise cancellation algorithm, your voice can be heard clearly during calls.
Professional Noise Cancellation
Design That Works in Different Environments
Professional Noise Cancellation Design That
Works in Different Environments
OPPO's acoustics team combines noise control theory with a wealth of experience to bring you powerful noise reduction capabilities you have to try to believe.
Leading competitor's product
More noise reduced
Less noise reduced
Traffic noise
Daily life noise
A Snug Fit for Additional Noise Reduction
Fits comfortably / Won't fall out / No swelling or soreness
• Fits comfortably • Won't fall out
• No swelling or soreness
Ergonomically designed to match the contours of your ear, these headphones stay secure even when you're on the move. In-ear SoftFit silicone ear tips keep your ears comfortable all day, and form an additional physical barrier to seal out noise.
Feel the Bass with Supersized Dynamic Drivers
Massive 11.8 mm high-resolution dynamic driver units with PEEK+PU composite diaphragms make every frequency shine, from booming bass to a rich midrange to crystal-clear treble. AAC audio format is supported to bring out even the smallest details, so you can experience the full impact of your music.
Perfectly Tuned Audio Your Ears Will Love
Building on 15 years of experience in audio technology, OPPO's R&D experts in Blu-ray player tuning have made sure your OPPO Enco Q1 headphones produce breathtakingly clear audio that sounds just like real life.
Music Mode
Dive into immersive stereo sound for a surging, powerful music experience designed for total enjoyment.
Cinema Mode
Enhanced bass surround and 3D effects let you enjoy Hollywood blockbusters in cinema-quality audio everywhere you go.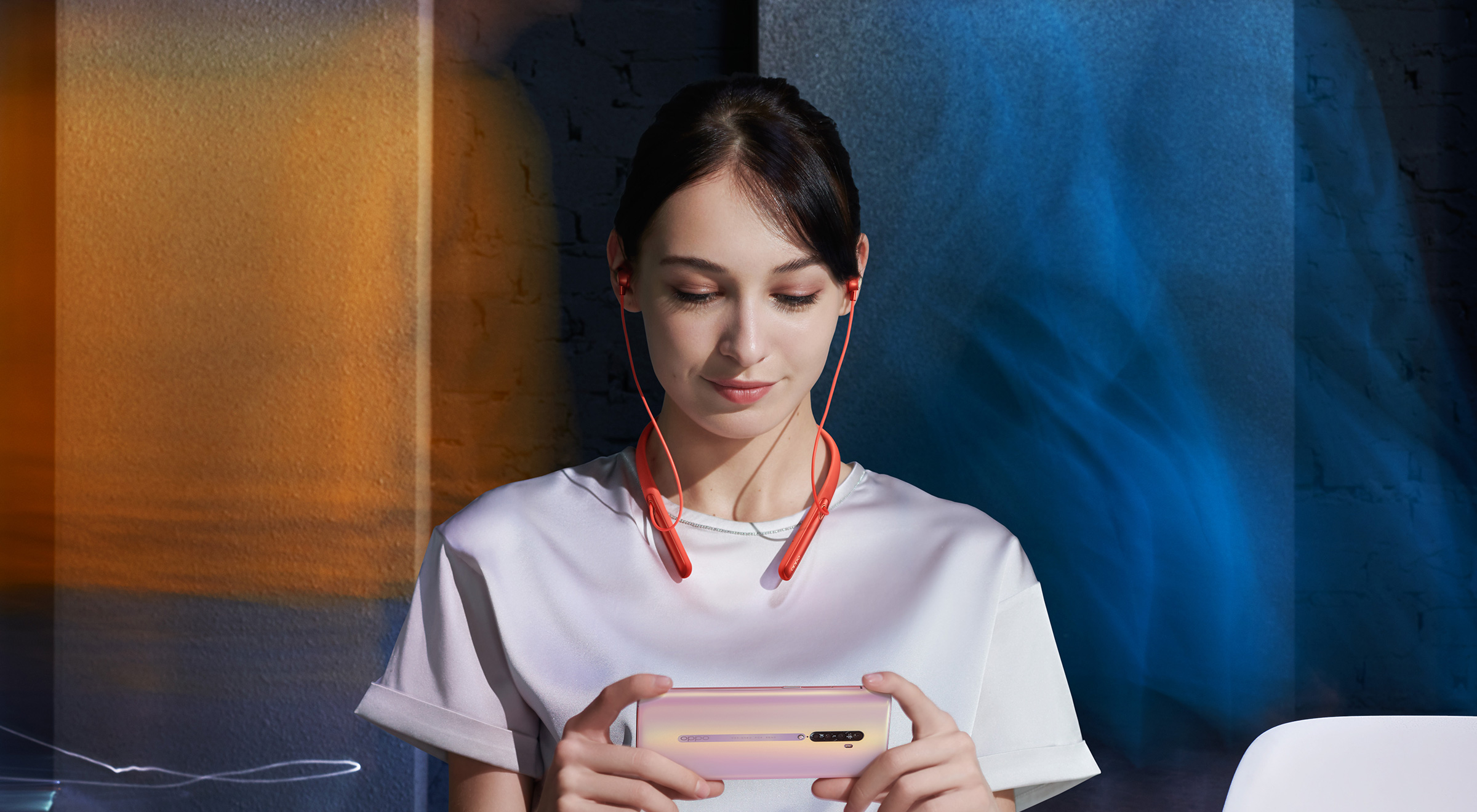 Game Mode
Enhanced in-game acoustic positioning effects give you the most complete gaming experience possible. Locate your enemies by sound and claim victory!
Extra-Long Play Time for Serious Listeners
Say goodbye to constant charging, thanks to a 160 mAh battery and built-in power-optimizing technology. Enjoy 15-hour play time in noise cancelling mode—enough to last for an entire cross-hemisphere flight. A 10-minute charge gives you 2 hours of play time, making OPPO Enco Q1 headphones just as portable for spontaneous excursions.
15

Hour

Play time in noise
cancelling mode

22

Hour

Run time for either noise
cancelling or playback

300

Hour

Standby time

2

Hour

Charging time
Notes:
1. Play time test data is based on OPPO laboratory tests performed in Music mode at 50% speaker volume.
2. Play time is shorter in Cinema mode and Game mode, and will vary according to actual use.
Flexible Contoured Neckband
So Comfortable, You'll Forget It's There.
Hand-polished and finished with a special comfort coating, the OPPO Enco Q1's flexible contoured neckband rests as lightly as a feather on your skin. With its flowing shape that matches the contours of your neck and superlight 42-gram design, you'll barely notice it's there.
Shape-Memory Material
A built-in titanium alloy thread lets your neckband flex for a comfortable fit and then quickly regain its original shape.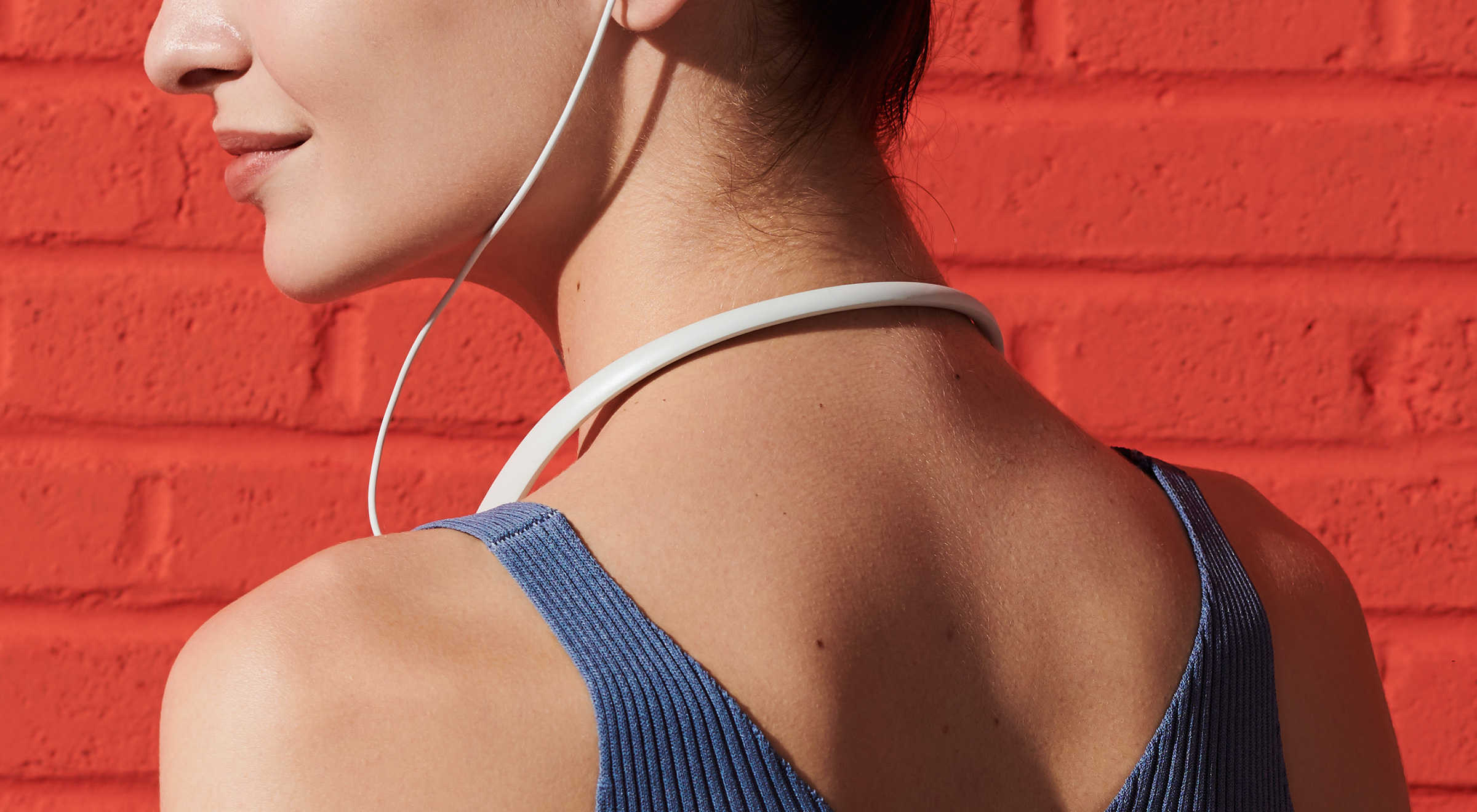 IPX4 Water Resistance
Professionally tested IPX4-level water resistance means your headphones are protected from everyday spills and splashes.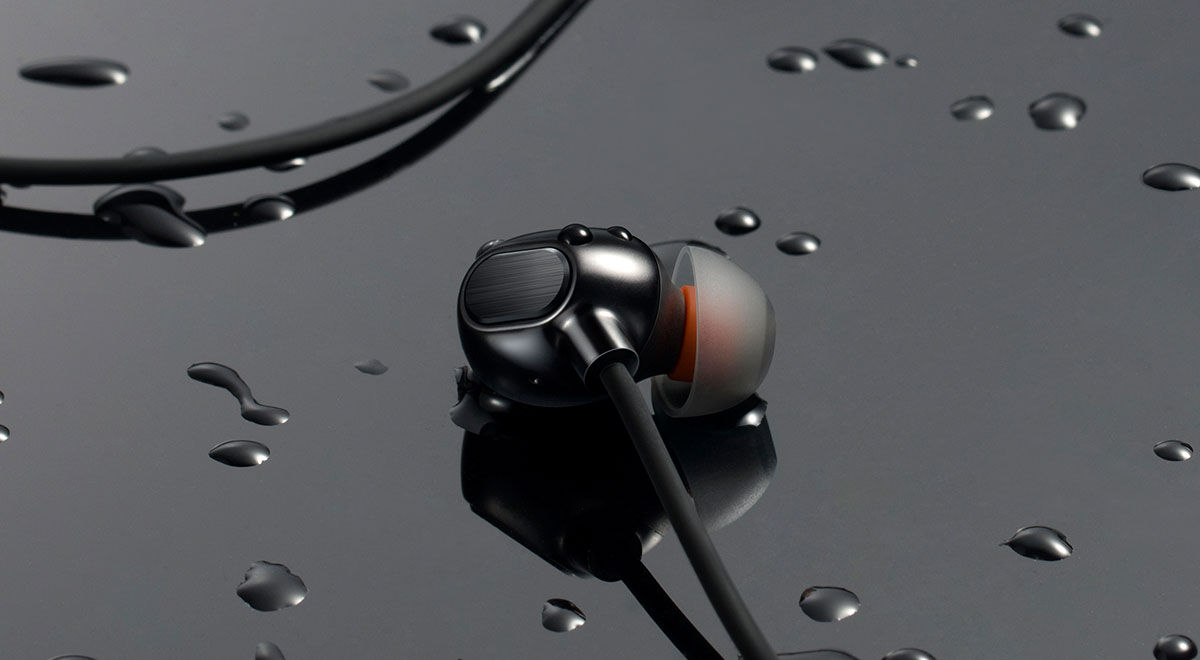 Magnetized Earbuds
No more detangling, no more fumbling—just relax and let the earbuds come together.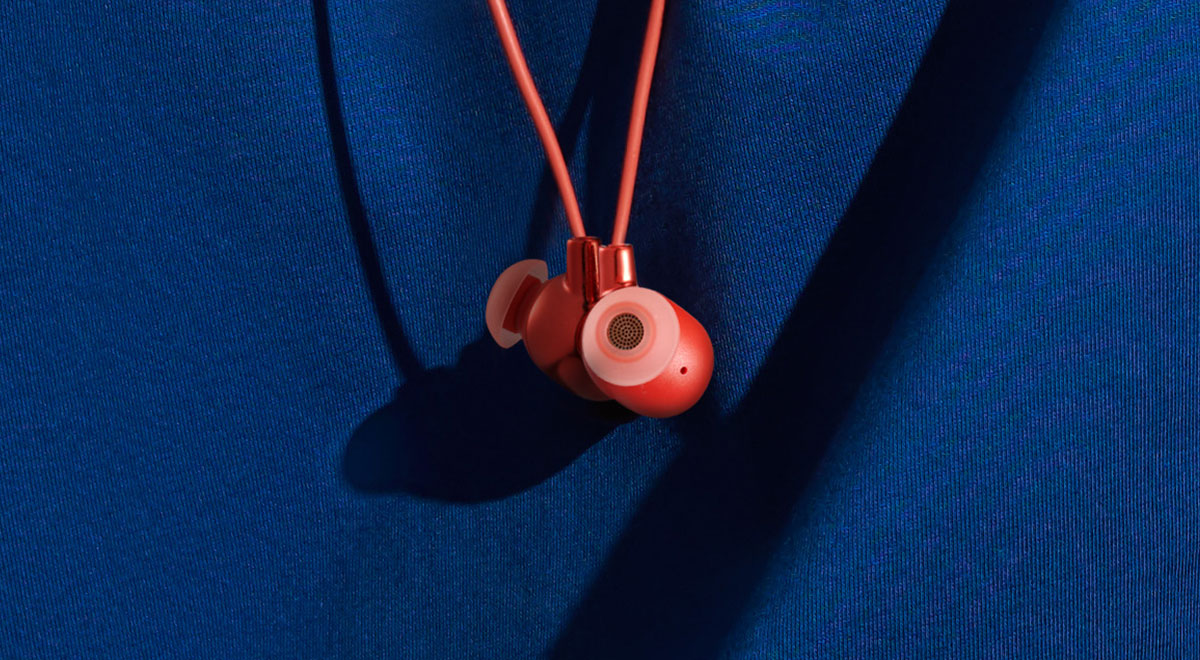 Call Up Your Personal Assistant
A quick double-press of the Multi-function Button activates the voice assistant, giving you hands-free control of your device.
How do I get to Hyde Park?
What's the weather like in London today?
Set a reminder for my meeting at 9 a.m. tomorrow.
Help me download TikTok.
Play a song by Jay Chou.
What's the address for OPPO's website?
Note:
This operation is supported only when the headphones are paired with a mobile phone that has a voice assistant. For information about compatibility, check with your mobile phone's manufacturer or local distributor.
Quick-Pairing Performance for Total Wireless Freedom
With your quick-pairing equipped OPPO phone nearby, one tap is all it takes to make the connection. Bluetooth 5.0 support ensures long-range connection stability for high-quality sound transmission.
Notes:
1. Compatible with Bluetooth 5.0 or lower; Android and iOS supported.
2. Tested 10-meter transmission range in open, interference-free environments (based on OPPO laboratory trials).
Enjoy Three-Button Control You Can Master in No Time
Mode Button

• ANC on/off: press once

• Music/Cinema/Game mode: double-press

Volume Buttons

• Volume up/down: press +/-

• Next/previous track: press +/- and hold for 1s

Multi-Function Button

• Power on: press and hold for 2s

• Power on and pair: press and hold for 6s

• Power off: press and hold for 4s

• Play/pause: press once

• Answer/end a call: press once
Multi-Function Button
Volume Buttons
Mode Button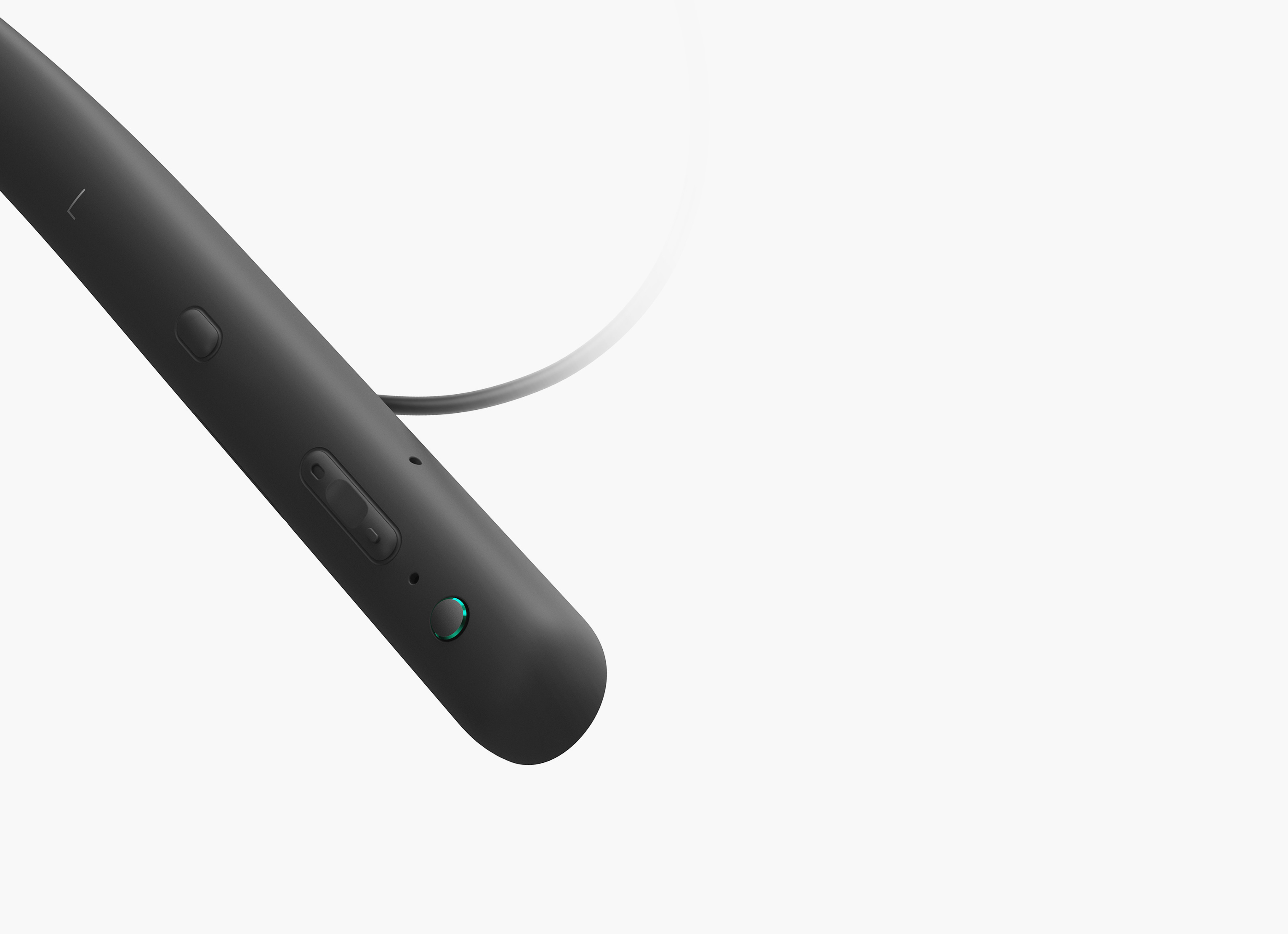 OPPO Enco Q1
Wireless Noise Cancelling Headphones Specification
Model

EWN00

Color

Midnight Black

Sunny Orange

Silver White

Driver

11.8 mm dynamic driver

Impedance

32 Ω

Driver sensitivity

99 dB @ 1kHz

Frequency response range

20 Hz — 20 kHz

Bluetooth version

BT 5.0

Wireless range

10 m

Music play time (50% volume)

15 h (ANC ON) / 22 h (ANC OFF)

Standby time

22 h (ANC ON) / 300 h (ANC OFF)

Charging time

2 h

Charging port

USB Type-C

Water resistance

IPX4

Weight

42 g
Notes:
1.

The noise cancelling function works best in low-frequency noise environments, such as airplanes, trains, and offices (near air conditioners, etc.). Results are less pronounced around higher-frequency noise, such as nearby voices.

2.

Play time test data is based on OPPO laboratory tests performed in Music mode at 50% speaker volume. Specific times for charging and use will vary according to actual circumstances. Play time is shorter in Cinema mode and Game mode, and will vary according to actual use.

3.

Due to performance characteristics of Bluetooth headphones, electromagnetic interference in the surrounding environment may impact their signal stability.

4.

Due to the performance characteristics of wireless technology, sounds and images may become desynchronized during video or game play.

5.

IPX4 water resistance cannot guarantee damage prevention under extreme conditions. Avoiding use of the headphones during intense exercise is recommended to prevent damage due to sweating.

6.

Quick pairing and power level check capabilities are supported by the OPPO Reno 2, Reno, Reno 10X, and K3, and will be supported by other models soon.

7.

The above product materials and product data are for reference only. Some product specifications and descriptions may change due to supplier replacement. Please refer to the actual product for all criteria.