OPPO Ramadhan and Hari Raya Sales Promo 2016 !
2016-06-23
Kuala Lumpur, June 23th, 2016 — Second wave of the Raya Promotion is here: OPPO Malaysia announced a limited time promotion for the company's Selfie Expert, F1 earlier last month and has received heated responses among Ofans. To further give back to all the community in the holy month, the company is now bringing yet another major price reduce on several fans-favourites – F1, N3, Neo 7, Neo 5 (16GB) for the remaining 15 days until 7th July 2016.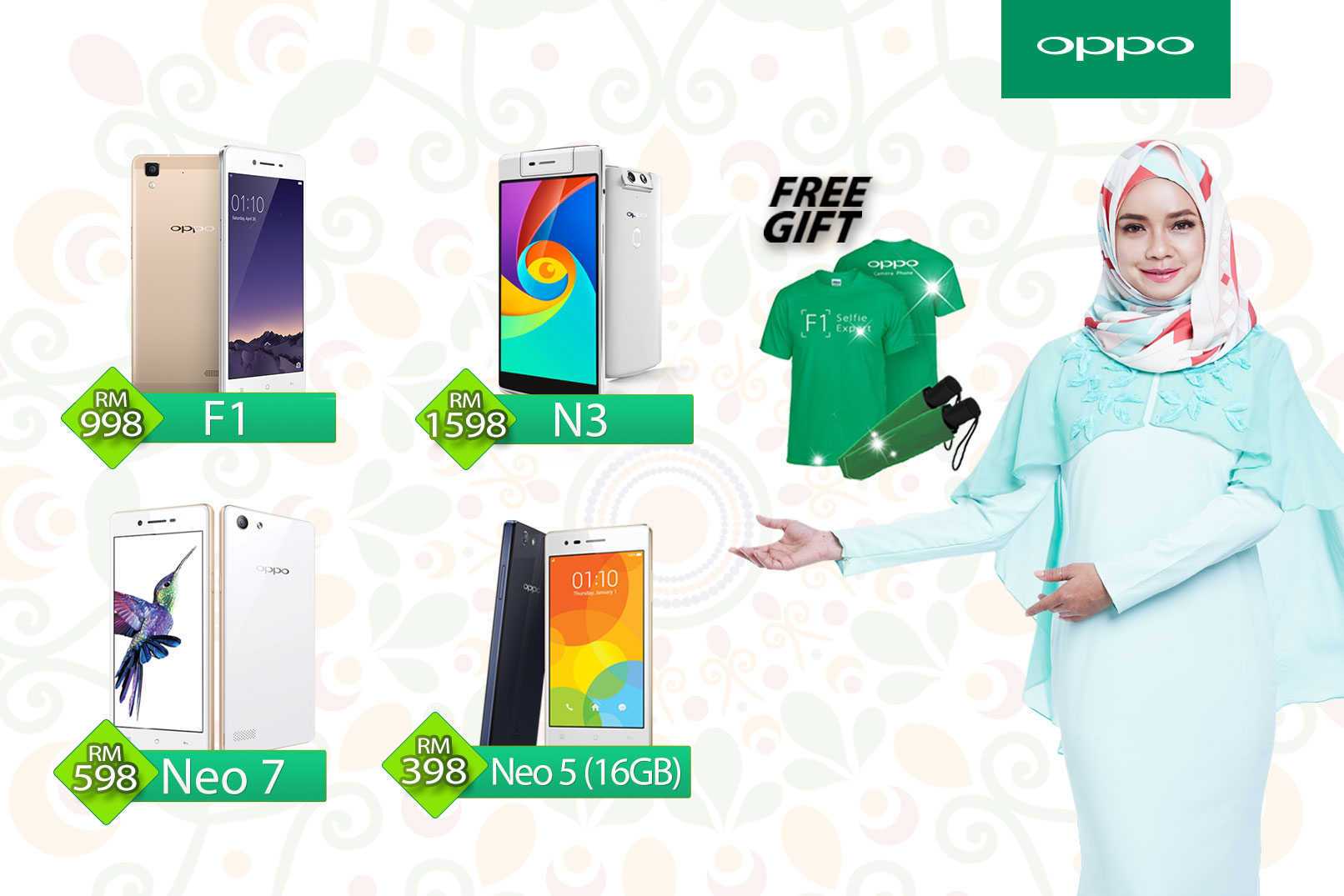 The company is offering up to 20% tremendous price cut on products such as F1 (promotional price: RM998; original price: RM1,198), N3 (promotional price: RM1598; original price: RM2098), Neo 7 (promotional price: RM598; original price: RM798) and Neo 5 (16GB) (promotional price: RM398; original price: RM498). On top of the attractive price cut, OPPO Malaysia is also topping up their delicious offers with gift: Customer can choose to bring home either a Handy Umbrella or an OPPO Limited Edition T-Shirt when they purchase any OPPO Camera Phone before 7th July 2016.
"The price adjustment for the F1 around a months ago has generated a very good response and we are happy that we are able to give back to the community that has been welcoming and supportive to us all these while. We hope this limited time price adjustment will be able to help our Ofans to get a brand new camera phone that is able to help capture your memories during Hari Raya." said William Fang, Chief-Executive-Officer of OPPO Malaysia
The limited time offer will be available for both offline and online (at http://www.oppostore.com.my/) from today until 7th July 2016.
For more information, kindly contact or log on to:
OPPO Malaysia official Hotline : 1800-88-6776
OPPO Malaysia official Website : http://www.oppo.com/my/
OPPO Malaysia official Facebook : https://www.facebook.com/malaysiaoppo