OPPO Launches the R7 Plus FC Barcelona Edition to Celebrate Three-Year Partnership
2016-04-20
Beijing, September 8th, 2015 – The evolving global smartphone brand OPPO celebrated its electrifying partnership with the world-renowned football club FC Barcelona today, unveiling the FC Barcelona edition of its latest smartphone the OPPO R7 Plus in Beijing. With 5,000 units to be released, the $549 phone, dubbed the "Smartphone of Champions", is the first fan device to come out of OPPO's three-year partnership with FC Barcelona. The company will further mark the occasion with a giveaway and a charity auction of phones autographed by top players including Lionel Messi.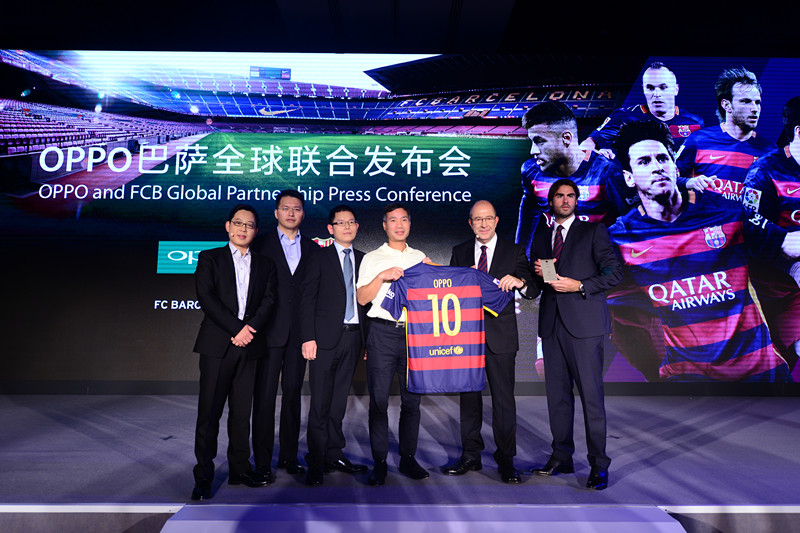 The FC Barcelona Vice Chairman welcomes OPPO into the family with a special jersey
"As OPPO continues its global expansion strategy, this partnership will enable us to reach even more global consumers at a faster and more dynamic pace," said Sky Li, Vice President of OPPO and Managing Director of International Mobile Business. "OPPO aims to be a top-three brand in Southeast Asia within the next three years, as well as make great strides forward in other markets. Our focus on providing the best smartphone photography experience is sure to take us there."
In his first-ever trip to China as Vice Chairman of FC Barcelona, Manel Arroyo i Pérez shared his vision for a mutually beneficial collaboration. "It is an honor for FC Barcelona to announce today this new sponsorship agreement with OPPO," he said. "OPPO products stand out for their design and quality, and we share values such as effort, ambition and teamwork. With this partnership, we start a long journey full of success that will bring us closer to our fans in China and around the world."
"Smartphone of Champions"
Equipped with a 4100mAh battery and OPPO's own world's fastest VOOC Flash Charging technology, the R7 Plus FC Barcelona Edition will come with the club's logo, an FC Barcelona-themed wallpaper and a fan kit that includes an FC Barcelona protective case and more. The R7 Plus has already contributed to a wave of success for OPPO, helping it garner a number-two position in China's offline smartphone sales, second only to Apple as of July 2015.
The "Smartphone of Champions" unites the star power of FC Barcelona with the artful technology of OPPO
With a laser focus technology to quickly capture the focal point within 0.3 seconds, a RGBW sensor that is able to shoot high-clarity photos in low-light environments and an optimized anti-shake image stabilization function, the R7 Plus is the perfect choice for fans who seek to capture the energy and thrilling moments of sports events. Along with a 2.5D curved screen, 3GB of RAM and 32GB of memory, it also features a pressure-activated fingerprint recognition module on the back.
OPPO Marks Release with Phone Giveaway, Charity Auction
The R7 Plus FC Barcelona Edition phones will be available for purchase online in stores such as OPPOStyle.com and in several OPPO overseas markets. OPPO will also hold a giveaway for the limited-edition phone this September, giving fans in over 20 of OPPO's overseas markets the chance to win big. Meanwhile, an eBay charity auction for five special units featuring autographs from some of FCB's top players including Lionel Messi, Andres Iniesta and Dani Alves will launch on September 12th, with all proceeds to be donated to the FC Barcelona Foundation.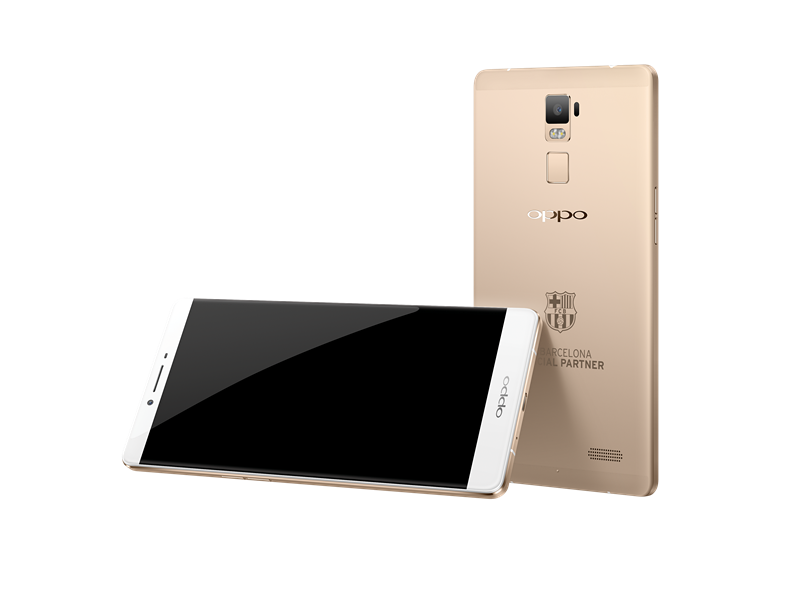 The gold-colored back of the R7 Plus FC Barcelona Edition features the FC Barcelona insignia
As its official partner in the mobile phone device category for the next three years, OPPO will collaborate with FC Barcelona on a wide range of activities and products, including football events, fan activities, TV advertisements and special-edition accessories, as well