Electrifying the Market, OPPO Brings "The Art of Technology" to the Entire Smartphone Spectrum
2016-04-20
Delivering superb user experiences with entry-level smartphones is a massive challenge, as these devices come with greater cost and resource restrictions. Many businesses choose to simply slash investment in design and detail in order to meet these constraints. The result is an array of poorly manufactured devices that offer next to nothing in terms of quality and design.
However, entry-level doesn't have to mean big sacrifices. OPPO infuses its "art of technology" design philosophy into each and every product, with designers picking the most suitable materials and optimizing design for the corresponding price range. Committed to providing impeccable design for all of its smartphones regardless of market segment, OPPO pushes the boundaries of cost to extract the best design possible.
OPPO's revolutionary design is nothing new to the international consumers who have already seen the flagship Find 7, the mid-range R5 and the high-end N3. However, the company's latest entry-level offerings, the Neo 5 and Mirror 5, continue OPPO's proud tradition of stellar product design, meticulous detail and a user experience that is nothing short of premium, all at a remarkable price.
The Neo 5's elegant and slender waistline
Entry-level meets high-class with the Neo 5 and Mirror 5
Cost places realistic limits on the creative process, something OPPO's senior designer had to confront when designing the OPPO Neo 5 smartphone. It finally took the senior designer, who had already been working at OPPO for 11 years, eight months to finalize the model. This surpasses the industry standard of 2-3 months for product design by a long shot.
A large part of the challenge centered on trying to minimize the illusion of device thickness. At 8 mm, the Neo 5 was considered to be a little on the thick side. If the entire device, including the metal waistline was a single, solid color, the final effect could potentially be heavy on the eye. Therefore, the designers chose to highlight the frames so as to render the device more elegant and slender. After a period of trial-and-error, the designers finally settled on a two tone blue variant as well as adding a champagne gold waistline to the white option, bringing a dash of luxury to this entry-level product.
At OPPO, the "art of technology" has multiple interpretations, even at the lower end of the spectrum. The entry-level Mirror 5 was similarly elevated to new heights of beauty, but through another method – a diamond-inspired, multi-faceted rear panel on the device's surface. After comparing dozens of potential design possibilities, the design team finalized on developing this unique diamond element. However, they didn't settle on just cultivating a diamond-like appearance in form. They wanted to ensure that the final product offered a level of perfection that could only result from painstaking production processes.
As such, military-grade glass fiber was used for the Mirror 5's rear panel, crafted using an ultraviolet embossing technique of international standards to cut the lines to just 0.045mm. With angular lines then skillfully set in, this unique combination successfully adopts the light reflecting properties of a real diamond, resulting in a finish which beams energy and high-quality at every angle. The process took the design team six months to fine-tune, with 13 different grinding procedures employed. Committed to providing first-class devices regardless of low, middle or high-end, OPPO strives to see all of its consumers enjoy the beauty and benefit that "the art of technology" can bring.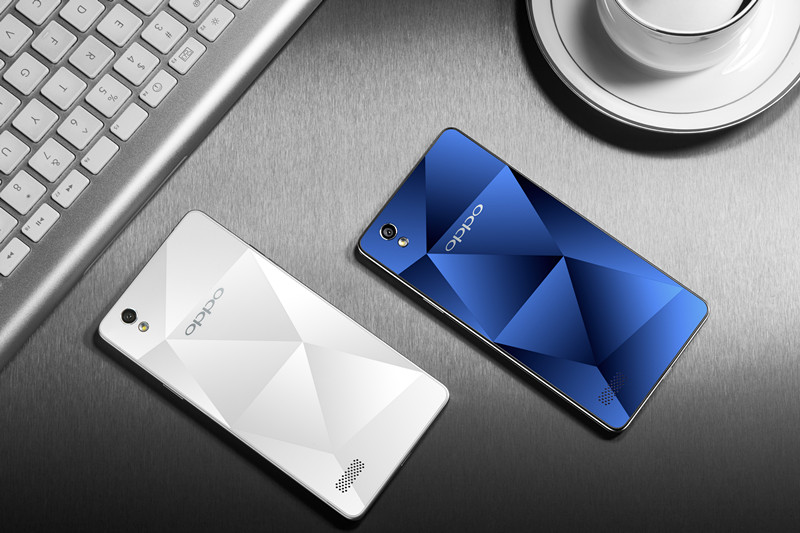 The Mirror 5, a spark of brilliance from every angle
Listening to local markets to deliver the right devices
Before designing each product, OPPO conducts extensive market research with local consumers around the world in order to identify each region's specific needs and requirements. OPPO conducted large-scale surveys prior to the design launch of the Mirror 5, delving into the minds of consumers to really determine what they admire. Uncovering this information was crucial for the inspiration and development of the Mirror 5.
As a result of detailed market analysis and feedback, the distinctive OPPO flair began to emerge from the OPPO Process Design Center. An example of findings from previous surveys was the design preferences of consumers in the Southeast Asia markets. Instead of devices with rounded edges, they wanted devices with streamlined bodies propped up by a firm skeleton, so naturally this feedback was incorporated into the Neo 5 and Mirror 5 design process. Moreover, most users favored products with a flat or mirrored surface. Intricate details such as these are what have driven the design of both devices.
According to Sky Li, Vice President of OPPO and Managing Director of International Mobile Business, "OPPO is a consumer-oriented company that has long dedicated itself to elegant and exquisite design." No surprise, then, that even the company's entry-level devices are packed full of attractive and surprising design elements. From the Mirror 5's luxurious, diamond-inspired effect to the Neo 5's distinctive waistline coloring, OPPO's quest to infuse the industry with its "art of technology" ethos is evident in everything it releases.