A Spark of Brilliance: OPPO Mirror 5 Soon to Hit the Market
2016-04-20
Global smartphone brand OPPO, known for their meticulous design and trendsetting flair, has now announced a new product named the Mirror 5, due to hit more than 15 overseas markets including South Asia, Southeast Asia, MENA and Mexico. The Mirror 5 combines a unique Diamond-like mirrored surface and the latest ColorOS 2.1 (based on the latest Android 5.1). With creative photography as well as a host of smart functions, the Mirror 5 is a strong contender, which could be the best choice within the price range.
The unique cut-glass of the Mirror 5
A spark of brilliance
As its slogan suggests, the Mirror 5 is a perfect interpretation of its design philosophy, "wisdom and innovation, shining above the ordinary". With a unique diamond-like mirrored surface, the OPPO Mirror 5 is a feast for your eyes from the very first sight. Designed with individual cut-glass segments consisting of different reflective properties, all crafted using a sophisticated ultraviolet embossing technique, the Mirror 5 provides a stunning finish, available in both white and blue color options.
Beneath the attractive surface is an innovative internal structure reinforced with a bi-metallic frame and cross beams for exceptional strength and durability, coming together to create a tough skeleton within. The 5-inch display is an ideal size to fit in the palm, with fantastic image quality and entertainment that is truly pleasurable and enjoyable on the go.


ColorOS 2.1, based on the latest Android 5.1
Robust performance
The Mirror 5 relies on the brand new ColorOS 2.1. Based on Android 5.1, OPPO's new OS provides a faster, steadier, and overall enhanced user experience. Besides the new UI and extended themes available, ColorOS also refreshed us with fast activation speeds, smooth and steady sliding, as well as more memory and power, in which key application scenes have been optimized. Thanks to self-optimization and the more reliable Android 5.1, the stability of ColorOS 2.1 has been greatly improved.
Under the hood is a power packed Qualcomm Snapdragon Quad-Core 64 bit processor with 2GB RAM + 16GB ROM, bringing fast and seamless multitasking between games, programs and applications. The Mirror 5 offers 3G and 4G versions with super high speeds, dual SIM slots and SD card support of up to 128 GB, helping users balance their workload and personal needs.
The Mirror 5 has a specialized three-in-one efficient management and organization function. Shake for automatic sorting, quick transfers across pages, and management of icons by batches. If the screen is idle for more than 10 minutes, a clearing process of memory garbage will be initiated automatically. You will never be afraid of missing important messages with lock-screen notifications and gestures both on and off-screen can be customized to suit personal preference.
Double Exposure mode
Create the spark in life
The Mirror 5 is not simply a device built with appearance and performance in mind, its goal is to bring a spark of creativity to life.
The Mirror 5 provides the best solution for photography lovers and even more so to people in favor of selfies. The 5 MP front camera coupled with Beautify 3.0, captures beautiful and natural self-portraits with ease, without any trace of image editing. It comes with multiple modes, matching gender, age, and so much more. Stunning landscapes can be achieved with the excellent performance of the 8 MP rear camera and 1.4um pixel size. With greater photosensitivity for low light conditions and a swift exposure time to minimize blurring, as well as the newly enhanced Pure Image 2.0+ engine, you can look forward to consistently superior images.
With the simple press of a button, the Mirror 5 will automatically take six snaps, then create and combine them into a 24 megapixel photo, perfect for high quality prints. With 11 different built-in filters for one-step image enhancements, you can effortlessly edit and create excellent images without downloading additional apps. Double Exposure and Time-lapse also serve as creative features from OPPO, with other impressive modes including Super GIF, Panorama, Colorful Night Shot, plus many more.
Smart features seem to be a new area where OPPO is investing a great deal of time and effort, with the Mirror 5 being no exception. The Ultra-responsive remote control function of the Mirror 5 empowers users to take control of various household appliances using their phone with stronger and more sensitive signals from lengthy distances, the platform also supports online updates of appliance compatibility to ensure total household control.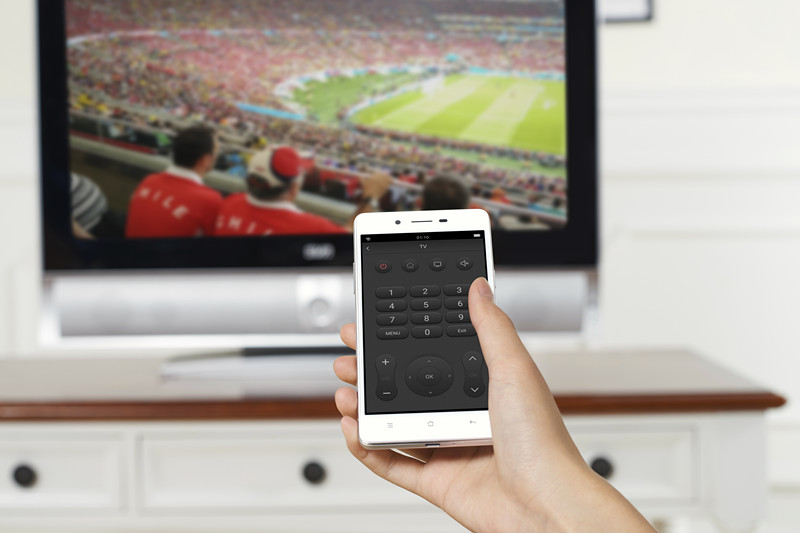 Intuitive Remote Control
One last thing
In addition to this new edition from OPPO, a further enhanced model is also available in the form of the Mirror 5s. This upgraded version will sit well for 4G users and includes an ultra-wide 5-inch HD display, which will be available in Taiwan, Singapore and Australia.
Whether you are intrigued by its smart and creative features up close and personal, or captivated by its sparkling prisms from afar, the Mirror 5 opens a new door to adopters of great tech within a limited budget.