SAD - Strategies For Combatting The Winter Blues
People often find themselves easily feeling somber and sluggish during the deep Winter and early months of the year. Especially in areas where there isn't much sunlight exposure, one can become prone to long-lasting periods of negativity.
Most people feel some effects of the Winter Blues – including coldness, lethargy, pessimism, and mood shifts. To some degree, this is normal and anticipated, but people are affected to varying degrees and in many ways.
Seasonal Affective Disorder (SAD) is a common ailment associated with the Winter Blues – SAD amplifies the solemn effects to the extreme and significantly depresses millions of people each year.
What is SAD?
SAD is a recurring form of depression that is often onset in Fall and persists throughout the Winter months when exposure to sunlight is limited. Those inflicted with SAD may experience a complete halt in motivation levels and vitality. This is due to lack of natural light exposure, resulting in dips in serotonin and disruptions to melatonin and circadian rhythms. All these factors combined can have a major impact on one's mood and cause people to struggle finding enjoyment and fulfillment in their lives.
However, it's not hopeless – there are several things we can be considerate of and implement to lead a better life and counteract the wintertime blues.
Self-Care
Making sure to eat well, remain active, hydrate, sleep consistently, and keep productive are all generally healthy habits to form. Keeping a tightly knit regimen and not falling into a funk can become especially difficult in the wintertime, but this is the time of year when it's more important than ever!
To help maintain these positive habits, we can employ health and productivity apps such as fitness and diet trackers, calendars, and to-do lists. Keep track of your activities and food and water intake. It's important to keep your mind active and engaged but also give it time to rest periodically.
Be sure to get outside and do something that challenges both your mind and body every day!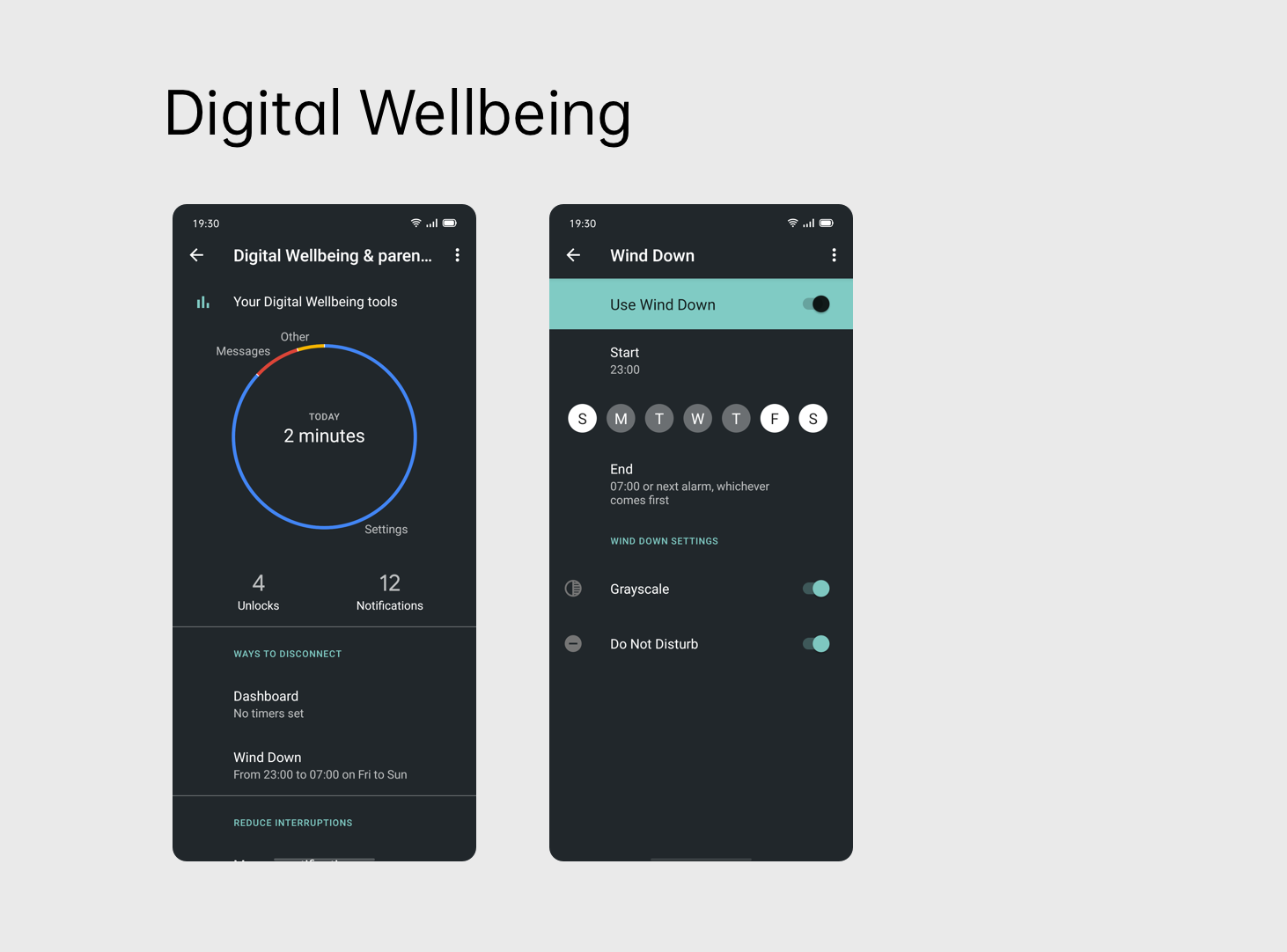 Digital Wellbeing
This comprehensive app is already built into your phone and ready to help you out from the get-go! Whether you haven't already begun using Digital Wellbeing, or you want to find out more about what it can do for you – this handy tool is worth researching further.
The Digital Wellbeing aids us in detaching from our phones and other digital devices in this age of technological integration. Many studies indicate that overuse of devices can contribute to poor psychological and physiological health, with common negative consequences including sleep deprivation, anxiety, stress, and depression. 
Digital Wellbeing is constantly being developed upon in order to update tools which improve the mobile device experience for users. OPPO's ColorOS 6 is based on Android 10 and seeks to include and improve upon many useful features. 
Tools such as grayscale and dark mode help mitigate the attention-grabbing vivid colors on your screen in favor of darker tones which enable you to focus on the task at hand. This both reduces eye strain when looking at your device for long periods and reduces battery consumption.
Additionally, we can restrict all sorts of unwanted distractions when the situation calls for it. There are many customizable tools available on Digital Wellbeing, including:
Do Not Disturb 
With one quick tap, Do Not Disturb hides all notifications. 
Snooze Notifications 
Hit snooze to temporarily hide specific types of notifications for as long as you like. 
Customize Notifications 
Decide what alerts you see, how often you see them, and how they look and sound. 
Permission Controls 
The Permission Controls feature puts further power in your pocket by allowing the user to set app location permissions to "Only While Using." Many Digital Wellbeing functions are available to help users limit unnecessary screen time and encourage a healthy, balanced lifestyle.
Screen Design, Blue Light Reduction
Consider smart devices that have a thoughtful screen design which treats your eyes right.
A dynamic device such as Reno2 has features like blue light reduction, flicker-free display, and low-brightness DC Dimming significantly reduces eye strain. OPPO Reno2's display has received eye comfort certification from international evaluation service providers TÜV Rheinland, who base their tests on the ISO 9241-307 standard.
Careful selection of digital devices with well-designed screen technology can greatly reduce feelings of fatigue when using devices for long periods.
Stay tuned with OPPO for more informative news articles like this!