OPPO Reno2 – Crafted for Active Lifestyles
Photo Credit: Sarah Bethea on OPPO Reno2
At OPPO, we highly value ingenuity and forward momentum - Going beyond the surface to discover new ideas and live dynamic lives. We feel that the OPPO Reno2 perfectly embodies the spirit of OPPO's community, with its amazing capacity for productivity and creativity while on the go.
We believe that the Reno2 is truly all-in-one – bringing functionality, convenience, and style to travelers, bloggers, and content creators across the globe. Here are some key features that make OPPO Reno2 the premium device for active lifestyles.
Amazing Camera Capabilities
Equipped for every moment, OPPO Reno2 is the ideal device for creative visual projects. Its 48MP Quad Camera setup produces top-quality captures in every scenario you can dream up – near or far, moving or still, day or night, a variety of places, actions, and conditions. Magnify the moment with 5x Hybrid Zoom and 20x Digital Zoom, and seamlessly transform perspectives.
Ultra Steady Video
With OPPO Reno2, you have the power to consistently produce clear video footage. Combine the functions of Ultra Steady Video and Dynamic Zoom, and every phenomenal moment can be captured while on the move and from any distance. Who knew that a time would come when a device which conveniently fits in one hand while moving could achieve nearly purpose-built action camera level video quality? Now you can be assured of convenience and stability while working on super-energetic projects with your OPPO Reno2.
VOOC 3.0
In addition to its massive 4000 mAh battery, OPPO Reno2 comes equipped with the most up to date Flash Charging capabilities. VOOC 3.0 relies on higher current to maximize its charging efficiency and is presently the most efficient charging system available on the smartphone market. When you're on the go working, travelling, and creating visual projects with your Reno2, super speed VOOC 3.0 Flash Charging is a great asset to know you can rely on.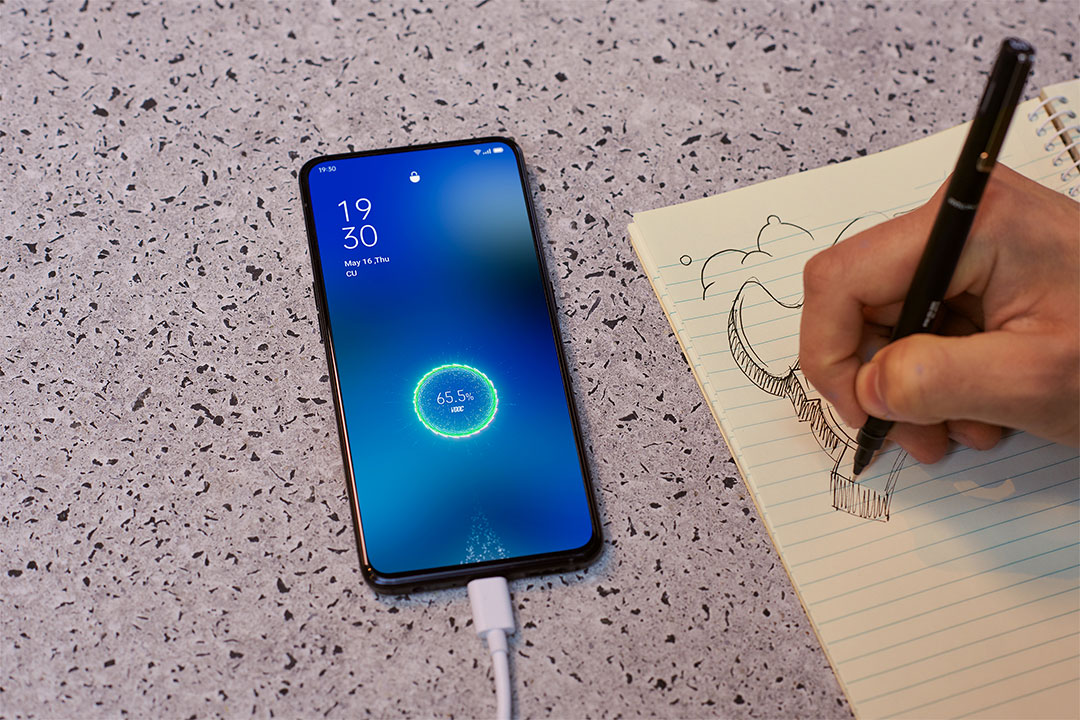 Bokeh Portrait Video
If you are looking to capture breathtaking footage of the subject of your video, you will want to utilize Bokeh Portrait Video. This feature allows the star of your scene to always be in focus, by blurring out undesirable background noise and perfectly encapsulating the visage of your star. Want to take a gratifying heroic shot of your star on the move? Apply both Ultra Steady Video and Bokeh Portrait Video to make sure your footage turns out clean and magnificently striking.
With the effective and inspiring features that OPPO Reno2 offers – from Ultra-Steady Video on a 48MP Quad Camera Setup to Bokeh Portrait Video – every imaginative moment you capture will be brilliant.