Night and day: OPPO Creators reimagine Tokyo icons from fresh new angles using Reno 10x Zoom
2019-07-08
Photo: Vlogger Sam Bentley at Fujiyoshida Sengen Shrine.
It started with a simple message, delivered to 18 recipients.
"OPPO invites you to join The Other Journey to Japan."
Over five days, OPPO's dream team of the 2010's "See Beyond" Creators Awards winners were unleashed to roam the neon-lit streets of Tokyo, snap shots of mist-shrouded Fuji Mountain, and generally push the limits of their creative horizons with the OPPO Reno 10x Zoom smartphone camera.
"It's been a dream of mine to visit this country and I can't wait for what's in store," photographer Bill Kim (@nwnatives on Instagram) posted online at the start of the five-day trip.
Nod to tradition
The first item waiting in store for all 18 creative minds was a brand-new OPPO Reno 10x Zoom. Equipped with a tri-lens array, plus pop-out pivot rising front-facing camera, photographers and videographers alike prepared to document the city from fresh new angles.
The first stage of the tour included iconic examples of Japanese architecture: temples and shrines. Using simple props and in some cases, each other, the artists set out to showcase traditional pagodas and more in a brand-new light.
Luigi Sutera found inspiration in a mirror. Through the Reno 10x Zoom lens, he captured a perfectly round slice of a Buddhist masterpiece–Sensō-ji, the city's oldest temple.
"When I first went to Japan, I was amazed by its pure natural beauty surrounded by its stunning historical architecture," travel vlogger Louis Cole wrote on Instagram.
He accompanied the post with a dreamy shot of a faraway Mt. Fuji foregrounded by the bright symmetry of Chureito Pagoda. Thanks in part to the Reno's 10x zoom capabilities, the image was rendered in clear, crisp detail.
City scenes
This being Japan, modern architectural marvels were never too far away from ancient ones. Our keen-eyed photographers were quick to spot visual harmony in unexpected places.
From within Asakusa District's Culture Tourist Information Center, photographer and filmmaker Benjamin Lee snapped a vertiginous mirror image of the area's neat, geometric street crossing. Using the Reno's wide-angle lens, Lee was able to capture pedestrians, cars, and the building itself, along with their murky reflections, in the same frame.
Photographer Hym Chu, exploring Kawasaki in the Greater Tokyo Area, took the opposite tack: his vertical shot of an apartment block's spiraling staircase is taken from a snail's-eye perspective.
The subtle gradation of color from gray to white, as captured on the Reno's 48MP super high definition-capable camera, draws the viewer up what appear to be infinite loops of stairwell. A single, silhouetted figure only adds to the sense of unreality.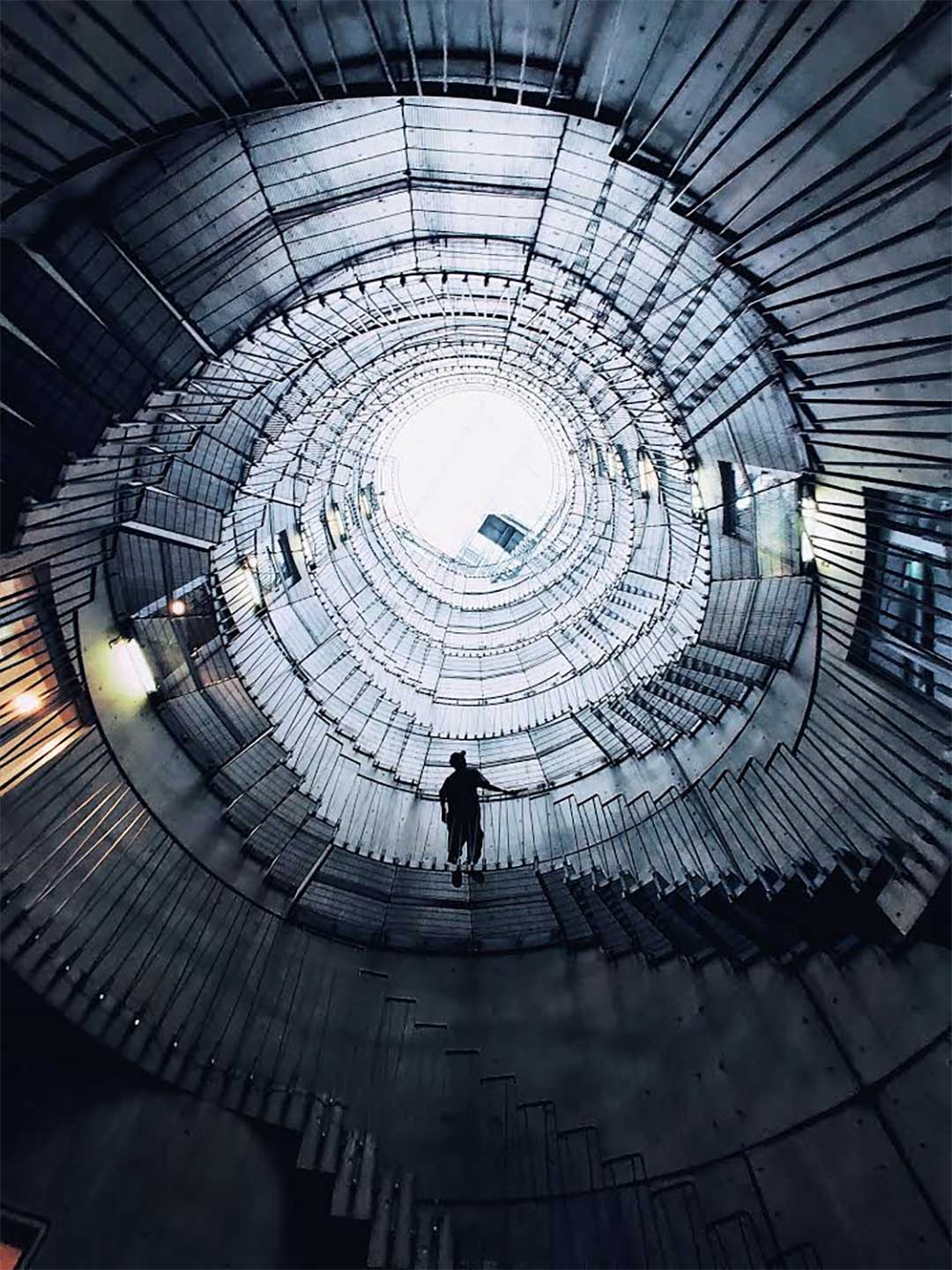 Nighttime haunts
Other creators found inspiration in more crowded quarters.
As writer and photographer Jonathan Zoeteman commented on Instagram, "Walking around Tokyo after dark feels a bit like stepping onto the set of a movie."
"The Golden Gai area in Shinjuku is a photography dream and we had a chance to shoot a few conceptual portraits in the alleyways on our last night here with the new #OPPOReno10X Zoom," he continued.
Shinjuku's Golden Gai neighborhood is home to hundreds of eateries, bars, and more, crowded into six alleys and a maze of side streets that connect them. The dense urban setting, where paper lanterns swing above rain-slicked asphalt, lent an intimate air to the shots, taken using Reno's ultra-clear Night Mode 2.0.
Elsewhere in the city, artists Yuma Yamashita captured the nighttime rush in busy Shinjuku District.
Colorful signs light up the night; pedestrians and trains alike speed by in a blur; yet despite all the contrast and movement, the fine details remain clear–even the kanji characters on the street signs are still legible.
The same is true in Hym Chu's shot of the same overpass, made with the aid of a special lens. Despite neon reflections across glass skyscrapers and the starry glare of car headlights, the high-contrast composition is full of fine-grained detail.
Japanese icons
The trip to the Tokyo area wouldn't have been complete without paying homage to a very important landmark.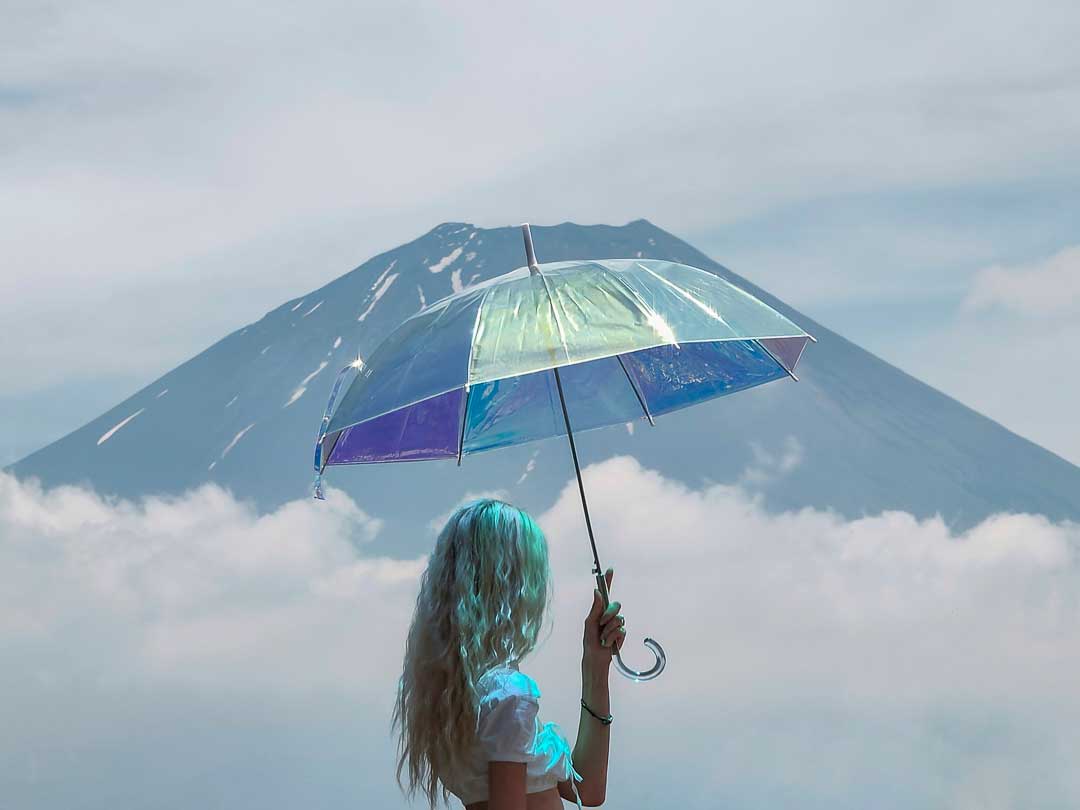 Photographer Alessio Albi playfully posed model Sasha Sup, along with an iridescent umbrella, against the famous backdrop. The resulting palette of cool, muted colors was captured to perfection using the Reno camera.
Another local icon was a source of fascination for a few photographers: the Eiffel-inspired Tokyo Tower.
Elvis Ma's nighttime shot, for instance, captures its famous red-and-white outline against the backdrop of Tokyo's cityscape.
The garishly-lit tower looms larger than life through the OPPO Reno's 10x zoom, seemingly floating in space amidst countless pinpricks of brightness.
Benjamin Lee delivered another take through Reno's time-lapse feature. In his video, as clouds rush toward a darkening horizon, both city and tower appear to come alive with light.
"Tokyo has pushed me out of my comfort zone in a good way (photo wise) and it's been a lot of fun photographing this city and its people," Jonathan Zoeteman wrote near the end of the trip.
From a viewer's perspective, we couldn't agree more. To see what else the Reno can do in the hands of our creative team of photographers, videographers, and artists, follow @OPPOseebeyond (https://www.instagram.com/opposeebeyond/) on Instagram. To find out more about this year's OPPO Creators Awards, which includes $7,500 cash prizes for two grand prize winners, visit the official site (https://seebeyond.oppo.com/en/)