Gooolll! OPPO Announces FC Barcelona Edition F1 Plus
Shenzhen, May 30, 2016 – Celebrating the one-year anniversary of its ongoing partnership with FC Barcelona, OPPO has announced the new F1 Plus FC Barcelona Edition. Featuring a head-turning blue-and-red color scheme, an 18K gold-plated club insignia, an FCB-themed UI and an exclusive case sporting laser-printed signatures from five top Barça players, the phone will be available in select markets in mid-June.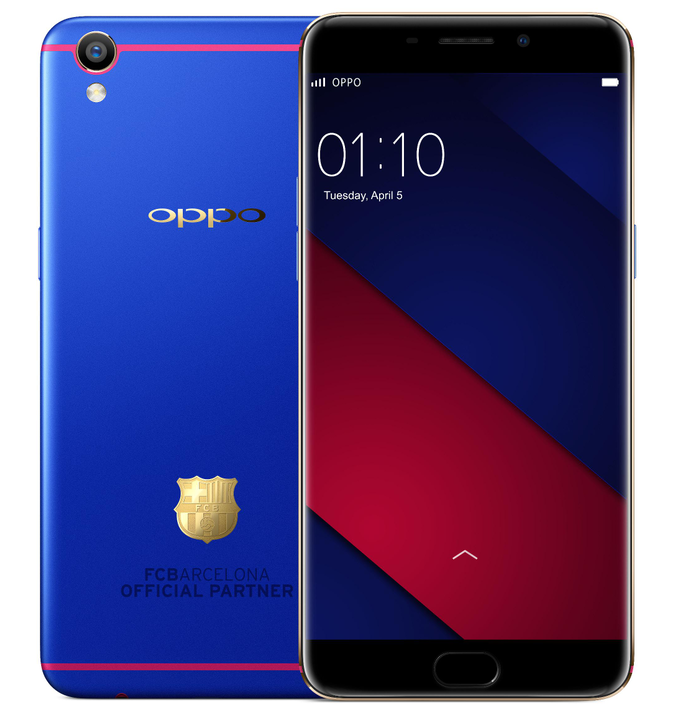 F1 Plus FC Barcelona Edition
"The F1 Plus is all about snappiness, style and speed, so there's no better partner for it than the phenomenal FC Barcelona," said Sky Li, OPPO Vice President and Managing Director of International Mobile Business. "We're proud to bring users one of our most eye-catching devices ever, while paying tribute to the world's greatest football club."
Like Barça's powerhouse athletes, the F1 Plus FC Barcelona Edition pushes the limits at every opportunity. The 5.5-inch phone weighs in at only 145 grams, and sports bezels so thin they'll have users reaching for their glasses.
But its prowess isn't just screen-deep. The F1 Plus also features 64 GB of storage, a lightning-fast fingerprint sensor, OPPO's industry-leading low-voltage VOOC Flash Charge technology, and a superb photography experience that's topped off by a 16-MP front camera.
Unlike the standard version of the F1 Plus, the new FC Barcelona edition has an all-black front. On the rear, it blazes with a deep Barçablue crossed by two red stripes, as well as an 18K gold-plated FC Barcelona club seal.
The F1 Plus FC Barcelona Edition also comes with an exclusive blue protective case, laser-printed with the signatures of Lionel Messi, Neymar, Luis Suárez, Ivan Rakitić and Andrés Iniesta.
The protective case features laser-printed signatures from five top Barça players.
The F1 Plus FC Barcelona Edition is set to arrive in China, Singapore and Indonesia, as well as other select markets, in mid-June. Exact pricing will vary by market.