5 Reasons Why OPPO Reno2 is Our Most Versatile Smartphone Yet for Photo and Video
2019-09-12
Following in the tradition of the Reno line so far, the new Reno2 series–which currently features three different models–has created buzz for its strong performance in photography and videography.
The Reno2 and its cost-conscious cousins, the Reno2 Z and Reno2 F, made their global debut in New Delhi on August 28 with a whole array of innovative features.
Below are just five of them.
1. Ultra Steady Video
With the Reno2, users can easily create exciting video with professional polish. Automatic stabilization technology developed by OPPO keeps the action clear and smooth, whether you're running, biking, skiing or scooting. A 60 frames-per-second rate, combined with both electronic image stabilization (EIS) and optical image stabilization (OIS), reduces shakiness and enhances the fluidity of continuous shots.

The Reno2 series is visible proof that selfies and general photography aren't the line's only strength.
2. Quad Camera Setup
The Reno2's four, high-performing rear cameras help make advanced features like ultra steady video possible. Other unique features include the 5x hybrid zoom, which combines the capabilities of the phone's wide-angle lens, primary camera and long-focus lens with AI to produce crisp images from far away.
The Reno2 also conquers the opposite problem–fuzzy focus on close-up objects–by employing image recognition technology to select and use the best lens for each shot. Finally, an ultra wide angle mode allows users to record vast swaths of landscape at a time.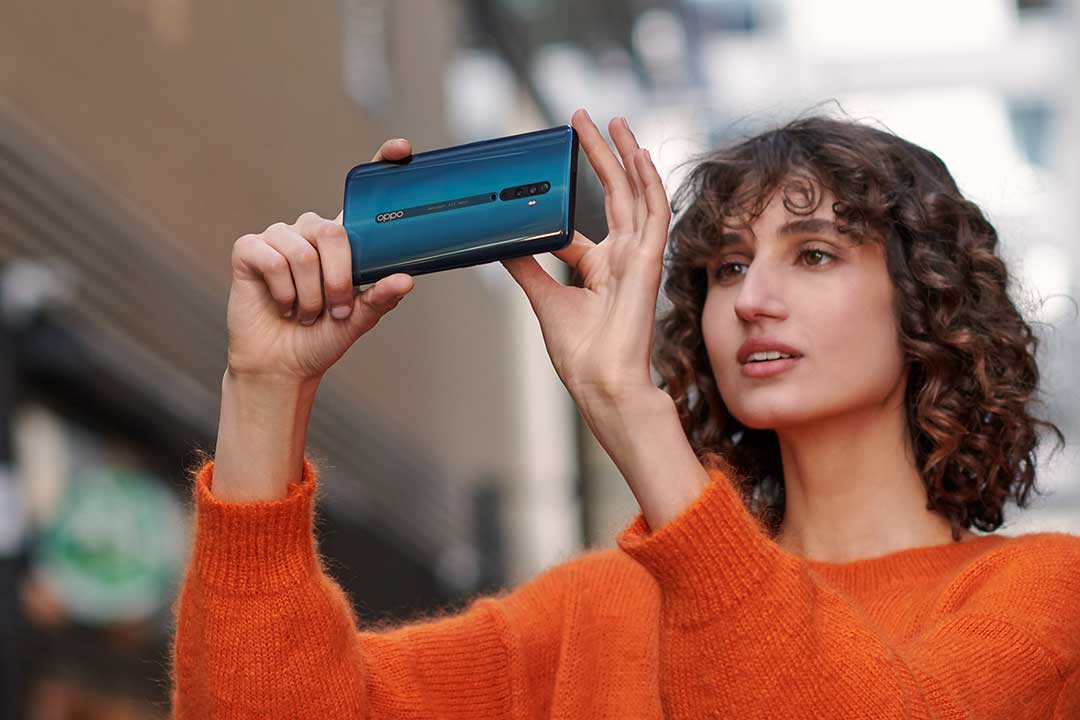 3. Outstanding Portrait Mode Features
It wouldn't be a Reno phone without a high-performing front-facing camera. Like other phones in the line, the Reno2 features the trademark fin which houses both camera and flashlight.
The models also feature a new AI Beauty Mode which automatically corrects for unflattering lighting, showing skin at its best for up to four people at a time. An additional bokeh option allows users to customize the level of blur in the background for the perfect artsy portrait shot.
With the Reno2's powerful rear cameras, users can take advantage of HDR portrait mode, which in addition to delivering high resolution also evens out harsh lighting.
While bringing more attention to the innovations on video technology on the Reno2, it also includes a new feature Bokeh Effect Video, bringing the effect from stills to video selfies (featured in Reno2 and Reno2 Z only)
4. Bright and Vivid Sunlight AMOLED Screen
The Reno2's 6.5-inch Sunlight AMOLED Screen automatically adjusts to make images clear and vivid, even under bright sunlight. It's an advance in screen technology that both reduces power consumption and also extends the service life of the smartphone screen by 50%.
For evening use, the screen dims accordingly for maximum visual effect while also reducing blue light by an additional 40%.
5. Ultra Dark Mode
An all-new feature allows users to "see in the dark" with the Reno2's camera. The powerful lenses pick up fine details that are invisible to the naked eye, while built-in AI brightens and reduces noise in the final image for clear, striking images. (See image above with and without Ultra Dark Mode on).
Our Reno2 series gives users a look into the future of smartphone photo and video. Already available in India and more recently launched in China, it's scheduled to launch in more countries and regions in the near future–so keep an eye out for updates.