How can you use OPPO phone internet?
2019-02-25
All OPPO smartphones can connect to the internet using a Wi-Fi connection or mobile network. You can search web pages, download apps, share files and carry out other online activities on your phone. Some OPPO phones can share files directly over Wi-Fi without requiring a network or hotspot.
This guide is applicable for OPPO smartphones using ColorOS 5.0 and above. To find out what ColorOS version your OPPO phone has, go to [Settings] > [About phone].

How do I connect OPPO to Wi-Fi?
Any time you want to connect to a new Wi-Fi network on your OPPO smartphone, you have to select the network manually.
1. Go to [Settings] > [Wi-Fi] or open Control Center by swiping down and selecting the Wi-Fi icon
2. Check that Wi-Fi is enabled or slide to turn on
3. You will see the list of Wi-Fi networks available. Tap the network you want to connect to.
4. Enter the password if it's a secure connection
5. Tap [Join]
You can save the network and password so your phone will connect automatically in the future.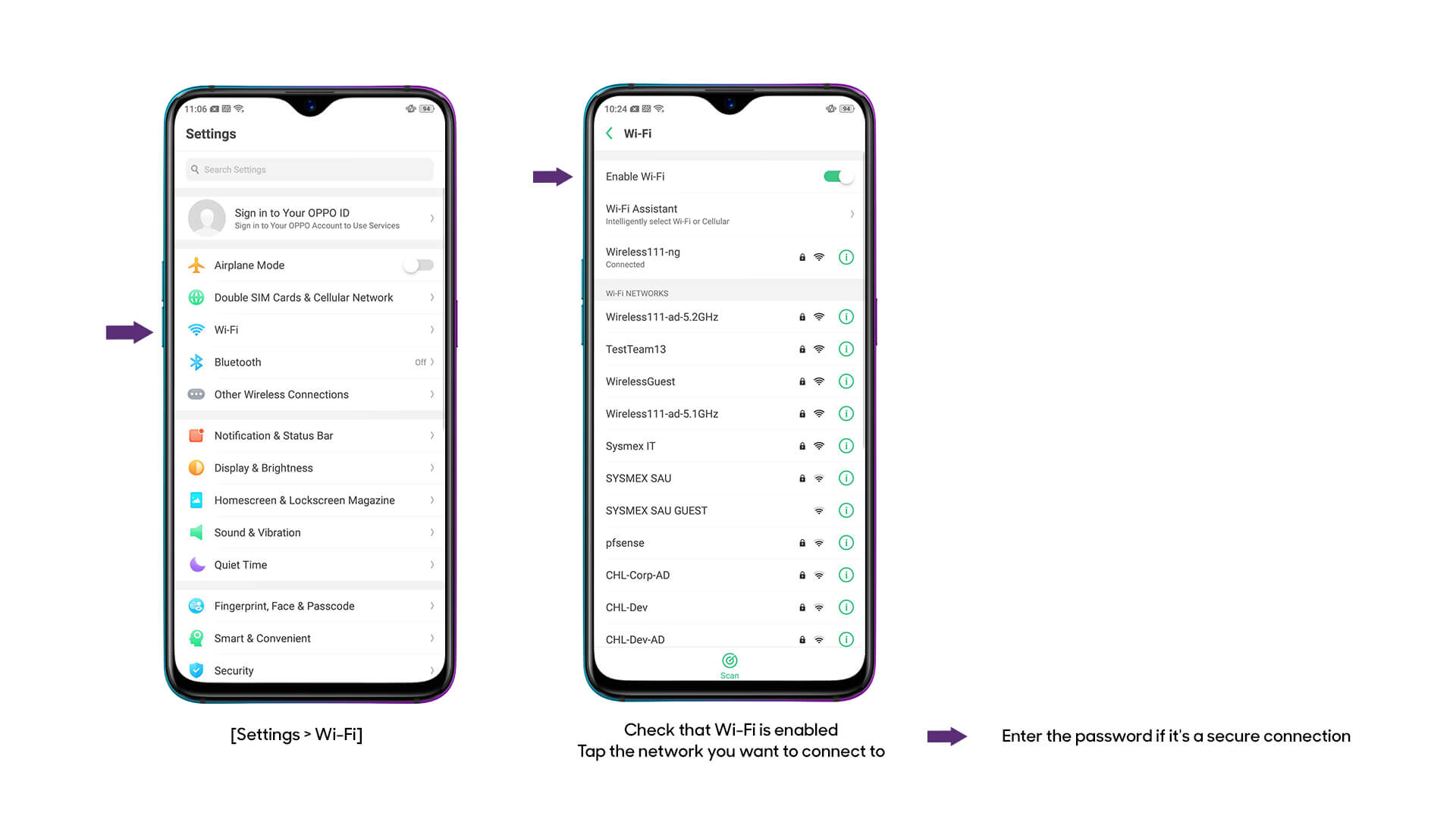 Connect to an open Wi-Fi network
If you're connecting to an unsecured public network, such as Wi-Fi in a hotel, restaurant or shopping mall, you may have to complete verification before you can access the internet. This will usually appear in your web browser. You should never provide any personal or sensitive information in online forms.
Connect to an encrypted network
A Wi-Fi network that's password protected will have a padlock symbol next to its name. You need to know the password to use the network. If you own the network, you should change your password every so often to help keep your network secure.
Connect to a hidden network
Some Wi-Fi networks don't show up in network lists to help them stay private. If you know the network is available and you have the sign-in details, you can follow these steps to access it:
1. Go to [Settings] > [Wi-Fi]
2. Check that Wi-Fi is enabled
3. Scroll down to the bottom of the network list and tap [Manually Add a Network]
4. Enter the network name
5. Select the security setting
6. Enter the password
7. Tap [Join]
How do I share files over Wi-Fi?
OPPO smartphones with Wi-Fi Direct can share files over Wi-Fi without being connected to a network. To share files:
1. Go to [Settings] > [Wi-Fi] and check that Wi-Fi is enabled
2. Go to [Settings] > [Other Wireless Connections] > [Wi-Fi Direct]
3. Tap [Search] to scan for other devices in the area also using Wi-Fi Direct
4. If a device is detected, select it and follow the prompts to pair the devices
5. You can now share files over Wi-Fi Direct using third-party apps such as Zapya
Why is my Wi-Fi not working?
If you've turned on the Wi-Fi on your OPPO phone and connected to a network, but you can't access the internet, try these fixes:
· Make sure you're within range – If you can't get a strong signal or many bars, you may be too far from the router or hotspot.
· Check if you need to sign in – If you're using a public Wi-Fi network, you might need to fill in a login page.
· Reset the router – Turn off the router and wait for at least one minute before switching it back on.
· Reset your Wi-Fi settings – Go to [Settings] > [App Management] > [All]. Scroll down until you see [Wireless settings]. Clear its data and cache.
· Check for updates – Make sure you have the latest ColorOS update and other Android updates.
· Check if the network is overloading – Too many devices using the same router can cause problems. Setting up a static IP for every device could fix the issue.
How do I fix slow Wi-Fi on my phone?

If Wi-Fi is working, but it's slow, this may be because you're out of range, there are too many users on the network or there's a problem with the network or your phone. Moving closer to the router or hotspot, choosing a less busy network or restarting the router could solve the speed issue.
How do I connect to mobile data on OPPO?
If Wi-Fi isn't available, you can access the internet and online services using mobile data. To use mobile data:
1. Go to [Settings] > [Dual SIM & Cellular]
2. In the General Setting menu, enable [Mobile Data] for network connection
3. If your phone has the option [Enable 4G], turn this on to access 4G networks
Alternatively, you can swipe down from the top of the screen and select the [Mobile Data] icon in the Control Center.
Depending on your mobile plan, using mobile data may carry extra charges or your connection may have limits. Make sure you check these limits before turning on mobile data to avoid exceeding your data plan.
How can I check my mobile data usage?
If you're worried about using up your mobile data or exceeding your data limit, you can check your data usage by going to [Settings] > [Dual SIM & Cellular Data]. This will tell you how much data you've used in the past month and how much has been used by specific apps.
On OPPO phones, you can set up a [Daily Data Reminder] to help you monitor your data usage and stay within your limits. You can also check your data usage by signing in to the website of your mobile carrier.
Do I want data roaming on or off?
If you can't access a Wi-Fi network and you're outside the range of your mobile network, you can still access the internet using data roaming. To do this:
1. Go to [Settings] > [Dual SIM & Cellular]
2. Choose the SIM card you want to use
3. Turn on [Data Roaming]
4. Connect to the internet using an available carrier or by bridging your operator
Data roaming sometimes charges expensive fees and should only be used if other options are not available. To avoid accidental charges, make sure data roaming is turned off when it's not needed.
Can I use mobile data abroad?
You can use mobile data and data roaming if you're travelling abroad, but this will involve high fees unless you're using a local carrier or you've arranged an affordable roaming plan with your Australian carrier. OPPO smartphones can use international Nano SIM cards as long as your phone is unlocked.
Can you use your cell phone in a different country?
This depends on the country. If your phone is not locked to an Australian carrier, you can buy a SIM card from a local carrier in the country you're visiting to make cheap local calls and use mobile data. If you have a dual SIM smartphone, you can switch to your Australian SIM to make international calls.
How can I use my cell phone internationally?
There are several ways to use your phone overseas so you won't be cut off from friends, family and professional contacts.
1. Use international data roaming – Compare plans with your carrier to find one that's affordable and suits you.
2. Use a local SIM card – You first need to make sure your phone is unlocked. If you don't know, take your OPPO phone to your nearest Customer Service Centre.
3. Connect to Wi-Fi – If you only need to use the internet, find out whether the hotel, restaurant or other location you're in has a Wi-Fi hotspot and ask for the login details.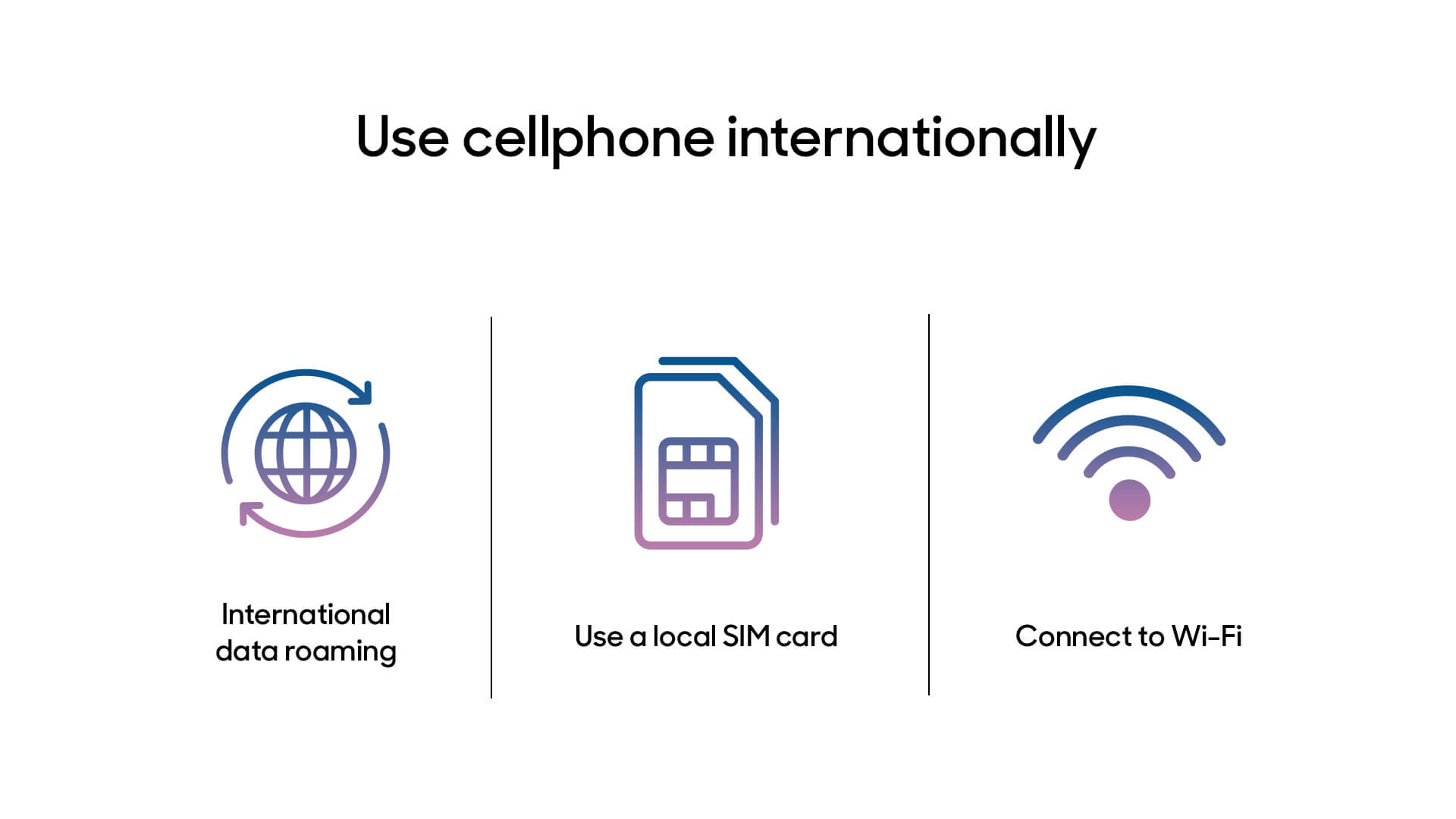 Can OPPO phones be used in USA?
Yes. OPPO smartphones can be used on US networks, however you will need to insert a local SIM card. Connection speed may be limited to 3G due to a difference in how phones access 4G bands. Talk to your carrier to find out about international calls and data roaming charges before you leave.
How do you find out what carrier your phone is?
If you don't know what carrier your phone is using, call *#06# on any OPPO or Android smartphone. The information will be sent to your SIM. You can also download a phone information app from the Play Store that will tell you the carrier as well as other details about your phone, such as its make and model.
How do I check my phone's IMEI?
Your IMEI number is your Android phone's unique identification number. This can tell you whether the phone has been authorised by a carrier. To check the IMEI number of your OPPO phone, you can dial *#06# or go to [Settings] > [About phone] > [Status] > [IMEI].
How do you see if my phone is unlocked?
If you're still not sure whether your phone is unlocked or locked to a specific carrier, the best way to find out is to try a SIM card of a different carrier. This does not need to be an active SIM card.
If the phone still has service, you can use that SIM card with your smartphone. If you get a message telling you to enter an unlock code, this means your phone is locked to another carrier. Talk to your local Customer Service Centre for more information.
Where can I find out more?
If you have more questions about how to use your OPPO smartphone, see our frequently asked questions to see if it has already been answered.
If you still need help, contact customer support or visit a Customer Service Centre near you.