General Questions About OPPO Smartphones
2019-03-12
Do you have a question about your OPPO smartphone, or do you need some help? Search this guide to find the answers to common questions about the OPPO F1, F9, R11 and other devices available in Australia.
Applicable for all OPPO smartphones.
Is OPPO an Android phone?
OPPO smartphones use the purpose-built ColorOS operating system, which is based on Google's Android OS. While some functions are the same, OPPO ColorOS has a distinctive layout and more customisable gestures, options and features. The latest ColorOS version is based on the latest Android update.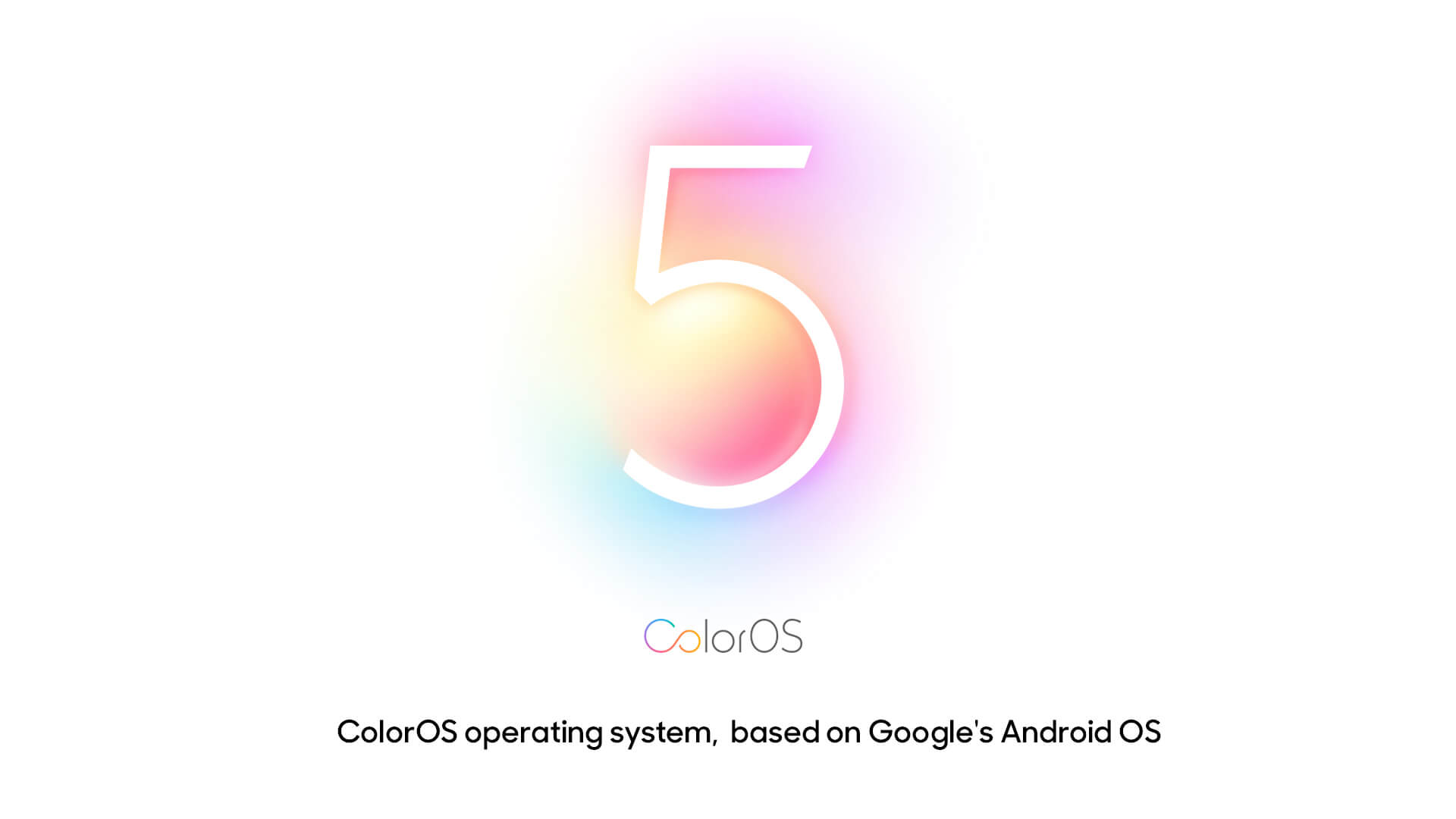 What is ColorOS version?
You can find out what ColorOS version your OPPO phone is using by going to [Settings] > [About phone]. The latest version is ColorOS 5.2 based on Android Oreo. ColorOS 6.0 will debut in 2019, featuring machine learning and a new font among other upgrades.
Which company makes OPPO phones?
OPPO is owned by BBK Electronics. As well as being one of the world's best-selling smartphone brands and the leading 4G smartphone maker in China, OPPO also manufactures Blu-ray players and other high-end electronics. OPPO launched in Australia in 2014. Find out more about OPPO.
How do I force restart OPPO?
To force restart your OPPO smartphone: press and hold the Sleep/Wake and Volume Up buttons together for at least 8 seconds. You should see the OPPO logo and the phone will restart. You may need to force restart if your phone is lagging, frozen, unresponsive or won't charge.
How do I scan QR code with OPPO?
To scan QR codes on your OPPO smartphone, you need to have a QR code reader installed. If you don't have one already, search the Google Play Store for a trusted app and install it. Use the app to take an image of the QR code and tap the URL that appears to open the website.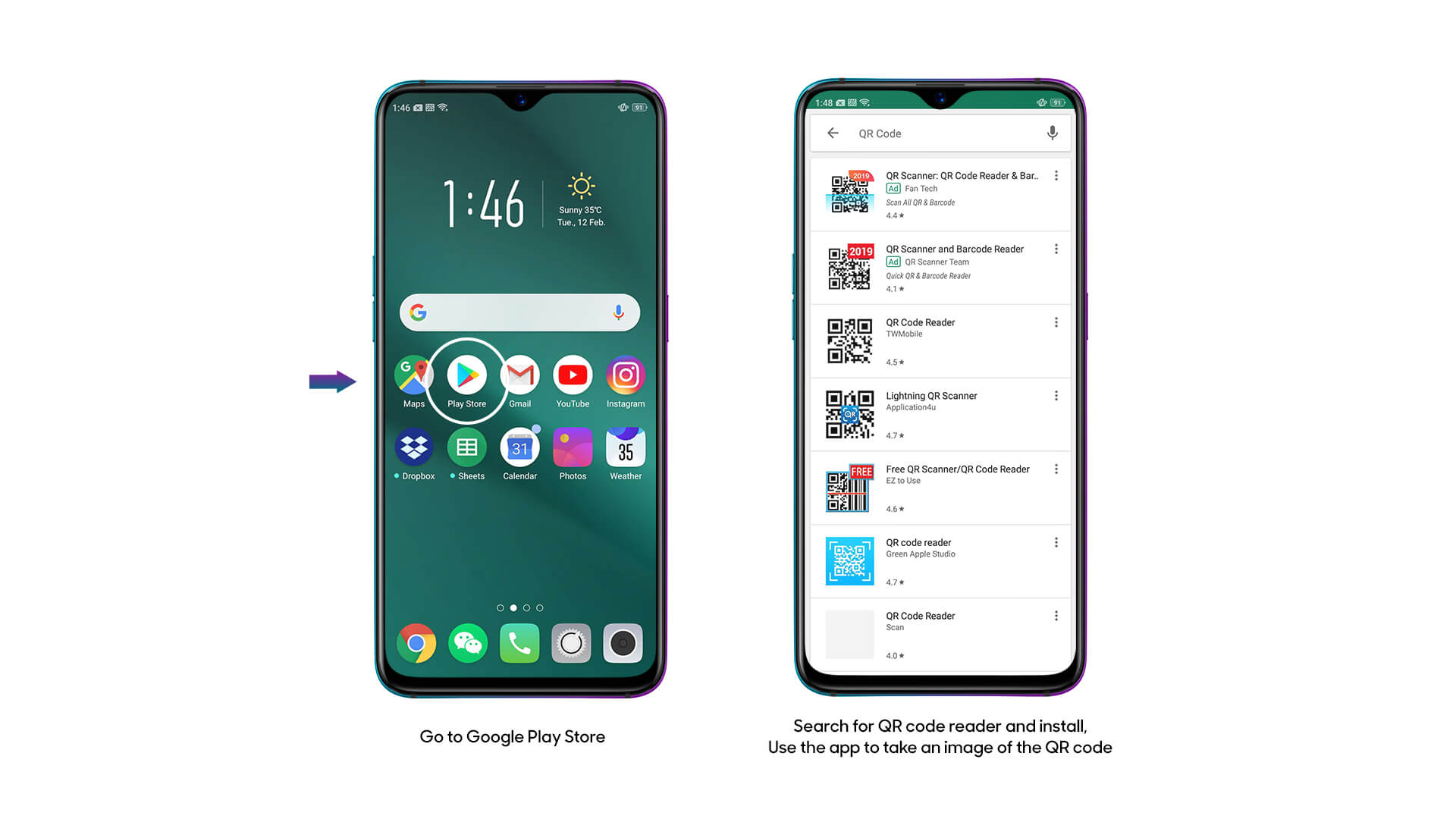 How do you get Emojis on OPPO?
OPPO phones use the TouchPal keyboard app that includes a wide selection of emojis and stickers. Its intuitive AI can predict what emoji you want to use next. To get more emojis, install the latest TouchPal Trends update. The OPPO Aussie Emojis app has a selection of emojis specially designed for Aussies.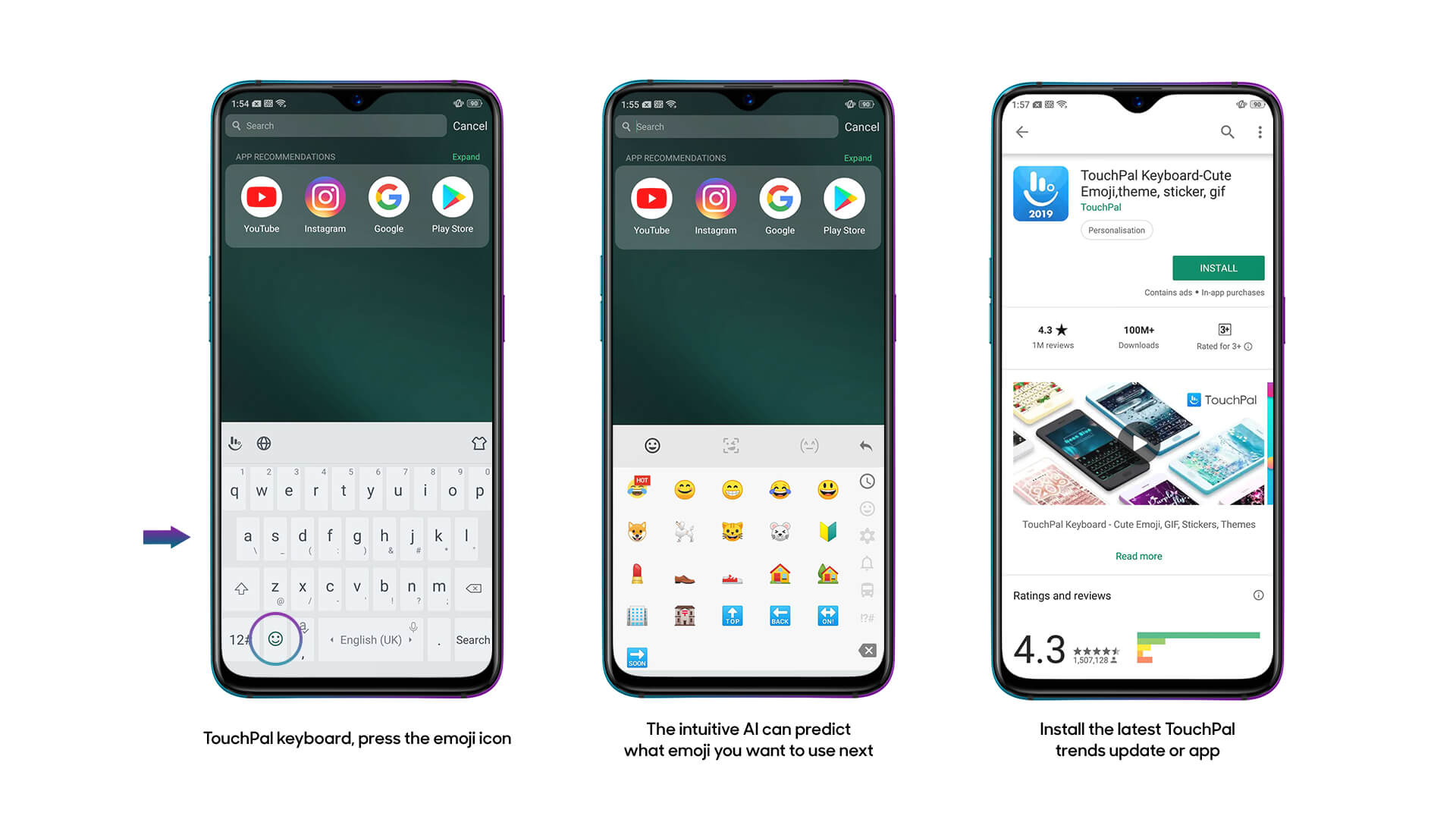 What is the difference between locked and unlocked mobile phones?
If your phone is locked, that means it can only be used with a single mobile carrier. An unlocked phone is free to use any carrier. The easiest way to tell if your phone is locked or unlocked is to try using a SIM card from a different network.
How can I use Internet from OPPO mobile to PC?
If you don't have access to a Wi-Fi network, you can use tethering to turn your OPPO smartphone into a portable hotspot. This means you can connect a PC or other device to the internet using your mobile data.
How do I tether OPPO?
Applicable for OPPO smartphones using ColorOS 5.0 or above. To turn your OPPO phone into a personal hotspot:
1. On your OPPO phone, go to [Settings] > [Other Wireless Connections] > [Personal Hotspot]
2. Turn the slider on
3. Choose a name and password for the hotspot (optional)
4. On your PC or other device, open the list of Wi-Fi networks
5. Choose the hotspot you created and connect
OPPO phones can also use USB tethering or tethering via Bluetooth.
How do I set my OPPO home screen?
Applicable for OPPO smartphones using ColorOS 5.0 or above. To set a new image as your home screen background, go to [Settings] > [Homescreen & Lockscreen Magazine] > [Set wallpaper]. You can choose or download an existing theme or use one of your own photos from the Gallery.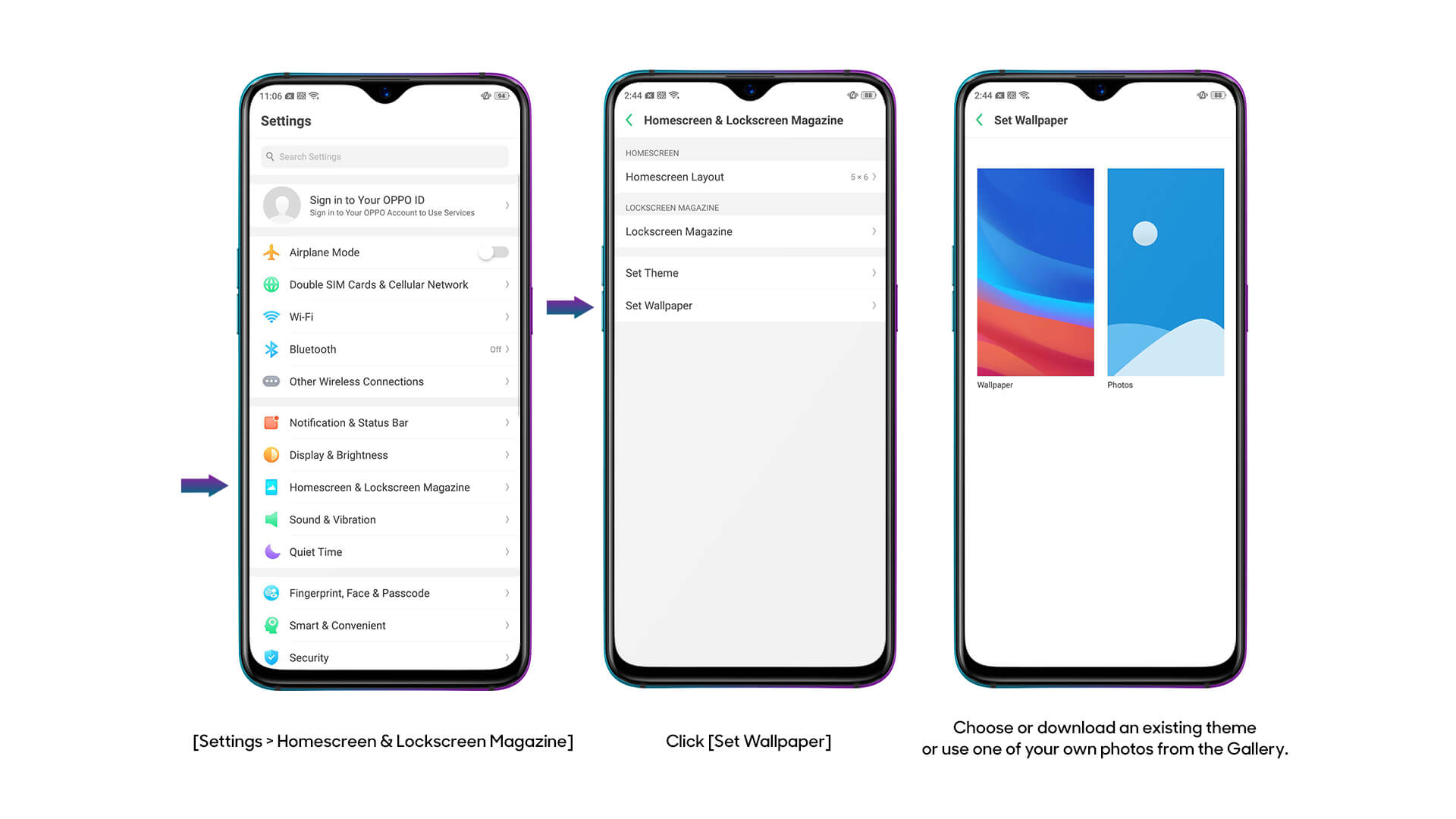 How do I find widgets on my OPPO phone?
After setting your OPPO home screen, you can populate it with widgets. These can provide quick access information without you having to open an app, such as a clock, calendar, weather or battery widget. To see widgets, tap and hold an empty space on your home screen, then select [Widgets].
How do I add widgets to OPPO?
Applicable for OPPO smartphones using ColorOS 5.0 or above. To add a new widget to your OPPO home screen, pinch and hold an empty space, then tap [Widgets]. Browse the widgets and drag any you want onto the screen, making sure there's enough space. To remove a widget, hold it and tap the 'X' in the upper left corner.
How do I get the Google widget on my home screen?
If you want to add the Google Search bar to your home screen, or you've accidentally deleted it, pinch the home screen until it enters edit mode, then tap [Widgets]. Swipe through until you see the Google Search widget and drag it where you want it on the home screen.
How can I see hidden files in mobile?
Some files and folders may be hidden on your OPPO smartphone. To view all hidden files, open your file manager app, go to Internal Storage or External Storage, then open the overflow menu at the top. Select [Show hidden folders] and any hidden data in that storage will now be visible. You can hide files and folders again by undoing the option.
Can you use your phone as a remote control?
If you want to use your OPPO smartphone as a remote control for your TV, Blu-ray player or other compatible device, you need to download an app from the Google Play Store. The OPPO Remote Control app is designed for use specifically with devices manufactured by OPPO Digital, including OPPO BDP-93, BDP-95, BDP-103, BDP-103D, BDP-105 and BDP-105D Blu-ray players.
Check that your OPPO phone and Blu-ray player are connected to the same network. The player also needs to have the latest firmware version installed, which can be downloaded from the OPPO Digital website.
Can I use my phone as a remote for Fire Stick?
Some Android-based devices that support Miracast and are running operating systems based on Android OS 4.2 or higher may be used for display mirroring on Fire TV devices. Both devices must be connected to the same Wi-Fi network. On the Fire TV menu, select [Settings] > [Display & Sounds] > [Enable Display Mirroring] to see if your phone is compatible and start screen mirroring.
What is the screen resolution of OPPO A3s?
The OPPO A3s has a screen resolution of 720 x 1520 pixels on a 6.2 inch (15.75 cm) HD+ touchscreen display. The A3s has a full notch screen with a high screen ratio of 88.8 per cent. It has an 8 megapixel front camera and dual 13 MP and 2 MP rear cameras.
What is the weight of OPPO A3s?
The OPPO A3s smartphone weighs 168 grams (5.93 ounces). It measures 156.20 cm x 75.60 cm x 8.20 cm (6.15 in x 2.98 in x 0.32 in). The phone runs on a Snapdragon 450 1.8 GHz octa-core processor and comes with 16GB of storage and 2GB of RAM.
Is OPPO A37 4G?
The OPPO A37 is a dual SIM smartphone that can run on 2G, 3G or 4G (LTE) networks on either SIM. Download speeds for 4G are up to 150Mbps. The phone can also make 4G voice calls. Choose your preferred network type in [Settings] > [Dual SIM & Cellular].
How do I connect my OPPO A37f to WiFi?
If you can't access Wi-Fi on your OPPO A37f smartphone, first make sure Wi-Fi is enabled. To do this:
1. Go to [Settings] > [Wi-Fi]
2. Check if Wi-Fi is enabled or turn the slider on
3. See the list of Wi-Fi networks and choose the network you want to connect to
4. If it's a secure connection, enter the password
5. You should now be connected to the Wi-Fi network
Can OPPO F1s upgrade to Oreo?
The OPPO F1s and other older models cannot upgrade to Oreo officially. Android Oreo updates were only made available for more recent OPPO smartphones including:
· OPPO A57
· OPPO A77
· OPPO F3
· OPPO F3 Plus
· OPPO F5
· OPPO R9s
· OPPO R9s Plus
· OPPO R11
· OPPO R11s
· OPPO R11 Plus
How to change font on OPPO F9?
To change the font size on your OPPO F9 smartphone, go to [Settings] > [Display & Brightness] > [Font Size]. Drag the slider to make the font size smaller or larger.
To change the font size on your TouchPal keyboard, go to [Settings] > [Additional Settings] > [Keyboard & Input Method] > [TouchPal for OPPO] > [Look & Feel] > [Candidate Size]. Choose between a small, normal or large font.
When was the OPPO R11 released?
The OPPO R11 smartphone was first released on 20 May 2017. It was available in Australia from 7 August 2017. Powered by a Qualcomm MSM8956 Plus Snapdragon 660 octa-core processor, the phone has a 20 MP front camera and dual 20 MP and 16 MP wide-angle rear cameras.
The R11 was succeeded in OPPO's popular R-Series by:
· OPPO R15
· OPPO R15 Pro
· OPPO R17
· OPPO R17 Pro
To find out which OPPO smartphone is right for you, compare OPPO phones online.